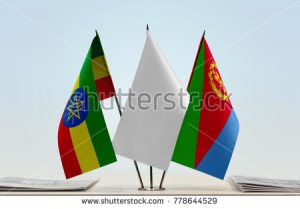 There is some good news to report:
Ethiopia's Abiy and Eritrea's Afewerki declare end of war

9 July 2018

The leaders of Ethiopia and Eritrea have signed a declaration saying that the state of war between the two countries is over.

A peace deal ending the 1998-1999 border conflict has never been fully implemented and there has been tension between the neighbours ever since.

The countries have also agreed to re-establish trade and diplomatic ties.

The declaration came at a landmark meeting between the two countries' leaders in Eritrea's capital, Asmara. https://www.bbc.com/news/world-africa-44764597

9 July 2018

Ethiopia and Eritrea officially declared an end to a two-decades-old war on Monday, a day after their leaders held a historic summit in the Eritrean capital Asmara.

The two neighbors also agreed to resume flights, open embassies and develop ports together.

"State of war that existed between the two countries has come to an end. A new era of peace and friendship has been ushered (in)," Eritrean Information Minister Yemane Gebremeskel said on Twitter.

"Both countries will work to promote close cooperation in political, economic, social, cultural and security areas," Yemane added. https://www.dw.com/en/ethiopia-eritrea-officially-end-war/a-44585296
Most of the people in both of these nations live in poverty.
The Continuing Church of God has a deacon as well as members in Ethiopia.
Less resources spent on war as well as trade between the two nations will at least help some reduce their extreme poverty.
While Ethiopia and Eritrea, like the rest of the world, need the Kingdom of God, having more peace is normally a good thing.
While there are issues with political leaders, Jesus taught, "blessed are the peacemakers" (Matthew 5:9).
Peace should help at least some in this part of Africa.
Some items of possibly related interest may include:
Africa: Its Biblical Past and Prophesied Future What does the Bible teach about Africa and its future? Did the early Church reach Africa? Will God call all the Africans? A related online sermon is also available: Africa: Its biblical past, present, and future. A video of possible interest is: Nairobi Conference: All About Love.
The Gospel of the Kingdom of God This free online pdf booklet has answers many questions people have about the Gospel of the Kingdom of God and explains why it is the solution to the issues the world is facing. Here are links to three related sermons: The World's False Gospel, The Gospel of the Kingdom: From the New and Old Testaments, and The Kingdom of God is the Solution.