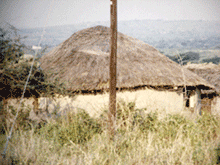 African Hut (Photo by Joyce Thiel)
A new study concludes that there has been some improvement in governments in Africa:
JOHANNESBURG, SOUTH AFRICA — Sudanese magnate Mo Ibrahim announced his seventh annual African Governance Index Monday, saying there are both positive and negative trends to watch.

Although this year's ranking looks similar to last year's, Ibrahim says progress is being made slowly on his home continent but there are worrying trends to note.

On the up side, 18 of the 52 nations surveyed earned their best scores ever. For 94 percent of Africans, governance has notably improved since 2000, when data started being collected and analyzed, the report says…
On the downside, the criteria of safety and the rule of law have declined, signaling a worrying shift toward domestic social unrest. This is particularly true in the bottom six countries which included Zimbabwe, Chad, the Central African Republic, Eritrea, the Democratic Republic of Congo and Somalia.  http://www.voanews.com/content/african-governance-improving-index-finds/1769204.html
In the past, I have heard one or more Church of God ministers says something to the effect, "I have never met an African I did not like, nor seen an African government that I have liked."
Any improvement in government over in Africa can help multiple millions.
Of course, there are still problems in governance, and they are not just limited to Africa.
But Jesus came to proclaim the good news of the kingdom of God (e.g. Mark 1:14).  And this good news means that better governance will come to the entire world, including Africa.  That kingdom will have the rule of law and people will be able to be safe (cf. Isaiah 11:9; 65:25).
Jesus endorsed this kingdom so much, that one of the things He told His followers to pray was for that kingdom (Matthew 6:10).  The world needs that kingdom to come soon.
Until then, I hope and pray that matters, including governance, will be better for those in Africa.
Some items of possibly related interest may include:
Africa: Its Biblical Past and Prophesied Future What does the Bible teach about Africa and its future? Did the early Church reach Africa? Will God call all the Africans?
The Bible, Peter, Paul, John, Polycarp, Herbert W. Armstrong, Roderick C. Meredith, and Bob Thiel on Church Government What form of governance did the early church have? Was it hierarchical? Which form of governance would one expect to have in the Philadelphia remnant? The people decide and/or committee forms, odd dictatorships, or the same type that the Philadelphia era itself had? What are some of the scriptural limits on ecclesiastical authority? Do some commit organizational idolatry? Here is a Spanish language version La Biblia, Policarpo, Herbert W. Armstrong, y Roderick C. Meredith sobre el gobierno de la Iglesia.
The Gospel of the Kingdom of God was the Emphasis of Jesus and the Early Church Did you know that? Do you even know what the gospel of the kingdom is all about? You can also see a YouTube video sermon The Gospel of the Kingdom.
Just What Do You Mean the Kingdom of God? A booklet that was written by Herbert Armstrong answers questions about the Kingdom.
Did The Early Church Teach Millenarianism? Was the millennium (sometimes called chiliasm) taught by early Christians? Who condemned it? Will Jesus literally reign for 1000 years on the earth? Is this time near?
Does God Have a 6,000 Year Plan? What Year Does the 6,000 Years End? Was a 6000 year time allowed for humans to rule followed by a literal thousand year reign of Christ on Earth taught by the early Christians? Does God have 7,000 year plan? What year may the six thousand years of human rule end? When will Jesus return? 2021 or 20xx? There is also a video titled The 6000 Year Plan: Is the end of humanity's reign almost up?