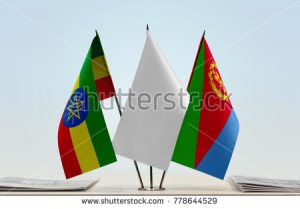 Ethiopia, white, & Eritrea flags
The Prime Minister of Ethiopia was awarded the Nobel Peace Prize, mainly for his efforts to end the war between his country and Eritrea:
11 October 2019

Announcing the winner of the Nobel Peace Prize on Friday in Oslo, the five-member Norwegian Nobel Committee, which awards the prize, praised Ethiopian Prime Minister Abiy Ahmed for his peacemaking efforts, speaking of "his decisive initiative to resolve the border conflict with neighboring Eritrea."

Ethiopia and Eritrea restored relations in July 2018 after years of hostility. The two sides fought a border war from 1998 to 2000.

Abiy said he was "humbled and thrilled" to win the prize.

"I am so humbled and thrilled … Thank you very much. It is a prize given to Africa, given to Ethiopia, and I can imagine how the rest of Africa's leaders will take it positively to work on the peace-building process in our continent," said Abiy.

The head of the committee, Berit Reiss-Andersen, said it was hoped that the prize would strengthen Abiy "in his important work for peace and reconciliation."

The citation also spoke of his efforts in helping restore diplomatic relations between Eritrea and Djibouti "after many years of political hostility" and in mediating between Kenya and Somalia in a dispute over marine territorial rights. …

With the exception of the prize for economics, which is to be awarded next week, all the Nobel prizes were established by the Swedish industrialist Alfred Nobel (1833-96), the inventor of dynamite.

According to Nobel himself, the peace prize should go "to the person who has done the most or best to advance fellowship among nations, the abolition or reduction of standing armies and the establishment and promotion of peace congresses." https://www.dw.com/en/ethiopian-prime-minister-abiy-ahmed-wins-nobel-peace-prize/a-50788390

October 11, 2019

The Norwegian Nobel Institute Friday also praised the "important reforms" that Abiy, Ethiopia's leader since April 2018, has launched at home.

Chairwoman Berit Reiss-Andersen said some people may consider it too early to give him the prize, but "it is now that Abiy Ahmed's efforts need recognition and deserve encouragement."

Abiy, 43, took office after widespread protests pressured the longtime ruling coalition and hurt one of the world's fastest growing economies. Africa's youngest leader quickly announced dramatic reforms and "Abiymania" began.

Eritrea peace

In a move that caused surprise in the long-turbulent Horn of Africa region, he said Ethiopia would accept a peace agreement with Eritrea, ending one of Africa's longest-running conflicts.

Within weeks, Eritrea's longtime leader, visibly moved, visited Addis Ababa and communications and transport links were restored. For the first time in two decades long-divided families made tearful reunions.

The improving relations led to the lifting of United Nations sanctions on Eritrea, one of the world's most reclusive nations. But Ethiopia's reforms appear not to have inspired any in Eritrea, which has since closed border posts with its neighbor.

Political surprises

At home, Abiy offered one political surprise after another. He released tens of thousands of prisoners, welcomed home once-banned opposition groups and acknowledged past abuses. People expressed themselves freely on social media, and he announced that Ethiopia would hold free and fair elections in 2020. The country has one of the world's few "gender-balanced" Cabinets and a female president, a rarity in Africa.

And for the first time Ethiopia had no journalists in prison, media groups noted last year.

The new prime minister also announced the opening-up of Ethiopia's tightly controlled economy, saying private investment would be welcome in major state-owned sectors — a process that continues slowly. https://www.voanews.com/africa/ethiopian-prime-minister-abiy-ahmed-awarded-nobel-peace-prize

11 October 2019

Despite a number of somewhat questionable recipients — such as former US President Barack Obama, or the European Union — the Nobel Peace Prize continues to carry considerable symbolic meaning. For precisely this reason, awarding it to the young reformer hailing from Addis Ababa despite the stalled progress on his peace initiative is also the wrong choice.

Peace with Eritrea? Or dead silence?

Abiy Ahmed took office in April 2018, becoming PM of Africa's second-most populous nation, which also holds tremendous geostrategic importance. Let there be no misunderstanding: Since taking office he has pushed for reforms , the importance of which are impossible to overestimate. He unlocked the torture chambers and took the muzzle away from the media. All of this deserves unqualified respect, even if, in the meantime, the initial euphoria has waned a little.

Of course, Abiy was awarded the Nobel Peace Prize to a lesser extent because of his "important reforms" in the domestic domain but explicitly because of his efforts regarding a lasting peace with Ethiopia's archrival Eritrea — the two countries were involved in a border war from 1998 to 2000, which led to heavy losses on both sides. And wasn't it a very moving scene indeed in July 2018 when, Abiy made it possible for family members separated for two decades to embrace each other again?

Those peace efforts, however, have come to a standstill; they may even have stopped completely. True, family members and businesspeople are now able to commute via 50-minute flights between the two respective capitals, Addis Ababa and Asmara. But this is the privilege of only a small elite. Border crossings such as Zalambessa, which are much more important when it comes to public transportation and movement of goods and which were opened with a lot of fanfare, have all been closed again in the meantime — at Eritrea's instigation, Ethiopia was quick to point out. The initial shuttle diplomacy pursued by Abiy and Eritrea's autocratic ruler Isaias Afewerki has come to a halt. https://www.dw.com/en/opinion-nobel-peace-prize-for-abiy-ahmed-a-misguided-decision/a-50799722
I reported about this deal with Eritrea as some good news back in 2018:
Ethiopia's Abiy and Eritrea's Afewerki declare end of war

9 July 2018

The leaders of Ethiopia and Eritrea have signed a declaration saying that the state of war between the two countries is over.

A peace deal ending the 1998-1999 border conflict has never been fully implemented and there has been tension between the neighbours ever since.

The countries have also agreed to re-establish trade and diplomatic ties.

The declaration came at a landmark meeting between the two countries' leaders in Eritrea's capital, Asmara. https://www.bbc.com/news/world-africa-44764597

9 July 2018

Ethiopia and Eritrea officially declared an end to a two-decades-old war on Monday, a day after their leaders held a historic summit in the Eritrean capital Asmara.

The two neighbors also agreed to resume flights, open embassies and develop ports together.

"State of war that existed between the two countries has come to an end. A new era of peace and friendship has been ushered (in)," Eritrean Information Minister Yemane Gebremeskel said on Twitter.

"Both countries will work to promote close cooperation in political, economic, social, cultural and security areas," Yemane added. https://www.dw.com/en/ethiopia-eritrea-officially-end-war/a-44585296
Most of the people in both of these nations live in poverty.
The Continuing Church of God has a deacon as well as members in Ethiopia.
Less resources spent on war as well as likely increased trade between the two nations will at least help some reduce their extreme poverty.
While Ethiopia and Eritrea, like the rest of the world, need the Kingdom of God, having more peace is normally a good thing.
While there are issues with political leaders, Jesus taught, "blessed are the peacemakers" (Matthew 5:9).
Peace should help at least some in this part of Africa.
Some items of possibly related interest may include:
Africa: Its Biblical Past and Prophesied Future What does the Bible teach about Africa and its future? Did the early Church reach Africa? Will God call all the Africans? A related online sermon is also available: Africa: Its biblical past, present, and future. A video of possible interest is: Nairobi Conference: All About Love.
The Gospel of the Kingdom of God This free online pdf booklet has answers many questions people have about the Gospel of the Kingdom of God and explains why it is the solution to the issues the world is facing. Here are links to three related sermons: The World's False Gospel, The Gospel of the Kingdom: From the New and Old Testaments, and The Kingdom of God is the Solution.