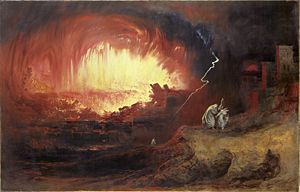 The Destruction of Sodom and Gomorrah
CBS news has the following:
Liberian President Ellen Johnson Sirleaf defended her nation's laws which makes the committing of homosexual acts – "voluntary sodomy" – punishable by up to one year in prison."We like ourselves just the way we are," Sirleaf told the Guardian, when asked about the law, as well as proposals for even stricter anti-gay legislation. "We've got certain traditional values in our society that we would like to preserve."

Sirleaf…was awarded the Nobel Peace Prize in 2011 because she "contributed to securing peace in Liberia," promoted "economic and social development," and strengthened "the position of women."

Across Africa, many of the more traditional societies have been pushing back against gay rights since U.S. Secretary of State Hillary Clinton announced in December of last year that U.S. foreign aid would be used to promote rights for gays and lesbians abroad, including combating attempts by foreign governments to criminalize homosexuality.

Homosexuality is illegal in as many as 38 African countries, according to the BBC.  http://www.cbsnews.com/8301-503543_162-57400436-503543/nobel-peace-prize-winner-defends-anti-gay-laws/?tag=stack
Sodomy and other forms of homosexuality were illegal in many USA states, but the trend in the USA has gone the other way.  It is nice when political leaders stand up for more biblical approaches towards morality.  It is just sad that so few do that this is considered to be news.
The Bible, of course, does not support the type of homosexual rights agenda that the Obama Administration is telling the world to adopt.
There were other societies that have had their own issues of openly advocating sins that their residents seemed to view as acceptable. Notice what happened in a couple of such towns between three thousand and four thousand years ago:
24 Then the Lord rained brimstone and fire on Sodom and Gomorrah, from the Lord out of the heavens. 25 So He overthrew those cities, all the plain, all the inhabitants of the cities, and what grew on the ground. (Genesis 19:24-25)
And why did it happen?
7 as Sodom and Gomorrah, and the cities around them in a similar manner to these, having given themselves over to sexual immorality and gone after strange flesh, are set forth as an example, suffering the vengeance of eternal fire. (Jude 7)
Why mention this in the 21st century? Because God turned:
6…the cities of Sodom and Gomorrah into ashes, condemned them to destruction, making them an example to those who afterward would live ungodly (2 Peter 2:6,
NKJV)
Thus, the destruction of Sodom and Gomorrah were to serve as an example to those who would live as they did. The USA, which has lots of Bibles, should know this–but refuses to wish to truly retain God in its knowledge.
Of course, not everyone in Sodom and Gomorrah were homosexuals as those that strictly practice that could not reproduce. Yet, notice that the destruction that hit their cities destroyed all that were there and notice that something like this is to happen again according to Jesus:
26 And as it was in the days of Noah, so it will be also in the days of the Son of Man: 27 They ate, they drank, they married wives, they were given in marriage, until the day that Noah entered the ark, and the flood came and destroyed them all. 28 Likewise as it was also in the days of Lot: They ate, they drank, they bought, they sold, they planted, they built; 29 but on the day that Lot went out of Sodom it rained fire and brimstone from heaven and destroyed them all. (Luke 17:26-29)
The USA can pretend that increasing "homosexual rights" is a proper goal, but the Bible suggests otherwise.  And the President of Liberia seems to realize that.
Keeping the Ten Commandments reflects love. Breaking them and/or condoning those that do is evil. This should be clear to those who believe the God of the Bible.
Some items of possibly related interest may include:
LCG: Homosexuals Gaining Ground "Same-sex marriage" for "gays" and lesbians is becoming more acceptable to many. What does the Bible teach about homosexuality? Can homosexuals change?
What Did Jesus Teach About the Ten Commandments? This article quotes what Jesus actually said about them (His words are in red).
The Ten Commandments Reflect Love, Breaking them is Evil Some feel that the ten commandments are a burden. Is that what Jesus, Paul, Peter, James, and John taught?
Was the Commandment to Love the Only Command? Some have stated that John's writings teach this, but is that what the Bible really says?
The Ten Commandments and the Early Church Did Jesus and the Early Church keep the ten commandments? What order were they in? Here are quotes from the Bible and early writings.
Anglo – America in Prophecy & the Lost Tribes of Israel Are the Americans, Canadians, British, Scottish, Welsh, Australians, Anglo-Southern Africans, and New Zealanders descendants of Joseph? Where are the lost ten-tribes of Israel? Who are the lost tribes of Israel? What will happen to the Jews in Israel? Will God punish the U.S.A., Canada, United Kingdom, and other Anglo nations? Why might God allow them to be punished first?
Will the Anglo-Nations be Divided and Have People Taken as Slaves? Will the lands of the United States, United Kingdom, Canada, Australia, and New Zealand be divided? What does Bible prophecy teach? Are there non-biblical prophecies that support this idea? Who will divide those lands? Who will end up with the lands and the people?
Prophecies of Barack Obama? This article has eight reasons why Barack Obama is apocalyptic and eight reasons why Barack Obama is not the Antichrist. It includes many biblical and non-biblical prophecies, from around the world, that seem to discuss Barack Obama. Did Nostradamus predict Barack Obama dealing with the Antichrist? Might Barack Obama set the stage for the kings of the North and South as at least one Shiite prophecy suggests? This is the longest and most complete article at the COGwriter website on Barack Obama prophecies. Read it and decide for yourself if President Obama seems to be fulfilling various prophecies.
Barack Obama, Prophecy, and the Destruction of the United States Some claim that Barack Obama is the prophesied "son of Kenya". Might Bible prophecy be fulfilled since he is to be the USA president?
Several More Reasons American's Question Obama's Religion Is Barack Obama a Christian? He claims to be. Others question that.
Africa: Its Biblical Past and Prophesied Future What does the Bible teach about Africa and its future? Did the early Church reach Africa? Will God call all the Africans?