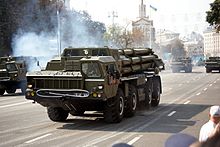 Ukrainian BM-30 Smerch Rocket Launcher (Michael)
The Kiev government of Ukraine and separatist forces were fighting today despite the 'ceasefire' deal in February of 2015:
April 10, 2015

KYIV—Ukraine's military and pro-Russian rebels accused each other on Friday of intensifying attacks in separatist eastern territories despite a two-month-old cease-fire deal.

The conflict has reached stalemate in recent weeks with the truce, brokered in the Belarussian capital of Minsk in mid-February, still technically in force though casualties are reported almost daily.

"The enemy has significantly intensified firing on our positions from weapons that according to the Minsk agreement are meant to have been withdrawn," Kyiv's military spokesman Andriy Lysenko said in a televised briefing, adding that the majority of attacks had taken place around the airport of rebel-held Donetsk.

He said in the past 24 hours rebels had fired at government troops 18 times with weapons of between 120 mm and 122 mm calibre.

According to the Minsk deal, weapons bigger than 100 mm caliber, including large artillery, heavy mortar and powerful rocket systems, are meant to have been withdrawn from the frontline.

The conflict erupted a year ago when rebels opposed to a new pro-Western leadership in Kiev and the ousting of a Moscow-backed president occupied state buildings in two big cities of Ukraine's Russian-speaking east, Donetsk and Luhansk.

More than 6,000 civilians, rebels and Ukrainian servicemen have been killed since then in a crisis in which Kiev has accused its former Soviet master of arming and supporting the rebels, a charge Moscow denies On the rebel side, separatist forces accused government troops in the town of Avdiivka of firing from tanks at rebel positions near Donetsk airport about 7 km (4.4 miles) away, rebel news agency DAN reported early on Friday.

Ukrainian military spokesman Vladislav Seleznyov said it was not possible for government troops to fire tank rounds that distance.

"For that … heavy artillery systems would be needed and we have withdrawn them," he told Reuters by phone. http://www.voanews.com/content/ukraine-military-revels-accuse-each-other-of-increased-attacks/2713886.html
Russia has been involved in a semi-proxy war with the West in Ukraine.  Russia wants Ukraine.  Many in the eastern portion of Ukraine want to be part of Russia, or at least separate from Kiev.  Most in western Ukraine wish to be separate from Russia as well as part of the European Union.
When the 'ceasefire' was agreed to about two months back, I cast doubts on it (see Cease fire deal reached for Ukraine: Will it really bring peace?).
So, since there is still fighting, Europe is trying to figure out what to do.  Some want tougher sanctions.
Yet, many in Europe do not want to increase sanctions against Russia as Russia is important to the economies of many of the nations there.  Some wish to try to get closer to Russia for various reasons.
Earlier this week, Greece's Prime Minister Alexis Tsipras visited Russia, to the consternation of some in Europe:
April 11, 2015 (Print edition date)

Before setting out from Athens on April 8th, Alexis Tsipras swore that he would not be asking Vladimir Putin, the current president, for cash, even though his country's finances are in a more parlous state now than they were in 2010.

In the end, the two leaders' meeting produced little beyond a warm atmosphere and pledges to "restart and revive" relations. Mr Tsipras welcomed a proposed Russian gas pipeline across Greece's territory and criticised European Union sanctions, as he has before. Mr Putin pledged (not entirely credibly) to refrain from using relations with Greece to divide the EU.  http://www.economist.com/news/europe/21648036-greek-gets-no-gifts-moscow-desperate-times

April 10, 2015

Spain has criticised Greece over Russia sanctions as the EU moves toward renewing economic restrictions.

The Spanish foreign minister, Jose Manuel Garcia-Margallo, said in Barcelona on Thursday (9 April) that the Greek PM, Alexis Tsipras, was wrong to speak out against EU measures whe he visited Moscow earlier this week.

"I can't share the opinion of the Greek prime minister", he said.

"The key condition to lift the sanctions is that Russia respects international law. Respecting international law means respecting the Minsk [ceasefire] accords, stopping intervention to help the separatists in Donbas and giving up the Crimean peninsula [which Russia annexed from Ukraine]", he added.

"Once international law is re-established, the time will come to look for a formula to end this state of latent tension between Russia and the European Union".

Tsipras in Moscow on Wednesday (8 April) had denounced "the vicious circle" of EU sanctions and Russia counter-sanctions.

But he also linked lifting the EU measures to Minsk compliance.  https://euobserver.com/foreign/128283

April 8, 2015

So far, the Greek Prime Minister Alexis Tsipras' has not yet been proved anything in his dealings with the European Union – above all, that he is capable of learning. Since taking office in January, he shows the same blend of stubbornness, denial of reality and aggression towards his benefactors.

Perhaps the visit with Vladimir Putin will finally lead him to some self-knowledge. The stakes were high as Tsipras lay down his last political card on the table – only to go home with an empty wallet. The Greek Prime Minister was willing to gamble away his consent to the extension EU's Russia sanctions and jeopardize solidarity with the EU to gain a new friend and helper in Moscow. He wanted to show the Europeans that he has options other than the excruciating negotiations with Brussels on reforms and regulations, which are supposed to put an end to his acute financial problems.

As a consequence, he was publicly outmaneuvered by old fox in the Kremlin. …

Alexis Tsipras somehow seems eager to have all the bad experiences possible and to get into the nitty-gritty of them. So he smashed the plates is the customary Greek way, angered European Commission President Juncker, European Parliament President Schulz and all European partners with this mistimed visit to Moscow, just so he could get nothing out Putin for this bold act except some warm words and vague promises. …

Vladimir Putin cunningly undermined the Greeks' advances in terms of EU sanctions by expressing that it is understandable that Greece had to support the European sanctions resolution, unfortunately, there are no exceptions for an individual EU country in the countermeasures. However, more cooperation in agriculture through joint Russian-Greek companies is possible – this is, at best, an ambiguous promise of a type of joint venture collective farms.  http://www.dw.de/opinion-tsipras-visit-to-moscow-was-a-flop/a-18370929
Hungary, Greece, and some other parts of Europe want more trade with Russia.
While Greece did not yet get much from Russia this week, the fact its Prime Minister went to Moscow to discuss economic matters shows that EU nations are trying to figure out how to help their economic situations and many would prefer to not have strong sanctions against Russia.
Of course, Russia's Vladimir Putin knows this and hopes to exploit it to eventually get some or all of Ukraine.  However, EU leaders like Angela Merkel want all of Ukraine in the European Union and will not be pleased to lose more of it (Crimea has already been lost and is now part of Russia).
While Russia does have some concerns about the West and sanctions, it really is trying to figure out how to get the public in eastern Ukraine on its side. If Kiev keeps fighting and upsetting those in Donetsk and Luhansk, they may want more Russian help and intervention.
Russia wants more nations to support its upcoming Eurasian Union while those in Brussels want more nations to support its European Union.
The Bible itself tells of a type of Eurasian confederation (Jeremiah 50:41-42; Revelation 16:12-14) as well as a confederation of Europeans (Daniel 11:21-40; Revelation 13).
Ukraine is basically between both.   Peoples from the ancient Median empire ended up in parts of Russia and Ukraine (see Russia and Ukraine: Origins and Prophesied Future).
Since the Bible tells of a future (at least 4 years from now) joining of the "kings of the Medes" (Jeremiah 51:11-32), this means whichever peoples are more from a Median background in place like Ukraine will ultimately support Russia against Europe.
Some items of possibly related interest may include:
Russia and Ukraine: Origins and Prophesied Future Where do the Russians come from? What about those in the Ukraine? What is prophesied for Russia and its allies? What will they do to the Europeans that supported the Beast in the end? You can also watch the short video Ukraine in Prophecy?
Russia in the Bible and in Prophecy Is Russia mentioned in the Bible? It it is where is it? Is there any evidence of a people moving to the land that the Russians now occupy? What do Catholic and other prophecies say about Russia? What does the Bible teach? How are Protestants often in error on this? Is there more in biblical prophecy for Russia than war? Does God have a plan to save Russia and her allies? Does Russia have a history involving Sabbath keepers? Does scripture tie Russia in with Armageddon? Will Russia help defeat the end time Babylonian power?
The Gospel of the Kingdom of God was the Emphasis of Jesus and the Early Church Did you know that? Do you even know what the gospel of the kingdom is all about? You can also see a YouTube video sermon The Gospel of the Kingdom.
When Will the Great Tribulation Begin? 2015, 2016, or 2017? Can the Great Tribulation begin today? What happens before the Great Tribulation in the "beginning of sorrows"? What happens in the Great Tribulation and the Day of the Lord? Is this the time of the Gentiles? When is the earliest that the Great Tribulation can begin? What is the Day of the Lord? Who are the 144,000? Here is a version of the article in the Spanish language: ¿Puede comenzar la Gran Tribulación en 2014 o 2015? ¿Es el Tiempo de los Gentiles? You can also see the English language sermon video: The Great Tribulation from the Mount of Olives.
Ezekiel 38: For Russia & Iran in Our Day? Is Ezekiel 38 about to be fufilled? A related video is available titled Ezekiel 38: For Russia, Ukraine, & Iran Now?
Bible News Prophecy July-Sept. 2014: The Coming Eurasian Union Here is the latest magazine from the Continuing Church of God. The cover of which shows Vladimir Putin and features an article about the coming Eurasian Union.
Europa, the Beast, and Revelation Where did Europe get its name? What might Europe have to do with the Book of Revelation? What about "the Beast"? Is an emerging European power "the daughter of Babylon"? What is ahead for Europe? Here is a link to a video titled: Can You Prove that the Beast to Come is European?
European Technology and the Beast of Revelation Will the coming European Beast power would use and develop technology that will result in the taking over of the USA and its Anglo-Saxon allies? Is this possible? What does the Bible teach? Here is a related YouTube video: Military Technology and the Beast of Revelation.
Must the Ten Kings of Revelation 17:12 Rule over Ten Currently Existing Nations? Some claim that these passages refer to a gathering of 10 currently existing nations together, while one group teaches that this is referring to 11 nations getting together. Is that what Revelation 17:12-13 refers to? The ramifications of misunderstanding this are enormous.
World War III: Steps in Progress Are there surprising actions going on now that are leading to WWIII? Might a nuclear attack be expected? Does the Bible promise protection to all or only some Christians? How can you be part of those that will be protected? A related video would be Is World War III About to Begin? Can You Escape?
Wars, rumors of wars, and the Apocalypse Jesus foretold a time before the end where there would be wars and rumors of wars. The Apocalypse (the Book of Revelation) warns of the red horseman of war. Now, even secular writers, like Larry Edelson, are worried that wars and rumors of war are the most menacing problem that now haunts the earth? Are they right? What is the solution? This is a sermonette-length video.
Is Russia the King of the North? Some claim it is. But what does the Bible teach? Here is a link to a video, also titled Is Russia the King of the North?
The Eurasian Union, the Kings of the East, and Bible Prophecy Is there a Eurasian union that will be formed? Is one being formed right now? Are any leaders working on that in the 21st century? Does the Bible teach that there will be a Eurasian union? If some type of Eurasian union is formed, who might it benefit and who will it destroy? A related video would be Is The Eurasian Union Rising?
Who is the King of the North? Is there one? Do biblical and Roman Catholic prophecies for the Great Monarch point to the same leader? Should he be followed? Who will be the King of the North discussed in Daniel 11? Is a nuclear attack prophesied to happen to the English-speaking peoples of the United States, Great Britain, Canada, Australia, and New Zealand? When do the 1335 days, 1290 days, and 1260 days (the time, times, and half a time) of Daniel 12 begin? When does the Bible show that economic collapse will affect the United States? In the Spanish language check out ¿Quién es el Rey del Norte? Here is a link to a video titled: The Future King of the North.