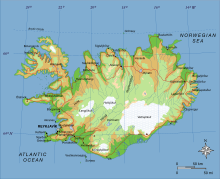 Volcano Located Below Upper Left Corner of Largest White Glacial Region Above
Iceland is having concerns about one of its volcanoes again:
August 23, 2014
REYKJAVIK, Iceland (AP) — Iceland raised its aviation alert to red Saturday as a subglacial eruption began at the restless Bardarbunga volcano, which has been rattled by thousands of earthquakes in the past week, the country's Meteorological Office said.

Seismic data indicated that lava from the volcano was melting ice beneath the Vatnajokull glacier, Iceland's largest, Met Office vulcanologist Melissa Pfeffer said.

She said it was not clear when, or if, the eruption would melt through the ice — which is between 100 to 400 meters (330 to 1,300 feet) thick — and send steam and ash into the air.

The eruption led Iceland to raise its aviation alert level to red, indicating an eruption that could cause "significant emission of ash into the atmosphere." Red is the highest alert warning on a five-point scale. http://www.chron.com/news/science/article/Quakes-surge-around-Iceland-volcano-no-eruption-5707615.php

August 23, 2014

Icelandic authorities declared a no-fly zone of 100 nautical miles by 140 nautical miles around the eruption as a precaution, but did not shut down air space over most of the island nation in the North Atlantic.

"All airports are open and flights are on schedule," said spokeswoman Olof Baldursdottir.

A 2010 eruption of Iceland's Eyjafjallajokul volcano produced an ash cloud that caused a week of international aviation chaos, with more than 100,000 flights cancelled. http://news.nationalpost.com/2014/08/23/bardarbunga-volcano-in-iceland-starts-apparent-subglacial-lava-eruption/
Eruptions for volcanoes in Iceland caused aviation problems a few years ago as the above article mentioned.
Volcanoes pose more risks than many believe.  It is likely that the supervolcano at Yellowstone will likely someday erupt and cause massive problems.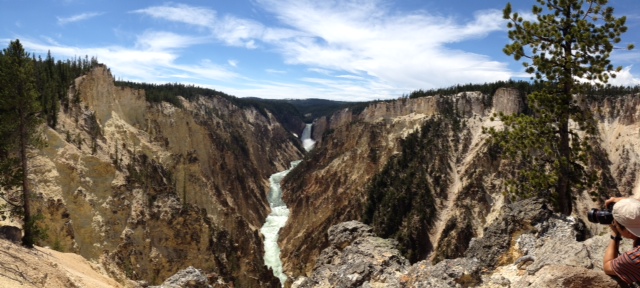 Yellowstone (July 2014, Michael Thiel)
Last month, heat related to Yellowstone was a factor in road closures:
Extreme heat from a massive supervolcano underneath Yellowstone National Park is melting a major roadway at the popular summertime tourist attraction. Park officials have closed the area to visitors.

Firehole Lake Drive, a 3-mile-plus offshoot of the park's Grand Loop that connects the Old Faithful geyser and the Madison Junction, is currently off limits. Park operators say the danger of stepping on seemingly solid soil into severely hot water is "high."

"It basically turned the asphalt into soup. It turned the gravel road into oatmeal," Yellowstone spokesman Dan Hottle said.

The affected roadway offers access to the Great Fountain Geyser, White Dome Geyser, and Firehole Lake.

"There are plenty of other great places to see thermal features in the park," park public affairs chief Al Nash told The Weather Channel. "I wouldn't risk personal injury to see these during this temporary closure."

While thermal activity under the park often gives way to temperature fluctuations that can soften asphalt throughout Yellowstone, Hottle said the latest wave seems worse than usual. …

The supervolcano has the potential to spew more than 240 cubic miles (1,000 cubic kilometers) of magma across Montana, Idaho, and Wyoming.

"We believe it will erupt again someday, but we have no idea when," Farrell told National Geographic.  http://rt.com/usa/172672-supervolcano-yellowstone-closed-roads/
Though most scientists believe the risk from supervolcanoes, like in Yellowstone, is for the distant future, the risk is real.  Notice something from earlier this year:
The eruption of a "supervolcano" hundreds of times more powerful than conventional volcanoes – with the potential to wipe out civilisation as we know it – is more likely than previously thought, a study has found. …

An analysis of the molten rock within the dormant supervolcano beneath Yellowstone National Park in the United States has revealed that an eruption is possible without any external trigger, scientists said.

Scientists previously believed many supervolcanic eruptions needed earthquakes to break open the Earth's crust so magma could escape. But new research suggests that this can happen as a result of the build-up of pressure.

Supervolcanoes represent the second most globally cataclysmic event – next to an asteroid strike – and they have been responsible in the past for mass extinctions, long-term changes to the climate and shorter-term "volcanic winters" caused  by volcanic ash cutting out the sunlight.

The last known supervolcanic eruption was believed to have occurred about 70,000 years ago at the site today of Lake Toba in Sumatra, Indonesia. …

A supervolcano under Yellowstone Park in Wyoming last erupted about 600,000 years ago, sending more than 1,000 cubic kilometres of ash and lava into the atmosphere – about 100 times more than the Mount Pinatubo eruption in the Philippines in 1982, which caused a noticeable period of global cooling.
Jesus warned about a time earthquakes and troubles:
8 … And there will be earthquakes in various places, and there will be…troubles. These are the beginnings of sorrows. (Mark 13:8)
We may be at this prophetic point as all the earthquakes and other problems that have happened in the past couple of years could be considered as "troubles."
Some items of possibly related interest may include:
Earthquakes Today and Bible Prophecy Contains a cool up-to-the-hour update of earthquakes around the world from USGS. It also explains what did Jesus teach about earthquakes and how the Bible describes "the big one" (as well as when it is expected).
Islands and Bible Prophecy What's ahead for islands? What does the Bible prophesy about them?
Just What Do You Mean — Repentance? Do you know what repentance is? Have you truly repented? Repented of what? Herbert W. Armstrong wrote this as a booklet on this important subject.
Weather Blessings and Sorrows Are weather problems a warning? What should be done? Here is a related YouTube video Does God Use Weather?
The Gospel of the Kingdom of God was the Emphasis of Jesus and the Early Church Did you know that? Do you even know what the gospel of the kingdom is all about? True religion should be based upon the true gospel.
When Will the Great Tribulation Begin? 2014, 2015, or 2016? Can the Great Tribulation begin today? What happens before the Great Tribulation in the "beginning of sorrows"? What happens in the Great Tribulation and the Day of the Lord? Is this the time of the Gentiles? When is the earliest that the Great Tribulation can begin? What is the Day of the Lord? Who are the 144,000? Here is a version of the article in the Spanish language: ¿Puede comenzar la Gran Tribulación en 2013 o 2014? ¿Es el Tiempo de los Gentiles? You can also see the English language video The Great Tribulation Will Not Begin Before 2017.
Does God Have a 6,000 Year Plan? What Year Does the 6,000 Years End? Was a 6000 year time allowed for humans to rule followed by a literal thousand year reign of Christ on Earth taught by the early Christians? Does God have 7,000 year plan? What year may the six thousand years of human rule end? When will Jesus return? 2021 or 20xx?
Physical Preparation Scriptures for Christians. We all know the Bible prophecies famines. Should we do something?