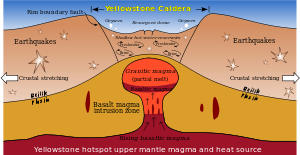 The USA is at risk should the supervolcano at Yellowstone erupt:
September 1, 2014
Yellowstone Supervolcano Eruption Would be Devastating For U.S.

If the Yellowstone supervolcano erupted, at least a meter of ash would cover parts of the Rocky Mountain range and a few millimeters of ash would reach cities on both coasts of the U.S., according to new estimates based on computer simulations on the event…
The Ash3D model simulated Yellowstone's eruption and the study, "Modeling Ash Fall Distribution From a Yellowstone Supereruption," was published in the Wiley Online Library.
Larry Mastin, lead author of the study and US Geological Survey hydrologist, said he helped develop the Ash3D model, said that there has been a recent rise in demand for models projecting the density of the ash driven by a ground-collapsing eruption from the Yellowstone volcano. …
Once they simulated a modern-day Yellowstone eruption, researchers were able to determine that a Yellowstone caldera eruption would release an "umbrella" of ash that would spread from the center of the US and cover both coasts.

"In essence, the eruption makes its own winds that can overcome the prevailing westerlies, which normally dominate weather patterns in the United States," said Mastin. "This helps explain the distribution from large Yellowstone eruptions of the past, where considerable amounts of ash reached the west coast."

The effects of the supervolcano's ash cloud would have a significant impact on every part of the U.S. The whole continent would suffer drastic change, according to Mastin.

"Electronic communications and air transportation would likely be shut down throughout North America," said the study. "There would also be major climate effects. Emission of sulfur aerosols during the 1991 Pinatubo eruption produced global cooling by an average of 1 degrees Celsius for a few years, while the 50 km 3 Tambora eruption of 1815 cooled the planet enough to produce the famed 'year without a summer' in 1816, during which snow fell in June in eastern North America and crop failures led to the worst famine of the 19th century." http://www.autoworldnews.com/articles/8822/20140901/yellowstone-supervolcano-eruption-would-be-devastating-for-u-s.htm
Notice that the USA is at risk of not only climate-related issues, but also electronic communications. This could be devastating for the USA and probably also Canada.  The USA itself has over 100 volcanoes, though not all are considered to be active.
As I recently warned, volcanoes pose more risks than many believe and it is likely that the supervolcano at Yellowstone will likely someday erupt and cause massive problems (see Iceland's subglacial volcano erupting; any risk from Yellowstone?).
Of course, it is not just North America that could be affected by supervolcanoes.
There are volcanoes in many parts of the world and nearly all can cause major problems.
Iceland has had issues with ones there (see Iceland's subglacial volcano erupting; any risk from Yellowstone? and Iceland's Volcano Closes Airports Across Europe). There is also Chile's Quizapu volcano, Pompey in Italy (see Pompeii movie released; observations about why Pompeii may have been destroyed), Mt. Etna in Sicily, the Valley of Ten Thousand Smokes in Alaska, many in the Hawaiian Islands, Mt. Tongariro in New Zealand (see Drought Pressuring Chicken Price in Australia, Britain, and USA; NZ Volcano Eruption), several in the Philippines (see Volcanic Earthquakes in the Philippines and Philippine Volcano Erupts and Thousands Flee), various ones in Indonesia (see Japan's Earthquake Seemingly Triggers Indonesia Volcanic Explosion, plus a Nuclear Plant Explosion), some in Ecuador, Guatemala (see Volcanos in Guatemala and Ecuador, Earthquake Risk on USA East) & El Salvador (see Volcano erupting in Indonesia after one did so in El Salvador), as well as other parts of the world.
At present, there are about 600 volcanoes that have had known eruptions during recorded history, while about 50-70 volcanoes are active (erupting) each year. At any given time, there is an average of about 20 volcanoes that are erupting. (How many volcanoes are there in the world? http://www.volcanodiscovery.com/volcanoes/faq/how_many_volcanoes.html viewed 09/01/14)
Jesus warned about a time earthquakes and troubles:
8 … And there will be earthquakes in various places, and there will be…troubles. These are the beginnings of sorrows. (Mark 13:8)
A supervolcanic eruption such as one at Yellowstone could cause major "troubles."
Some items of possibly related interest may include:
Earthquakes Today and Bible Prophecy Contains a cool up-to-the-hour update of earthquakes around the world from USGS. It also explains what did Jesus teach about earthquakes and how the Bible describes "the big one" (as well as when it is expected).
Islands and Bible Prophecy What's ahead for islands? What does the Bible prophesy about them?
Just What Do You Mean — Repentance? Do you know what repentance is? Have you truly repented? Repented of what? Herbert W. Armstrong wrote this as a booklet on this important subject.
Weather Blessings and Sorrows Are weather problems a warning? What should be done? Here is a related YouTube video Does God Use Weather?
The Gospel of the Kingdom of God was the Emphasis of Jesus and the Early Church Did you know that? Do you even know what the gospel of the kingdom is all about? True religion should be based upon the true gospel.
When Will the Great Tribulation Begin? 2014, 2015, or 2016? Can the Great Tribulation begin today? What happens before the Great Tribulation in the "beginning of sorrows"? What happens in the Great Tribulation and the Day of the Lord? Is this the time of the Gentiles? When is the earliest that the Great Tribulation can begin? What is the Day of the Lord? Who are the 144,000? Here is a version of the article in the Spanish language: ¿Puede comenzar la Gran Tribulación en 2013 o 2014? ¿Es el Tiempo de los Gentiles? You can also see the English language video The Great Tribulation Will Not Begin Before 2017.
Does God Have a 6,000 Year Plan? What Year Does the 6,000 Years End? Was a 6000 year time allowed for humans to rule followed by a literal thousand year reign of Christ on Earth taught by the early Christians? Does God have 7,000 year plan? What year may the six thousand years of human rule end? When will Jesus return? 2021 or 20xx?
Physical Preparation Scriptures for Christians. We all know the Bible prophecies famines. Should we do something?
Anglo – America in Prophecy & the Lost Tribes of Israel Are the Americans, Canadians, English, Scottish, Welsh, Australians, Anglo-Saxon (non-Dutch) Southern Africans, and New Zealanders descendants of Joseph? Where are the lost ten-tribes of Israel? Who are the lost tribes of Israel? What will happen to Jerusalem and the Jews in Israel? Will God punish the U.S.A., Canada, United Kingdom, and other Anglo-Saxon nations? Why might God allow them to be punished first? Here is a link to the Spanish version of this article: Anglo-América & las Tribus Perdidas de Israel. Information is also in the YouTube sermons titled Where are the Ten Lost Tribes? Why does it matter? and British are the Covenant People. A short YouTube of prophetic interest may be Barack Obama and the State of the Apocalypse.
Will the Anglo-Saxon Nations be Divided and Have People Taken as Slaves? Will the lands of the United States, United Kingdom, Canada, Australia, and New Zealand be divided? What about Jerusalem? What does Bible prophecy teach? Are there non-biblical prophecies that support this idea? Who will divide those lands? Who will end up with the lands and the people? Here is a link to a video titled Will the USA and other Anglo-nations be Divided and Their People Made Slaves? Here is a related item in the Spanish language ¿Serán divididas las naciones anglosajonas?