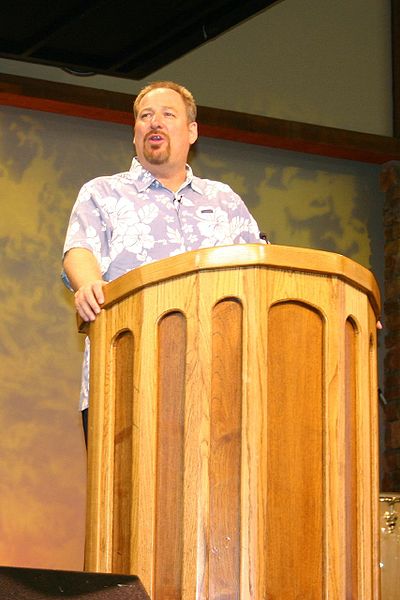 Rick Warren (All About You God)
Is evangelical Pastor Rick Warren a 'closet Catholic'?  The front page of the PTG September newsletter by Mike Grendon has the following:
Is Rick Warren a Closet Catholic?

The Eternal Word Television Network, a Catholic station conducted an interview with Rick Warren that reveals how much he embraces the Roman Catholic religion and his push for ecumenical unity.

During the interview, Warren praises all the Catholic mystics and the Pope over and over again. At the 24:20 mark, Warren says "he watches EWTN more than any Christian channel." He said if you don't understand the roots of your faith you're like a tumbleweed. One of his favorite shows on EWTN is "Chaplet of the Divine Mercy." After a stressful day, he comes home and watches it with his wife Kay. He said "I sit back, relax and worship." He said one episode was a Catholic prayer service in front of the Monstrance.

About the 25:30 mark, the interviewer says he was struck by three images in Warren's office – Mother Teresa, Martin Luther King and Billy Graham. Warren said the only one missing was Pope John Paul "because those four people were the greatest influences on the 20th century" and he has tried to learn lessons from each of them.
EWTN is a Roman Catholic television network.
Whether or not he is a 'closet Catholic,' Rick Warren is not the only evangelical to be embracing ecumenical unity with the Church of Rome.  Joel Osteen (see In Vatican City: New Babylon more openly forming!), Ken Copeland (watch Charismatic Kenneth Copeland and Anglican Tony Palmer: Protestants Beware!), and other Protestant leaders have embraced the movement as have various mainstream Protestant denominations.
Mike Grendon also reported the following:
The leaders of the Communion of Evangelical Episcopal Churches (CEEC) articulated their vision for what they say is "organic unity, not corporate unity" among Christians worldwide that is based on the Nicene Creed and the Great Commission. "We want to try to emulate what Christ left the world," said David Scott the General Secretary for the CEEC International House of Bishops. This convergence or unity movement received a dramatic boost when one of its bishops, met with Pope Francis to record his greeting to a group of American evangelical leaders.
Mike Grendon also reported the following about Billy Graham's group:
Roman Catholic Bishop David Zubik of the archdiocese of Pittsburg gave the opening prayer at Franklin Graham's Three Rivers Festival of Hope on Aug. 15th at the Consol Energy Center. During the bishop's prayer he implied Protestants and Catholics are all part of the same church. This type of ecumenical unity with the apostate Roman Catholic Church is a continuation of the unbiblical practice his dad started in the 1960's. Catholics who responded to Graham's invitation to make a decision for Christ were given the opportunity to go to Epiphany Church – a Catholic Church, across the street from the festival, for the sacrament of reconciliation.

Billy Graham, himself,  made a deal with the Church of Rome years ago (for some details, check out Beware: Protestants Going Towards Ecumenical Destruction!), and now that there is less ecumenical resistance among Protestants, apparently his group has come out more publicly in support.
The ecumenical movement is moving forward and many Protestants are supportive.  This will not turn out well (see Beware: Protestants Going Towards Ecumenical Destruction!).
Many do not realize that it is only AFTER Jesus returns that the true unity of faith can and will come per Zechariah 2:12-16, Ephesians 4:13, and Revelation 11:15-18.
Jesus did not come to bring worldwide unity in this age:
51 Do you suppose that I came to give peace on earth? I tell you, not at all, but rather division. (Luke 12:51)
The Bible shows that a false ecumenical unity will come (Revelation 13:4-8).
Notice also:
6 "Up, up! Flee from the land of the north," says the Lord; "for I have spread you abroad like the four winds of heaven," says the Lord. 7 "Up, Zion! Escape, you who dwell with the daughter of Babylon." (Zechariah 2:6-7)
Notice that even true believers are warned to get away from this.
While the true Christian faith will continue (Matthew 16:18), Protestantism as most understand it is doomed. Please, if you are Protestant, believe what the Bible actually teaches, turn to God, and resist the coming, more powerful, ecumenical appeals which will deceive all but the very elect (Matthew 24:24).
Notice also the following:
10 "Sing and rejoice, O daughter of Zion! For behold, I am coming and I will dwell in your midst," says the Lord. 11 "Many nations shall be joined to the Lord in that day, and they shall become My people. And I will dwell in your midst. Then you will know that the Lord of hosts has sent Me to you. 12 And the Lord will take possession of Judah as His inheritance in the Holy Land, and will again choose Jerusalem. 13 Be silent, all flesh, before the Lord, for He is aroused from His holy habitation!" (Zechariah 2:10-13)
It is after Babylon falls and Jesus returns that true Christian unity will occur (Zechariah 2:10-11). Do not be deceived by the Babylonian ecumenical movement. The Bible warns that nearly all on the earth in the final end times will be deceived (2 Thessalonian 2:9-12). Have the 'love of the truth' so that you will not fall for this.
What many Protestant leaders are encouraging is the rise of the Babylonian power that the Bible warns against in many places, such as the 17th and 18th chapter of the Book of Revelation.
Some items of related interest may include:
Beware: Protestants Going Towards Ecumenical Destruction! What is going on in the Protestant world? Are Protestants turning back to their 'mother church' in Rome? Does the Bible warn about this? What are Catholic plans and prophecies related to this? Is Protestantism doomed? See also the video Charismatic Kenneth Copeland and Anglican Tony Palmer: Protestants Beware!
Hope of Salvation: How the Continuing Church of God differ from most Protestants How the real Church of God differs from mainstream/traditional Protestants, is perhaps the question I am asked most by those without a Church of God background. As far as some changes affecting Protestantism, watch the video Charismatic Kenneth Copeland and Anglican Tony Palmer: Protestants Beware!
Which Is Faithful: The Roman Catholic Church or the Continuing Church of God? Do you know that both groups shared a lot of the earliest teachings? Do you know which church changed? Do you know which group is most faithful to the teachings of the apostolic church? Which group best represents true Christianity? This documented article answers those questions. [Português: Qual é fiel: A igreja católica romana ou a igreja do deus?]
Why Should American Catholics Fear Unity with the Orthodox? Are the current ecumenical meetings a good thing or will they result in disaster? Is doctrinal compromise good? Here is a link to a related video Should you be concerned about the ecumenical movement?
Will the Interfaith Movement Lead to Peace or Sudden Destruction? Is the interfaith movement going to lead to lasting peace or is it warned against?
Some Similarities and Differences Between the Eastern Orthodox Church and the Continuing Church of God Both groups claim to be the original church, but both groups have differing ways to claim it. Both groups have some amazing similarities and some major differences. Do you know what they are?
Orthodox Must Reject Unity with the Roman Catholics Unity between these groups will put them in position to be part of the final end time Babylon that the Bible warns against as well as require improper compromise.