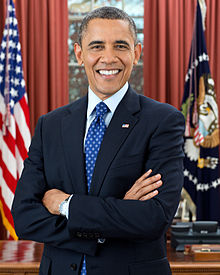 Barack Obama (Official Photograph)

Voice of America reported the following:
Obama Faces a Chaotic World and the Limits of Power

Two months before midterm congressional elections that will have a huge impact on the last two years of his tenure, President Barack Obama faces dueling foreign policy crises that pose a leadership test both at home and abroad.

The growing threat from Islamic State militants in the Middle East and Russia's latest military move into Ukraine have brought into clear focus the challenges for the United States in an age where Washington policy makers are acutely mindful of the U.S. public's waning appetite for overseas military engagements.

President Obama's acknowledgement that the U.S. doesn't "have a strategy yet" with regard to containing Islamic militants in Iraq and Syria suggests the administration wants to take some time to explore its options both militarily and diplomatically before reaching any decisions on whether to expand the U.S. air campaign into Syria. As the president said, "Syria is not simply a military issue, it's also a political issue."

Obama's comment drew some immediate fire from some of his Republican critics. Chairman of the House Intelligence Committee, Republican Mike Rogers of Michigan, said the president's comment "confirmed what we have been talking about really for almost two years.  There has been no real strategy." …

President Obama's overall public approval ratings remain low—just above 40 percent in most national polls—and that usually spells trouble for the president's party in a midterm contest. But the public so far seems supportive of air attacks on Islamic State militants in Iraq, also known as ISIL, and the recent beheading of American journalist James Foley seems to have galvanized U.S. public opposition to the group.

But lingering public wariness of U.S. ground troops engaging in overseas conflicts in the wake of the wars in Afghanistan and Iraq means the president must still confront the limits of U.S. military power in the context of what the American public is willing to support in any given crisis. It is far easier to build public support for limited, successful drone and air attacks than a more open-ended military commitment that could involve ground troops.

Foreign policy issues usually don't become critical factors in midterm elections. But given recent events in Iraq, Syria, Ukraine, Israel and Gaza, the Obama administration's overall foreign policy approach has come under fire from congressional Republicans and is being highlighted by some Republican candidates for the House and Senate. President Obama has been getting some negative public approval ratings on his handling of foreign policy and that, combined with continuing apprehension about the economy, have driven his overall ratings to some of the lowest points of his presidency. Some analysts believe that a firmer hand against Islamic State militants in both Iraq and Syria could help alter public perceptions about the president's management of foreign policy, an area where he was given solid marks in previous years.  http://www.voanews.com/content/column-faces-chaotic-world-and-limits-of-power/2432432.html
The above article did not cover what has happened related to Europe and Germany, nor how any of that will tie in with prophecy (a video on that would be 10 Steps Obama Has Taken Leading to the Rise of the Beast).  Much of the above article went into how this would affect the mid-term elections in November 2014, but that is relatively minor compared to the real issues that are at stake–the long-term existence of the USA.
Here is some information related to political criticism of his foreign policy:
September 1, 2014

The leaders of the House and Senate intelligence committees criticized President Obama on Sunday for failing to decide yet on whether to hit Islamic State targets in Syria and urged him ahead of this week's key NATO summit to take decisive action before the militant group attacks on U.S. soil.

"His foreign policy is in absolute free fall," Michigan GOP Rep. Mike Rogers, chairman of the House Permanent Select Committee on Intelligence, told Fox News Sunday."

California Democratic Sen. Dianne Feinstein, chairwoman of the Senate Select Committee on Intelligence, said in a separate interview that Obama is perhaps "too cautious" in his approach to combating Islamic State.

"This is a group of people who are extraordinarily dangerous," she said on NBC's Meet the Press." And they'll kill with abandon."  http://www.foxnews.com/politics/2014/09/01/hill-intelligence-panel-leaders-urge-obama-to-develop-is-syria-strategy-ahead/
There is bipartisan concerns that the situation with the Islamic State is not being properly handled by the Obama Administration.  While peace will come in the Middle East (watch Middle East Peace? When?) many have concerns.
The focus of much of the mainstream media has been on Barack Obama's handling of foreign policy related to the Middle East, Asia, and Ukraine this year, while not realizing how this is truly affecting Europe or how any of this possibly aligns with Bible prophecy.
For one example, which I would call it appeasement, last month the USA placed a German general in charge of the US Army in Europe (see German general now commands the US Army in Europe). This appointment of a German general was a very dangerous step for the USA, yet seems consistent prophecies in Daniel 11:39 and Revelation 13:4.
It is not that the Middle East does not have impact on prophecy–it does (see Iraq, the King of the South, Armageddon, and Prophecy).  It is just that the foreign policy situation is much worse than many realize.
The USA media seems to have a detachment from the risk that Germany and Europe pose to the USA.  Of course, that is no surprise as the USA media seems to overlook history and disdains a lot of biblical prophecy.
But you do not need to be in that situation, as the Apostle Paul wrote:
4 But you, brethren, are not in darkness, so that this Day should overtake you as a thief. 5 You are all sons of light and sons of the day. We are not of the night nor of darkness. 6 Therefore let us not sleep, as others do, but let us watch and be sober. (1 Thessalonians 5:4-7)
As Jesus said, 'Watch' (Mark 13:38).
Some items of possibly related interest may include:
World War III: Steps in Progress Are there surprising actions going on now that are leading to WWIII? Might a nuclear attack be expected? Does the Bible promise protection to all or only some Christians? How can you be part of those that will be protected? A related video would be Is World War III About to Begin? Can You Escape?
Who is the King of the North? Is there one? Do biblical and Roman Catholic prophecies for the Great Monarch point to the same leader? Should he be followed? Who will be the King of the North discussed in Daniel 11? Is a nuclear attack prophesied to happen to the English-speaking peoples of the United States, Great Britain, Canada, Australia, and New Zealand? When do the 1335 days, 1290 days, and 1260 days (the time, times, and half a time) of Daniel 12 begin? When does the Bible show that economic collapse will affect the United States? In the Spanish language check out ¿Quién es el Rey del Norte? Here is a link to a video titled: The Future King of the North.
Europa, the Beast, and Revelation Where did Europe get its name? What might Europe have to do with the Book of Revelation? What about "the Beast"? Is an emerging European power "the daughter of Babylon"? What is ahead for Europe? Here is a link to a video titled: Can You Prove that the Beast to Come is European?
Iraq, the King of the South, Armageddon, and Prophecy What will happen to Iraq? Is it the prophesied Mystery Babylon? What is Armageddon and how does that have to do with Iraq? Here is a related video Iraq, Armageddon, & Prophecy.
Is the Future King of the South Rising Up? Some no longer believe there needs to be a future King of the South. Might Egypt, Islam, Iran, Arabs, or Ethiopia be involved? Might this King be called the Mahdi or Caliph? What does the Bible say? A YouTube video of related interest may be: The Future King of the South is Rising.
The Muslim Brotherhood and the Rise of the King of the South The Bible tells of the formation of a power of nations that are in the Middle East and North Africa that are part of the final "King of the South" (Daniel 11:40-43) The Muslim Brotherhood wishes to have an Islamic empire with basically the same nations. This YouTube video explains what to expect from such a confederation.
The Arab and Islamic World In the Bible, History, and Prophecy The Bible discusses the origins of the Arab world and discusses the Middle East in prophecy. What is ahead for the Middle East and those who follow Islam? What about the Imam Mahdi? What lies ahead for Turkey, Iran, and the other non-Arabic Muslims? An item of possibly related interest in the Spanish language would be: Líderes iraníes condenan la hipocresía de Occidente y declaran que ahora es tiempo para prepararse para el Armagedón, la guerra, y el Imán Mahdi.
The Prophesied 'Islamic' Confederation Where is an Islamic caliphate prophesied? Will one happen? Should you be concerned about it? A related video is Will an Arabic Calphiphate Destroy the West?
Must the Ten Kings of Revelation 17:12 Rule over Ten Currently Existing Nations? Some claim that these passages refer to a gathering of 10 currently existing nations together, while one group teaches that this is referring to 11 nations getting together. Is that what Revelation 17:12-13 refers to? The ramifications of misunderstanding this are enormous.  A related sermon is titled Ten Kings of Revelation and the Great Tribulation.
Germany's Assyrian Roots Throughout History Are the Germanic peoples descended from Asshur of the Bible? Have there been real Christians in Germanic history? What about the "Holy Roman Empire"? There is also a You-Tube video sermon on this titled Germany's Biblical Origins.
Germany in Biblical and Catholic Prophecy Does Assyria in the Bible equate to an end time power inhabiting the area of the old Roman Empire? What does prophecy say Germany will do and what does it say will happen to most of the German people? Here is a link to a video Is the USA Pushing Germany to Start WWIII?
Anglo – America in Prophecy & the Lost Tribes of Israel Are the Americans, Canadians, English, Scottish, Welsh, Australians, Anglo-Saxon (non-Dutch) Southern Africans, and New Zealanders descendants of Joseph? Where are the lost ten-tribes of Israel? Who are the lost tribes of Israel? What will happen to Jerusalem and the Jews in Israel? Will God punish the U.S.A., Canada, United Kingdom, and other Anglo-Saxon nations? Why might God allow them to be punished first? Here is a link to the Spanish version of this article: Anglo-América & las Tribus Perdidas de Israel. Information is also in the YouTube sermons titled Where are the Ten Lost Tribes? Why does it matter? and British are the Covenant People. A short YouTube of prophetic interest may be Barack Obama and the State of the Apocalypse.
Will the Anglo-Saxon Nations be Divided and Have People Taken as Slaves? Will the lands of the United States, United Kingdom, Canada, Australia, and New Zealand be divided? What about Jerusalem? What does Bible prophecy teach? Are there non-biblical prophecies that support this idea? Who will divide those lands? Who will end up with the lands and the people? Here is a link to a video titled Will the USA and other Anglo-nations be Divided and Their People Made Slaves? Here is a related item in the Spanish language ¿Serán divididas las naciones anglosajonas?
Barack Obama, Prophecy, and the Destruction of the United States-Second Edition for Second Obama Term This is a 160 page book for people truly interested in prophecies related to Barack Obama and the United States, including learning about many that have already been fulfilled (which the book documents in detail) and those that will be fulfilled in the future. It also has a chapter about a Republican choice. This book is available to order at www.barackobamaprophecy.com. The physical book can also be purchased at Amazon from the following link: Barack Obama, Prophecy, and the Destruction of the United States: Is Barack Obama Fulfilling Biblical, Islamic Catholic, Kenyan, and other America-Related Prophecies? What About Republican Leaders? Second Edition for Second Obama Term.
Barack Obama, Prophecy, and the Destruction of the United States-Second Term-Amazon Kindle edition. This electronic version is available for only US$2.99. And you do not need an actual Kindle device to read it. Why? Amazon will allow you to download it to almost any device: Please click HERE to download one of Amazon s Free Reader Apps. After you go to for your free Kindle reader and then go to Barack Obama, Prophecy, and the Destruction of the United States-Second Term-Amazon Kindle edition.