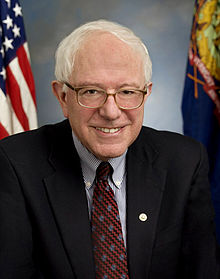 Bernie Sanders

In the past, two Democratic presidential candidates, Bernie Sanders and Hillary Clinton, were questioning their opponent's qualifications for the job. Now even more has come out:
July 24, 2016

Bernie Sanders is facing mounting pressure from his supporters to disavow his endorsement of Hillary Clinton after a WikiLeaks release of 20,000 internal e-mails of the Democratic National Committee indicates the primary election was rigged.

Bernie's campaign manager, Jeff Weaver, said someone must be held accountable for cheating voters out of a fair and impartial election.

"Someone has to be held accountable," Weaver told ABC News. "The DNC, by its charter, is required to be neutral among the candidates. Clearly it was not. http://www.theimproper.com/136660/bernie-sanders-must-disavow-hillary-clinton-endorsement-rigged-election/

July 24, 2016

Campaign officials argued that she had become a lightning rod because of the hacked emails, this person said. Added to the pressure she was already under to leave, the episode became a last straw in many Democrats' minds.

And it may not be the end of it. R.T. Rybak, a former Minneapolis mayor and a DNC vice chairman, said in an interview that Wasserman Schultz did the right thing by resigning and "allowing the rest of us to clean up this mess so that we can quickly pivot to talking about Hillary Clinton."

Rybak called for DNC staff who wrote emails aiming to discredit Sanders or any other candidate to be dismissed.

"There is some deeply disturbing information in the emails, but they don't need to distract from the convention if the DNC takes clear and immediate action," Rybak said. "We should clearly state that any person from the DNC who worked to discredit another presidential candidate, especially on DNC time and equipment, should be fired immediately. No question."

In a trove of messages released by hackers on the website WikiLeaks, party officials discuss boosting Hillary Clinton's candidacy during the primaries — and disparage Sen. Bernie Sanders of Vermont. https://www.washingtonpost.com/politics/hacked-emails-cast-doubt-on-hopes-for-party-unity-at-democratic-convention/2016/07/24/a446c260-51a9-11e6-b7de-dfe509430c39_story.html
Notice also the following:
July 24, 2016

(CNN) Debbie Wasserman Schultz announced Sunday she is stepping down as chairwoman of the Democratic National Committee at the end of the party's convention, which is set to begin here Monday.

The Florida congresswoman's resignation — under pressure from top Democrats — comes amid the release of leaked emails showing DNC staffers favoring Hillary Clinton over Bernie Sanders in the party's 2016 primary contest.

Her announcement that she was leaving had pro-Sanders supporters cheering during a demonstration in Philadelphia and Donald Trump crowing, too. In her statement, Wasserman Schultz said that she remains committed to seeing Clinton elected president. She talked with both President Barack Obama and Clinton before making her announcement, a Democratic source said. "Going forward, the best way for me to accomplish those goals is to step down as Party Chair at the end of this convention," Wasserman Schultz said in the statement. "As Party Chair, this week I will open and close the Convention and I will address our delegates about the stakes involved in this election not only for Democrats, but for all Americans," she continued. http://www.cnn.com/2016/07/22/politics/dnc-wikileaks-emails/
Emails can have consequences, and I still feel that there was more to Hillary Clinton"s deleted emails than she ever let on. As far as Debbie Wasserman Schultz goes, I have always considered her to be corrupt.  And from what I understand about this email scandal, she basically tried to rig the system.
This is the strangest presidential primary cycle I have ever seen. Although many sincerely believe that it is their "Christian duty" to vote (even though that "duty" is not specified in the Bible, see Should a Christian Vote? and/or watch Should Christians Vote?), some seem to have overlooked some prophecies related to political leaders in the end times:
12 As for My people, children are their oppressors, And women rule over them. O My people! Those who lead you cause you to err, And destroy the way of your paths." (Isaiah 3:12)

16 For the leaders of this people cause them to err, And those who are led by them are destroyed (Isaiah 9:16).
It should be clear that Isaiah prophesied that there would be end time leaders that cause people to err. This is what many politicians, directly and indirectly do.
The USA needs national repentance and the Kingdom of God.
Let me also add that, irrespective of who becomes the next president, by virtue of timing, that leader will be in a sense, apocalyptic. Meaning that steps will be taken by the next president that will help lead to the end of the USA. The 'democratic' system in the USA has a lot of corruption.
Some items of possibly related interest may include:
Hillary Clinton in Prophecy Prophecy, Hillary Clinton? Are there prophecies that Hillary Clinton may fulfill? Are there any prophecies that she has already helped fulfill? Could Hillary Clinton be apocalyptic? Could Hillary Clinton be the final Antichrist? A video of related interest is titled Hillary Clinton and Bible Prophecy.
Should a Christian Vote? This article gives some of the Biblical rationale on this subject. Would Jesus vote for president/prime minister? Is voting in the Bible? This is a subject Christians need to understand. A video of related interest is available titled: Should Christians Vote?
Donald Trump in Prophecy Prophecy, Donald Trump? Are there prophecies that Donald Trump may fulfill? Are there any prophecies that he has already helped fulfill? Could a Donald Trump presidency be apocalyptic? A related video is titled Could Donald Trump be Apocalyptic?
Abortion, the Bible, and a Woman's Right to Choose Do you know what the Bible teaches on this? Has the Roman Catholic Church allowed abortions? What about the real Church of God? Some may also, or instead, wish to view the YouTube video Abortion, the Bible, and US Debt.
Cross-dressing and other assaults against your children. What should you do? Is there an agenda to turn your children and/or grandchildren away from biblical morality and towards practices promoted by homosexuals? What does the Bible teach about cross-dressing? What should parents do? If there is an agenda, what has been going on? There are also two YouTube videos related to this, titled Transgender 'Woe to those who call evil good' and Cross dressing and Other Assaults Against Your Children.
The Bible Condemns Homosexuality "Same-sex marriage" for "gays" and lesbians is becoming more acceptable to many. What does the Bible teach about homosexuality? Can homosexuals change? A related video sermon is titled: What Does the Bible Really Teach about Homosexuality?
Does God Have a 6,000 Year Plan? What Year Does the 6,000 Years End? Was a 6000 year time allowed for humans to rule followed by a literal thousand year reign of Christ on Earth taught by the early Christians? Does God have 7,000 year plan? What year may the six thousand years of human rule end? When will Jesus return? 2023 or 20xx? There is also a video titled The 6000 Year Plan: Is the end of humanity's reign almost up? Here is a link to the article in Spanish: ¿Tiene Dios un plan de 6,000 años?
When Will the Great Tribulation Begin? 2016, 2017, or 2018? Can the Great Tribulation begin today? What happens before the Great Tribulation in the "beginning of sorrows"? What happens in the Great Tribulation and the Day of the Lord? Is this the time of the Gentiles? When is the earliest that the Great Tribulation can begin? What is the Day of the Lord? Who are the 144,000? Here is a version of the article in the Spanish language: ¿Puede comenzar la Gran Tribulación en 2016 o 2017? ¿Es el Tiempo de los Gentiles? You can also see the English language sermon video: The Great Tribulation from the Mount of Olives. A shorter video is: Can the Great Tribulation Start in 2016?
Just What Do You Mean — Repentance? Do you know what repentance is? Have you truly repented? Repented of what? Herbert W. Armstrong wrote this as a booklet on this important subject.
When You Sin: Do You Really Repent? This is an article by Charles F. Hunting. A related sermon is Confess to God and truly repent.
WTO/TTIP and the Babylonian Beast Will international trade agreements like WTO/TTIP/CETA lead to the fulfillment of end time prophecies concerning the Babylonian Beast power that the Book of Revelation warns against? What does the Bible teach? A related video would be WTO Trade Deal and the Rise of the European Beast Power.
The Gospel of the Kingdom of God This free online pdf booklet has answers many questions people have about the Gospel of the Kingdom of God and explains why it is the solution to the issues the world is facing.
The Gospel of the Kingdom of God was the Emphasis of Jesus and the Early Church Did you know that? Do you even know what the gospel of the kingdom is all about? You can also see a YouTube video sermons Why Teach the Kingdom of God? and The Gospel of the Kingdom.
Women and the New Testament Church What roles did women play in the ministry of Jesus and the apostles? Did Jesus and the Apostle Paul violate Jewish traditions regarding their dealings with women? Do women have any biblical limitations on their role in the Church? Were there female prophets? Do women have any special responsibilities in terms of how they dress? What does the New Testament really teach about women? Here is a related sermon titled: New Testament Women.
Anglo – America in Prophecy & the Lost Tribes of Israel Are the Americans, Canadians, English, Scottish, Welsh, Australians, Anglo-Saxon (non-Dutch) Southern Africans, and New Zealanders descendants of Joseph? Where are the lost ten-tribes of Israel? Who are the lost tribes of Israel? What will happen to Jerusalem and the Jews in Israel? Will God punish the U.S.A., Canada, United Kingdom, and other Anglo-Saxon nations? Why might God allow them to be punished first? Here is a link to the Spanish version of this article: Anglo-América & las Tribus Perdidas de Israel. Information is also in the YouTube sermons titled Where are the Ten Lost Tribes? Why does it matter? and British are the Covenant People. A short YouTube of prophetic interest may be Barack Obama and the State of the Apocalypse.
Will the Anglo-Saxon Nations be Divided and Have People Taken as Slaves? Will the lands of the United States, United Kingdom, Canada, Australia, and New Zealand be divided? What about Jerusalem? What does Bible prophecy teach? Are there non-biblical prophecies that support this idea? Who will divide those lands? Who will end up with the lands and the people? Here is a link to a video titled Will the USA and other Anglo-nations be Divided and Their People Made Slaves? Here is a related item in the Spanish language ¿Serán divididas las naciones anglosajonas?
Hillary Clinton, Prophecy, and the Destruction of the United States This is a 188 page book for people truly interested in prophecies related to Hillary Clinton and the United States, including learning about many that have already been fulfilled and those that will be fulfilled in the future. It also discusses Republicans. The physical book can be purchased at Amazon from the following link: Hillary Clinton, Prophecy, and the Destruction of the United States: Is Hillary Clinton Fulfilling Biblical, Islamic Catholic, Hopi, and other America-Related Prophecies? $11.99.
Hillary Clinton, Prophecy, and the Destruction of the United States-Amazon Kindle edition. This electronic version of the 188 page print edition is available for only US$3.99. And you do not need an actual Kindle device to read it. Why? Amazon will allow you to download it to almost any device: Please click HERE to download one of Amazon s Free Reader Apps. After you go to for your free Kindle reader and then go to Hillary Clinton, Prophecy, and the Destruction of the United States-Amazon Kindle edition.