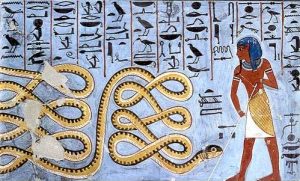 Egyptian snake god Apophis

WND reported the following:
Approaching asteroid ignites end-times talk

The asteroid Apophis, named after an Egyptian god of chaos, is poised to make a near miss of Earth on April 13, 2029. …

Mark Biltz, who rocked the Christian world with his discovery of the "Blood Moons" phenomenon, quoted Isaiah 13:10, which states: "For the stars of the sky and its constellations will not give their light. The sun will be darkened in its going forth, and the moon will not cause its light to shine."

Biltz also cited Revelation 8:10, which states, in part, "And a great star fell from heaven, burning like a torch, and it fell on a third of the rivers and on the springs of water."

Biltz argues this refers to the world being struck by an extraplanetary object and argues the last days will be marked by strange events in the heavens.

"According to the Book of Revelation, it definitely sounds like an asteroid!" exclaimed Biltz. "I see the possibility of even more than one, or many meteors hitting Earth as well."

Biltz strongly believes heavenly events are signs from God, a concept he explains in several of his books, especially "Blood Moons: Decoding The Imminent Heavenly Signs." 07/26/17 http://www.wnd.com/2017/07/approaching-asteroid-ignites-end-times-talk/#SvzSU244pwDgFy7c.99

The discoverer of the "Blood Moons" phenomenon says God is sending a message to the church – and all people need to do to see it is look skyward.

The Boston Globe recently reported the path of the upcoming total solar eclipse which will cross the United States on August 21 will overwhelmingly move over counties won by Donald Trump in the recent presidential election.

The paper was mocked on social media for suggesting heavenly events have some connection to earthly politics.

But Pastor Mark Biltz, the man who discovered the "Blood Moons" phenomenon, argues people should be cautious before resorting to snark.

He points out Genesis 1:14, which says astronomical phenomena were partially intended "for signs." And as Biltz believes the solar eclipse itself is a sign and a warning to the United States, he suggests there may also be meaning in the solar eclipse's path.

"I would not mock those who do or do not believe there is significance in this eclipse's path," the pastor told WND. "The path of totality is showing where it is the darkest and the path of judgment unless there is repentance. At the same time, though, judgment always begins with God's people first. This is a call for the church to repent and become more like Abraham rather than Lot and to intercede. The church needs to wake up and repent if we are to save this nation and not be mocking the unrighteous. We need a different tone in America." http://www.wnd.com/2017/08/signs-in-sky-reveal-america-as-covenant-nation-says-blood-moons-discover/
While the Bible talks about heavenly signs (e.g. Matthew 24:29-30; Revelation 6;12) and the USA needs to change (repent), Mark Biltz has often misunderstood natural astronomical occurrences.
The truth is that Mark Biltz's false prophecies about "blood moons" did not rock the Christian world, though various Protestants were misled by him. In 2014 and 2015, I denounced various non-biblical blood moon theories, including claims made by Mark Biltz (see Blood Moons and Prophecy). He was proven wrong, and I was proven right about this.
In 2016, I denounced the view from another that asteroid Bennu would destroy the world (see ABC warned about Asteroid Bennu potentially destroying the Earth). I also denounced the idea of some that the Earth could be destroyed by Planet Niburu by 2017 (watch Planet Nibiru to Destroy Earth by 2017?).
However, it is true that something from space, probably an asteroid or a comet, is prophesied in the Bible to hit the Earth and cause massive damage (Revelation 8:10-11).
A large comet hitting the earth would also seem to have similar effects to that of a medium-sized asteroid. And having something actually hit the earth and do massive damage is predicted in the Bible.
But this object, called Wormwood in the Bible, cannot hit for some time.
Why?
Over 1900 years ago, the Apostle John was inspired to write about Wormwood and more in the Book of Revelation. If you look at the sequence of events that precede Wormwood, it is obvious all that cannot happen between now and next month. Notice that the first nine verses happen prior to Wormwood falling from heaven:
1 When He opened the seventh seal, there was silence in heaven for about half an hour. 2 And I saw the seven angels who stand before God, and to them were given seven trumpets. 3 Then another angel, having a golden censer, came and stood at the altar. He was given much incense, that he should offer it with the prayers of all the saints upon the golden altar which was before the throne. 4 And the smoke of the incense, with the prayers of the saints, ascended before God from the angel's hand. 5 Then the angel took the censer, filled it with fire from the altar, and threw it to the earth. And there were noises, thunderings, lightnings, and an earthquake.

6 So the seven angels who had the seven trumpets prepared themselves to sound.

7 The first angel sounded: And hail and fire followed, mingled with blood, and they were thrown to the earth. And a third of the trees were burned up, and all green grass was burned up.

8 Then the second angel sounded: And something like a great mountain burning with fire was thrown into the sea, and a third of the sea became blood. 9 And a third of the living creatures in the sea died, and a third of the ships were destroyed.

10 Then the third angel sounded: And a great star fell from heaven, burning like a torch, and it fell on a third of the rivers and on the springs of water. 11 The name of the star is Wormwood. A third of the waters became wormwood, and many men died from the water, because it was made bitter. (Revelation 8:1-11)
It should also be noted that there are MANY EVENTS that also have to take place before the above events as well. Because of that, it is biblically impossible for the Earth to be destroyed by something from space for years.
Notice that Wormwood does not fall until after the third trumpet associated with the seventh seal of Revelation is blown. Well, this would mean that the fifth and sixth seal would also have already been opened–which are mentioned in Revelation 6:7-17, and the 144,000 numbered as shown in Revelation 7. And I should add that the fifth seal of Revelation cannot possibly be opened for at least 3 1/2 years from now (see When Will the Great Tribulation Begin?), with over 4 years the likely minimum.
Wormwood does exist–but again Wormwood cannot hit for several years at the earliest. That does not mean that there cannot be any problems from meteorites, comets, asteroids, solar flares, etc. But it does mean that this age will not end for at least several years.
Why bother to post about the Asteroid Apophis prediction?
Well, before answering that, let me state that there is a certain irony about this asteroid. It is named after the Egyptian snake god of chaos. I believe that those who falsely promoted "blood moons" were like sellers of chaotic snake oil. Hence the photo at the beginning of this post.
Now, with the massive solar eclipse expected on August 21, 2017, various ones are concerned about it. Mark Biltz has misled people about it.
Notice the following related to him and the upcoming eclipse:
WND EXCLUSIVE

Solar eclipse across U.S. called 'a sign from God'

'Blood Moons' discoverer Mark Biltz says route determines 'warning to a specific nation' …

A total solar eclipse will cross the continental United States this summer, an event that hasn't happened in roughly a century.

Everyone will experience on Aug. 21 at least 60 percent of the sun being covered, and the resulting semidarkness. Those within about a 60-mile wide diagonal line from the Pacific Northwest through South Carolina will see the sky go dark and the accompanying temperature drop.

Pastor Mark Biltz, the man who discovered the "Blood Moons" phenomenon and a Christian who urges careful attention to heavenly signs, suggests it may be something that needs more attention.

Such as a direct warning to the United States.

"From a biblical point of view, a solar eclipse is meant as a sign from God," Biltz told WND. "In Genesis 1:14, God declared this to be so. It is a sign that is beyond man's control, something he can't manipulate. Solar eclipses become biblically and prophetically significant and relevant when man understands their timing according to the biblical calendar and where they happen. Then we look for the patterns.

"As the sun is larger than the moon, the sun represents the nations of the world and the moon represents the nation of Israel, as their calendar months are based on the cycle of the moon while the nations of the world follow the sun for their calendar. When there is a total solar eclipse, it is a warning to a specific nation or nations depending on its path." 04/10/17 http://www.wnd.com/2017/04/solar-eclipse-across-u-s-called-a-sign-from-god/#XlJFjO4DeOcdwBQK.99
But the Bible does not call the world the sun nor Israel the moon. Nor are solar eclipses referred to in Genesis 1:14–Jeremiah 10:2 warns against interpreting all astronomical events as coming from God.
Mark Bilts continued and stated:
"Now, this Aug 21, 2017, we have a total solar eclipse going over the United States," he noted. "This is again at the beginning the month of repentance on the first of Elul! Could God be giving us a warning that we need to repent or judgment will be coming to the United States? The timing couldn't be clearer!

"We also find seven years later there will be another total solar eclipse running from south to the northeast across the United States on April 8, 2024, with St. Louis in the crosshairs between the two eclipses. April 8 is significant because it is the anniversary of the dedication of Moses tabernacle, when God reasserted Himself into the affairs of men with His glory coming to earth. It just so happens it was also the day Aaron's two sons, Nadab and Abihu died." 04/10/17

http://www.wnd.com/2017/04/solar-eclipse-across-u-s-called-a-sign-from-god/#XlJFjO4DeOcdwBQK.99
Elul is the 6th month in the Hebrew calendar, it usually begins in August, but never in April.
Mark Biltz also tries to tie this eclipse in with Revelation 12:
"Another very significant sign in the heavens is happening right after this year's total solar eclipse on the first of Elul, beginning the month of repentance," he noted. "A month later, we find during the Days of Awe from Rosh Hashanah on Tishri 1 and Yom Kippur on Tishri 10, there will be a confirmation of celestial events as described in the Book of Revelation. Revelation 12: 1-2 reads: 'A great sign was seen in heaven: a woman clothed with the sun, and the moon under her feet, and on her head a crown of twelve stars. She was with child. She cried out in pain, laboring to give birth.'

"The woman clothed with the sun is the constellation Virgo and represents the nation of Israel. The 12 stars represent the 12 tribes of Israel. Interestingly, the constellation Leo, the Lion, which is above Virgo, is made up of nine stars. The Lion represents specifically the tribe of Judah. It just so happens this year during the Days of Awe, three planets will join the constellation Leo making up 12 stars. Virgo will be clothed with the sun, and the moon will be under her feet, fulfilling this sign to precise detail!"

Biltz believes these are signs God is reinserting Himself into human history as prophecy becomes fulfilled as never before. http://www.wnd.com/2017/04/solar-eclipse-across-u-s-called-a-sign-from-god/#BfXqXwly341WHZml.99
Two constellations that astrologers refer to appearing close is supposed to be a fulfillment of Revelation 12:1-2? Preposterous!
WND promotes him, but Mark Biltz has been wrong. He misled many about the "blood moons" a couple of years ago (see also WND continues to promote Mark Biltz' blood moon nonsense) and this particular solar eclipse should not be considered a sign from God.
So, before the eclipse occurs, I again want to inform people that this eclipse is a natural phenomenon and not anything that is a direct sign from God like Mark Biltz implies. Some even believe this eclipse, based on some of the same scriptures that Mark Biltz relied on, is the end of the world (see World to End August 21, 2017?). But it is not.
Therefore, because there are many false and heretical leaders that lead people astray on prophecy and sometimes they mention the Bible to try to act like God sanctions their nonsense, they should be denounced as false.
All should REALLY pay attention to the Bible.
We in the Continuing Church of God "have also a more sure word of prophecy; whereunto ye do well that ye take heed, as unto a light that shineth in a dark place, until the day dawn, and the day star arise in your hearts" (2 Peter 1:19, KJV)."
Thus, you can be certain that the upcoming solar eclipse will NOT destroy the Earth this month.
Some items of possibly related interest may include:
Solar Eclipse and the Apocalypse According to NASA scientists, a massive solar eclipse is to occur on August 21, 2017. Some claim that it is apocalyptic and they will be raptured then. Mark Biltz, of 'blood moon' fame, citing Genesis 1:14, says this is a sign of God for national repentance. Is it? Could Jeremiah 10:2 apply here? Mark Biltz and others tie this August 2017 solar eclipse in with Revelation 12–is that possible? Is there any solar eclipse associated with the Apocalypse? If so, when is the soonest that prophecy can be fulfilled? Going through biblical passages, including the words of Jesus, Dr. Thiel provides answer to those questions. This is a video.
Physical Preparation Scriptures for Christians. We all know the Bible prophecies famines. Should we do something? Here is a version in the Spanish language Escrituras sobre Preparación física para los Cristianos.
Will the Great Tribulation Start in 2017? There are various theories, signs, and opinions of ones who believe that the Great Tribulation will start in 2017. Some point to Nostradamus, some point to Fatima, some point to a solar eclipse for 21 August 2017, some point to Donald Trump, some point to Jubilee cycles, some point to the rebirth of the nation of Israel, some point to a possible Shemitah year, some point to a Jewish sage, others point to the Bible, and some claim a combination of reasons why the Bible supports their view that the tribulation will begin in 2017. Is it at all possible for the Great Tribulation to begin in 2017? Dr. Thiel goes over various theories and shows what the Bible actually teaches. This is a video.
Comets, Wormwood, and Planet Nibiru Will the Earth be devastated by Planet X or Comet Encke? What about Planet Nine? Could it happen in 2017? Here is a link to two related YouTube videos Planet Nibiru to Destroy Earth by 2017? and Could Comet ISON be Wormwood of Bible Prophecy?
Is the Universe Expanding or about to Catastrophically Collapse? A study released by NASA in June 2016 indicates that the universe is expanding much more rapidly than scientists have believed. Prior to this study, certain Danish scientists stated that the universe was going to collapse, and could as quickly as any day. What does the Bible teach? Is a collapse of the universe possible? Does God have a plan for the universe? Might you have a part in it? This is a video.
Planet Nibiru to Destroy Earth by 2017? Some say NASA has identified Plant X, also called Planet Nine or Nibiru or even Planet 7X. One prophecy watcher has stated that this planet will destroy Planet Earth by January 1, 2017. Is this possible? While the Bible tells of a destructive power called 'Wormwood' will come from outer space to destroy much of the Earth in Revelation 8, can Wormwood hit by 2017? Dr. Thiel explains from the Bible why Wormwood could be a comet and why the Bible and not those who misinterpret it should be trusted. This is a video.
Blood Moons, Eclipses, and Prophecy There were four 'blood moons' expected in 2014 and 2015. Some claimed that they signaled the Day of the Lord or the return of Jesus Christ. I denounced that view in advance. Now some point to a solar eclipse in 2017–is that a 'sign from God'? A YouTube video is also available: Blood Moons, Prophecy, 2014, and 2015.
Harold Camping's Teachings About the End of the World Do Not Agree with the Bible Harold Camping taught that the rapture will be on May 21, 2011 and the world would end on October 21, 2011. What does the Bible show?
Is There A Secret Rapture for the Church? When and Where is the Church Protected? What does the Bible really teach? Does the Church flee or is it taken up just prior to the great tribulation? Who really is left behind? There is also a YouTube video with information Did Jesus Teach a Pre-tribulation Rapture?
World War III: Steps in Progress Are there surprising actions going on now that are leading to WWIII? Might a nuclear attack be expected? Does the Bible promise protection to all or only some Christians? How can you be part of those that will be protected? A related video would be Is World War III About to Begin? Can You Escape?
How To Determine If Someone is a True Prophet of God There are many false prophets. How can Christians determine who is a true prophet? There is also a sermon-length video titled How to determine if someone is a true prophet of God. Here is a related link in Spanish/español: ¿Cómo determinar si alguien es un verdadero profeta de Dios?
When Will the Great Tribulation Begin? 2017, 2018, or 2019? Can the Great Tribulation begin today? What happens before the Great Tribulation in the "beginning of sorrows"? What happens in the Great Tribulation and the Day of the Lord? Is this the time of the Gentiles? When is the earliest that the Great Tribulation can begin? What is the Day of the Lord? Who are the 144,000? Here is a version of the article in the Spanish language: ¿Puede comenzar la Gran Tribulación en 2016 o 2017? ¿Es el Tiempo de los Gentiles? You can also see the English language sermon videos: The Great Tribulation from the Mount of Olives and Can the Great Tribulation begin before 2020.