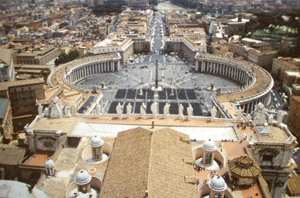 The following is of interest for many reasons:
March 10, 2010

Chief exorcist Father Gabriele Amorth says Devil is in the Vatican

Sex abuse scandals in the Roman Catholic Church are proof that that "the Devil is at work inside the Vatican", according to the Holy See's chief exorcist.

Father Gabriele Amorth, 85, who has been the Vatican's chief exorcist for 25 years and says…the consequences of satanic infiltration included power struggles at the Vatican as well as "cardinals who do not believe in Jesus, and bishops who are linked to the Demon".

He added: "When one speaks of 'the smoke of Satan' [a phrase coined by Pope Paul VI in 1972] in the holy rooms, it is all true – including these latest stories of violence and paedophilia."  http://www.timesonline.co.uk/tol/comment/faith/article7056689.ece
I had heard this priest's claims before.  The reason I decided to post about it today was the line above that I bolded.
The next pope will likely be a cardinal and/or a bishop.  Since an "antipope" is expected, having a pope who does not even believe in Jesus would fit with the descriptions of the final Antichrist of the Bible.
Some items of possibly related interest may include:
Catholic Prophecies: Do They Mirror, Highlight, or Contradict Biblical Prophecies? People of all faiths may be surprised to see what various Roman and Orthodox Catholic prophets have been predicting as many of their predictions will be looked to in the 21st century.
Some Doctrines of Antichrist Are there any doctrines taught outside the Churches of God which can be considered as doctrines of antichrist? This article suggests at least three. It also provides information on 666 and the identity of "the false prophet". Plus it shows that several Catholic writers seem to warn about an ecumenical antipope that will support heresy.
2012 and the Rise of the Secret Sect This is a link related to a book by Bob Thiel (COGwriter). What is ahead for 2012-2020.  What do biblical, Catholic, and other prophecies warn about the antipope/anitchrist?  This link has YouTube videos related to 2012.
2012 y el surgimiento de la secta secreta Nuevo libro del Dr. Thiel en Español.
2012 und das Auftreten der geheimen Sekte (German Edition) 2012 Buch von Dr. Thiel in deutscher Sprache.