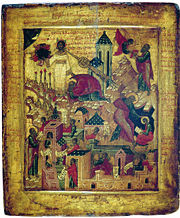 "Orthodox" 16th Century Representation of the "Apocalypse"
A Canadian Cardinal explains a little about ecumenicism:
Cardinal Levada Explains Ecumenism

Says the World Is Longing for Symphonic Unity
KINGSTON, Ontario, MARCH 9, 2010 (Zenit.org).- The goal of ecumenism is union with the Catholic Church, a union that transforms the Church by enriching it, the leader of the Vatican's faith congregation says.

Cardinal William Levada explained this when he gave a speech Saturday at Queen's University on "Anglicanorum Coetibus," the document which paves the way for Anglicans to join the Catholic Church in groups…
The second part of Cardinal Levada's talk focused on what ecumenism is really about.

"Union with the Catholic Church is the goal of ecumenism," he said…
The Cardinal (who also holds a position, leader of the Congregation for the Doctrine of the Faith, that Cardinal Ratzinger held) made clear something that I have been saying for years.
And that is, it is the Vatican's ecumenical objective to get others to come into union with it.  This will give the Church of Rome the dominance that many in it, strongly long for.  While certain Eastern Orthodox leaders seem to ignore that (see Bartholomew I Patriarch of Constantinople Opposes Those Who Warn Against Catholic Unity), the reality is that the Vatican has tended to make that goal clear.
I personally am watching people such as Cardinal William Levada and Cardinal Walter Kasper to see how much the Church of Rome will compromise to get others to flock to it.  Both biblical and Catholic prophecy suggests that a pope will come who will compromise greatly–Catholic prophecy suggests he will possibly be a properly-elected antipope.
Such a pontiff will likely be one who is believed to be ecumenical for the sake of Catholicism, but will more likely actually be ecumenical for the sake of political power.
Prophecy watchers need to take such warnings seriously.
Some articles of possibly related interest may include:
Why Should American Catholics Should Fear Unity with the Orthodox? Are the current ecumenical meetings a good thing or will they result in disaster?
Orthodox Must Reject Unity with the Roman Catholics The talks for unification involve compromise and the apparent rising up of a changed religion that no one should accept.
Catholic Prophecies: Do They Mirror, Highlight, or Contradict Biblical Prophecies? People of all faiths may be surprised to see what various Roman and Orthodox Catholic prophets have been predicting as many of their predictions will be looked to in the 21st century.  And some will come to pass (though not quite as many believe).