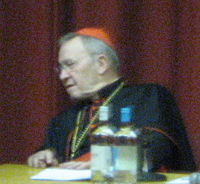 Vatican-Based Cardinal Walter Kasper
Zenit reported the following:
2010-06-25
Permalink: http://www.zenit.org/article-29711?l=english

Vatican's Christian Unity Official Resigns at 77

Cardinal Kasper Acknowledges Mixed Feelings About Stepping Down
VATICAN CITY, JUNE 25, 2010 (Zenit.org).- After more than 10 years as the point man for the Church's efforts to promote Christian unity, Cardinal Walter Kasper today announced his resignation as president of the pontifical council dedicated to that cause.

The 77-year-old German cardinal acknowledged mixed feelings about leaving the post.

"On one hand, at 77 to be retired is something altogether normal, in fact a liberation," he said. "On the other hand, however, I leave a work that I have done with enthusiasm."

He told journalists that ecumenism cannot be considered a "luxury" for the Church, but that it is fundamental, "one of her main objectives, and the same is true for religious relations with Judaism."

Cardinal Kasper's successor has not yet been announced…And the prelate was positive about the future of efforts to build Christian unity.
Walter Kasper is likely to be replaced by one who may become the next pope, or at least will help fulfill prophecies related to a world-dominating religion.  His successor will be one to watch.  One French bishop (but not a cardinal) that is ecumenical is Marc Stenger, Bishop of Troyes (but it could be someone else, including a non-Frenchman).
Both biblical and Catholic prophecy suggests that a pope will come who will compromise greatly and unify many–Catholic prophecy suggests he will possibly be a properly-elected antipope.
Such a pontiff will likely be one who is believed to be ecumenical for the sake of Catholicism, but will more likely actually be ecumenical for the sake of political power.
Prophecy watchers need to take such warnings seriously.  Walter Kasper's announcement is setting the stage for one or more to rise up.
Some articles of possibly related interest may include:
Why Should American Catholics Should Fear Unity with the Orthodox? Are the current ecumenical meetings a good thing or will they result in disaster?
Orthodox Must Reject Unity with the Roman Catholics The talks for unification involve compromise and the apparent rising up of a changed religion that no one should accept.
Catholic Prophecies: Do They Mirror, Highlight, or Contradict Biblical Prophecies? People of all faiths may be surprised to see what various Roman and Orthodox Catholic prophets have been predicting as many of their predictions will be looked to in the 21st century.  And some will come to pass (though not quite as many believe).