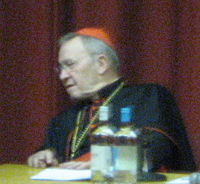 Vatican-Based Cardinal Walter Kasper
Zenit reported the following last night:
Cardinal Sends Birthday Message to Bartholomew I

VATICAN CITY, FEB. 24, 2010 (Zenit.org).- The president of the Pontifical Council for Promoting Christian Unity sent a message to the Ecumenical Patriarch of Constantinople, Bartholomew I, on the occasion of his 70th birthday.
There are several points about the article to consider:
Jesus told His followers to "watch" (Matthew 24:42; 25:13; Mark 13:33-37; Luke 21:36) world events as they head towards the fulfillment of biblical prophecy.  And there are many events to watch in these end times.