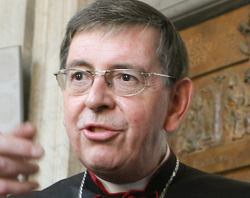 Kurt Koch (photo from http://www.catholic.org/international/international_story.php?id=37189)
Swiss Bishop Kurt Koch was appointed to lead the Vatican's top ecumenical office yesterday:
Swiss Bishop Tapped for Unity Office

Brings "Direct Experience" of Ecumenism to Pontifical Council

VATICAN CITY, JULY 1, 2010 (Zenit.org).- Bishop Kurt Koch of Basel, Switzerland, has been appointed to succeed Cardinal Walter Kasper as the president of the Pontifical Council for Promoting Christian Unity.

The announcement of Archbishop Koch's appointment was made today, coming simultaneously with elevation to the dignity of archbishop. Cardinal Kasper, 77, had resigned for reasons of age after more than a decade leading the council.

The 60-year-old archbishop has already served on the pontifical council since 2002, as well as being a member of the International Mixed Commission for Theological Dialogue Between the Catholic Church and the Orthodox Church. He also has formed part of the International Catholic-Lutheran Commission for Unity.

Archbishop Koch is already in Rome today, beginning his new mission. In a personal letter posted on the Basel Diocese's Web site, he explains that Benedict XVI had asked him about accepting the position as early as February.

Christian leaders pay tribute to Cardinal Walter Kasper

by Aaron J Leichman, Christian Post
Posted: Friday, July 2, 2010…

Koch, who was appointed by Pope Benedict XVI as the new president of the Pontifical Council for Promoting Christian Unity (PCPCU), has been a member of the Catholic Church's ecumenical arm since 2002…

Bishop Koch was praised for his "openness and deep ecumenical commitment" by the General Secretary of the World Council of Churches, Dr Olav Fykse Tveit.

"We rejoice at the appointment of Bishop Kurt Koch as president of the Pontifical Council for Promoting Christian Unity," he said.

"We welcome his appointment and look forward to working with him for the visible unity of the church."

Since its creation, the PCPCU has established a "cordial cooperation" with the WCC, which reportedly connects 349 churches, denominations and church fellowships in more than 110 countries and territories throughout the world.

Aside from the WCC, the PCPCU has develop dialogue and collaboration with the other church bodies and global church communions, including the Orthodox Church, the Anglican Communion, the World Alliance of Reformed Churches, the World Methodist Council, and the Baptist World Alliance, among others.  http://www.christiantoday.com/article/christian.leaders.pay.tribute.to.cardinal.walter.kasper/26219.htm
Already, there is a Wikipedia updated article about him that include information such as:
Kurt Koch, ThD (born 15 March, 1950) is a Swiss prelate of the Roman Catholic Church, currently serving as president of the Pontifical Council for Promoting Christian Unity since his appointment was announced on 1 July 2010. He is also the bishop emeritus of Basel having served from 1995 until he resigned the see in 2010. Born in Emmenbrücke, he was ordained to the priesthood on 20 June 1982. On 21 August 1995, Koch was elected Bishop of Basel and was confirmed as such by Pope John Paul II on the following 6 December. He received his episcopal ordination on 6 January, 1997 from John Paul II himself, with Archbishops Giovanni Battista Re and Jorge María Mejía serving as co-consecrators. When a group of Swiss intellectuals and theologians called for John Paul's resignation on 20 May 2004, Bishop Koch described the act as "disgusting and disloyal"…

In 2006, he voiced his disagreement with opposition to building Muslim minarets in Switzerland…

Koch…also the served as President of the Swiss Episcopal Conference from 2007 until 2010, and sits on the Swiss Council of Religions.
As I mentioned earlier this week, the replacement for Cardinal Walter Kasper is one to watch (Cardinal Walter Kasper to Retire: Watch Out for His Successor!).
Today, I would like to give several specific reasons for watching him.
Catholic prophecies suggest that Switzerland will be part of the final revived "Holy Roman Empire" (there are at least two, please see Catholic Prophecies).  Having a high level Swiss-born leader in the Vatican may make this a little more palatable for the Swiss people (though I believe an economic or other crisis in Switzerland will likely also be involved).
His minaret stance means that he will have some credibility with the Islamic community, which may help fulfill biblical prophecies in Daniel 9:27 and 11:27.
Both Roman and Eastern Orthodox Catholic prophecies tell of a time when a major ecumenical council will take place. This council is supposed to result in Catholic-Orthodox unity with much compromise on Rome's side.  As the new president of Pontifical Council for Promoting Christian Unity, he would be expected to have involvement (even if he is moved or promoted out of that position by then) in such a council
Bishop Koch is both young enough and old enough to be a candidate to either be the next pope or to support the next pope.
Catholic and biblical prophecies warn of a leader who will not truly support the Christian faith, though he may look like he is among the "ministers of righteousness" (2 Corinthians 11:15). Ecumenical leaders historically have tended to compromise for the sake of unity (for some biblical, Catholic, and other related prophecies, see Why Should American Catholics Should Fear Unity with the Orthodox?; Orthodox may wish to read the article Orthodox Must Reject Unity with the Roman Catholics).
According to the prophecies of the Catholic Bishop Malachy in the 12th century, only one pope remains.  Since other Catholic prophecies foretell the rising up of an antipope who may betray that faith, and since there has not been an "antipope" since Felix V 1439-1449 (and many of the Catholic prophecies warning about a future antipope tend to be more recent than that).  IF these sets of Catholic prophecies are correct, the next pope will be  an "antipope" and betray the Church of Rome.  This "pontiff" will have accomplices.
Based upon biblical writings, various Christian and professing Christian leaders have believed that God had a six-thousand year plan for humankind to rule before Jesus would return (for details, see Does God Have a 6,000 Year Plan? What Year Does the 6,000 Years End?).  According to biblical chronology, this time period is likely to end while Kurt Koch is alive.
At least one Catholic prophecy specifically warns of a German antipope.  Kurt Koch appears to be Swiss-German.  Again this does not mean it will be him, but this may suggest another reason he may be one to watch.
Now, as I do not know Bishop Koch, I am not saying that he is necessarily anything other than a loyal Catholic bishop.  But historically, those in ecumenical leaderships make statements that suggest compromise.
If Bishop Kurt Koch lives and remains in office, he is likely to be supportive of, if not the, the final "ecumenical" Antichrist.
And this leader is warned about in both biblical and Catholic prophecies.  Now I am not saying that Kurt Koch must become the final Antichrist, but since prophecies are clear that the final Antichrist will be an ecumenical leader that sounds an awful lot like an "antipope", he is one to watch for his involvement in end time matters.
As mentioned in my book 2012 and the Rise of the Secret Sect, Catholics need to be careful of ecumenical leaders who wish to compromise to attain unity with the Eastern Orthodox and others.  And Bishop Koch is an ecumenical leader.
While he may not become the "antipope" Antichrist (and there are others that I have in mind as possible), Bishop Koch would likely be supportive if he remains ecumenical.  And if he elevated to the rank of Cardinal, he may have further elevation in his future.  He is one to watch.
Some articles of possibly related interest may include:
The Antichrist Quiz Do you really know much about the Antichrist?
Some Doctrines of Antichrist Are there any doctrines taught outside the Churches of God which can be considered as doctrines of antichrist? This article suggests at least three. It also provides information on 666 and the identity of "the false prophet". Plus it shows that several Catholic writers seem to warn about an ecumenical antipope that will support heresy.
Is There an Islamic Antichrist?Is Joel Richardson correct that the final Antichrist will be Islamic and not European? Find out.
Catholic Prophecies: Do They Mirror, Highlight, or Contradict Biblical Prophecies? People of all faiths may be surprised to see what various Roman and Orthodox Catholic prophets have been predicting as many of their predictions will be looked to in the 21st century.
End of Mayan Calendar 2012–Might 2012 Mean Something? Are there Mayan calendar predictions for change in 2012? Changes were centuries ago predicted by the Hopi Native Americans. Do Mayan/Hindu/Hopi/Buddhist/New Age/Nostradamus prophecies have any value here? Why might Satan have inspired this date? Does the Dresden codex show destruction of the earth by flood? Can the great tribulation start before 2012? How might the next pope be involved in 2012?
2012 and the Rise of the Secret Sect This is a link related to a book by Bob Thiel (COGwriter). This also has YouTube videos. This book documents and explains hundreds of prophecies. And since it was published, many have already started to come to pass.
Does God Have a 6,000 Year Plan? What Year Does the 6,000 Years End? Was a 6000 year time allowed for humans to rule followed by a literal thousand year reign of Christ on Earth taught by the early Christians? When does the six thousand years of human rule end?