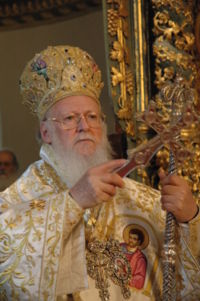 Patriarch Bartholomew I of Constantinople
A Romanian Orthodox archpriest wanted Protestants, and apparently also Rome, to understand that the Orthodox are committed to ecumenism:
Orthodox churches remain "fully committed" to ecumenical cooperation, despite recent disagreements with Protestants, according to a senior Orthodox theologian…

"…The Orthodox churches are more fully committed than ever to CEC and will be working to strengthen the Orthodox presence," said Viorel Ionita, interim general secretary of the Conference of European Churches (CEC). The 65-year-old Romanian theologian was speaking after chairing a Budapest consultation of CEC's Churches in Dialogue Commission…http://www.anglicancommunion.org/acns/digest/index.cfm/2011/6/27/Orthodox-churches-still-support-ecumenism-theologian-says
Ecumenical meetings tend to be about how to change how certain doctrines and practices are worded in order to try to attain unity amongst groups that have doctrinal differences.
Both the Living Church of God and the Eastern Orthodox claim to have the faith of the original church that Jesus founded through His apostles. Yet, while the Orthodox changed on many original doctrines, this has not been the case for the Church of God, specifically (for details, please see Some Similarities and Differences Between the Eastern Orthodox Church and the Living Church of God). The Living Church of God has held fast to many original doctrines that the Orthodox still have, as well as many that the Orthodox ended up changing.
It normally takes change in order to attain ecumenical unity, and while the Eastern Orthodox expect that others will change for the unity that they so much wish to attain, the reality is that they too, will have to accept changes.  Including to even more non-original beliefs than they even now hold.
Some articles of possibly related interest may include:
Some Similarities and Differences Between the Eastern Orthodox Church and the Living Church of God Both groups claim to be the original church, but both groups have differing ways to claim it. Both groups have some amazing similarities and some major differences. Do you know what they are?
Why Should American Catholics Should Fear Unity with the Orthodox? Are the current ecumenical meetings a good thing or will they result in disaster?
Orthodox Must Reject Unity with the Roman Catholics The talks for unification involve compromise and the apparent rising up of a changed religion that no one should accept.
There are Many COGs: Why Support the Living Church of God? This is an article for those who wish to more easily sort out the different COGs. It really should be a MUST READ for current and former WCG/GCI members or any interested in supporting the faithful church. It also explains a lot of what the COGs are all about.