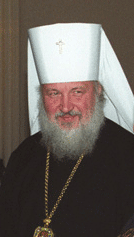 Patriarch Kirill
Something is clearly going on with the Russian Orthodox Church and its position towards the Vatican.
Near the time of his election to become Patriarch, then Metropolitan Kirill had made statements suggesting that he wanted to distance his church from the Church of Rome:
Likely Moscow patriarch stresses differences with Catholic belief

Moscow, Jan 23, 2009 / 07:03 am (CNA).- An Orthodox prelate considered to be the most likely successor of Patriarch of Moscow Alexy II has said that while Orthodox Christianity shares similarities with Catholicism, there are a "great number of differences" on which "there is no room for compromise."

Metropolitan Kirill, Patriarchal Locum Tenens of Moscow, made the remarks in an interview recently published by Argumenty i Fakty (Arguments and Facts), SIR reports.

Discussing relations with other Christian confessions, Metropolitan Kirill said: "unfortunately, differences in religious doctrines and practices have increased between orthodoxy and other confessions."

"With some Protestant communities, such as the Lutheran Church of Sweden and the Episcopal Church of the United States, we have come to a complete break, due to the official recognition of homosexual relations," he continued.

While noting that the social positions of Orthodox Christianity and the Catholic Church are "more close," the metropolitan said, "nevertheless, we have be accountable for a great number of differences in doctrine and practice between the Orthodox and the Catholic Churches and, in this regard, there is no room for compromise." http://catholicnewsagency.com/new.php?n=14865
But this has changed.  And did no later than November of 2009:
Russian Orthodox and Catholic church may end 950-year rift

The Catholic and Russian Orthodox Church have held high-level talks to lay the groundwork for a historic meeting of their two leaders after centuries of frostiness. (Russian Orthodox and Vatican Closer to Ending Rift)
The Russian Patriarch also met with Bartholomew Patriarch of Constantinople in 2010 (announced in Orthodox Patriarchs of Constantinople and Russia to Meet).  And while such a meeting is standard, the reality is that these two further nourished a relationship that they had when younger.  Furthermore, Patriarch Bartholomew made it clear in his encyclical of February 2010 that he not only supports unity talks with Rome, he considers those opposed them as fanatics (see Bartholomew I Patriarch of Constantinople Opposes Those Who Warn Against Catholic Unity).
Also notice what happened in July 2010:
Metropolitan Hilarion, head of the department for external Church relations of the Moscow Patriarchate, has welcomed the appointment of Bishop Kurt Koch of Basel as the new president of the Pontifical Council for Promoting Christian Unity. With the appointment, Bishop Koch has been raised to the dignity of an archbishop.

Calling Archbishop Koch "a zealous pastor and serious theologian committed to the tradition of the early Church and the idea of Christian unity," Metropolitan Hilarion said in a message that "I hope that new prospects for cooperation have been opened for us for the benefit of the both Churches."   http://www.catholicculture.org/news/headlines/index.cfm?storyid=6861
Notice that the the Catholics and Russian Orthodox are now being portrayed as "Europe's Brothers":
High-ranking representatives of the Catholic and Russian Orthodox Churches embraced on Monday in a moment reflecting a will for unity between the two Churches.

A photo of the embrace between Cardinal Peter Erdo and Metropolitan Filaret was printed with the title "Europe's Brothers."

…The Catholic and Russian Orthodox Churches are already united in their common stance on many issues affecting Europe…  (Catholic, Russian Orthodox Churches Embrace: Cardinal and Metropolitan Show Will for Unity at Rimini Meeting.  Zenit, August 24, 2010)
Thus, the idea of unity is becoming more and more public.
The reality is that while the Russian Orthodox want better relations with the Vatican, at this time they do not seem inclined to accept Papal authority.  However, if they ever do, this will be dangerous for them AND the Church of Rome.
The other reality is that Pope Benedict absolutely does want to grow the Catholic Church in traditional Orthodox regions–but he has mainly taken the tactic of trying to foster better relations with the Russian Orthodox so that ultimately they will unify with Rome, and under Rome.  Getting the Orthodox to accept Papal authority has long been a goal of the Roman Pontiff.
Eastern Orthodox and Roman Catholics often seem to forget their own, as well as biblical, prophecies that show how this would be a disaster.
Cannot the Russian Patriarch see what is going on?
Whether he does or not, those who claim to be Russian Orthodox need to consider if compromise for the sake of unity is what his church needs.  In my view, Patriarch Kirill and his supporters need to spend more time on trying to learn the original faith of the Bible and less on getting involved in the ecumenical movement that is already starting to impact most of the Eastern Orthodox.