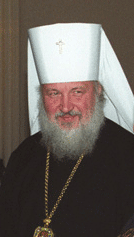 Patriarch Kirill
It looks like the Russian Orthodox and the Vatican are moving towards closer relations:
The reality is that while the Russian Orthodox want better relations with the Vatican, at this time they do not seem inclined to accept Papal authority (Patriarch Kirill has specifically so indicated as in January he stated about unity with the Church of Rome there are a "great number of differences" on which "there is no room for compromise.").  However, if they ever do, this will be dangerous for them AND the Church of Rome.
The other reality is that Pope Benedict absolutely does want to grow the Catholic Church in traditional Orthodox regions–but he has mainly taken the tactic of trying to foster better relations with the Russian Orthodox so that ultimately they will unify with Rome, and under Rome.  Getting the Orthodox to accept Papal authority has long been a goal of the Roman Pontiff.
Eastern Orthodox and Roman Catholics often seem to forget their own, as well as biblical, prophecies that show how this would be a disaster.