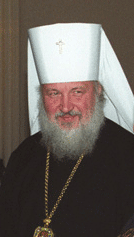 Patriarch Kirill
Most Russians have an outward sign of Orthodox Christianity:
Patriarch Kirill to hold mass meetings with young Russians in May

20:31 19/05/09

MOSCOW, May 19 (RIA Novosti) – Patriarch Kirill, the head of the Russian Orthodox Church, will break new ground this month by attending mass gatherings with young people at sports arenas in Moscow and St. Petersburg.

Church spokesman archpriest Vsevolod Chaplin told journalists on Tuesday that the patriarch would for the first time address thousands of young people and answer their questions, with events in Moscow on Saturday and in St. Petersburg on May 29.

The Moscow Patriarchy said that the chief pastor's openness to communication with both believers and non-believers is common in Western churches, and something that the Russian church is trying to achieve…

Patriarch Kirill, seen as a liberal in the traditionalist Russian Orthodox Church, has cited statistics showing 80% of Russian residents have been baptized as Orthodox Christians, 62% call themselves Orthodox believers in polls, but a mere 10% are practicing Orthodox Christians.

Kirill was enthroned as the patriarch of Moscow and all Russia on February 1, replacing Alexy II, who died in December at the age of 79. Alexy led a revival of faith in Russia following the collapse of the officially atheist Soviet Union.

Patriarch Kirill has also urged priests to reach out to society, especially to young people.

Speaking earlier this year during a visit to the Tula Region, south of Moscow, Patriarch Kirill said that if a priest merely "rings the bells, sits and waits for believers to arrive" then the Church will not meet people's demands, which he said included improving the moral climate in society, as well as reducing the number of divorces, abortions and crimes.  http://en.rian.ru/russia/20090519/155045024.html
But with only 10% actually practicing the Russian Orthodox faith, I suspect, that like most of Europe, it will take a major incident (more turmoil probably combined with signs like apparitions that claim to be Mary) for the average Russian to get more serious about religion.
But, I also believe that the average Russian, for a short while at least, will have ultimately consider themselves to be a practicer of some type of "Orthodox Catholic" religion.
Some articles of possibly related interest may include:
Russia: Its Origins and Prophesied Future Where do the Russians come from? What is prophesied for Russia? What will it do to the Europeans that supported the Beast in the end?
Some Similarities and Differences Between the Orthodox Church and the Living Church of God Both groups claim to represent the original Christian faith. Do you know much about them? Both groups have some amazing similarities and some major differences. Do you know what they are?
Orthodox Must Reject Unity with the Roman Catholics The Bible warns the Orthodox against this unity as do some Catholic prophecies.  The Orthodox need to heed these warnings now.