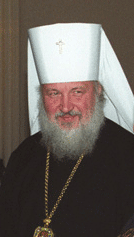 Metropolitan Kirill (also spelled Kyrill)
The Russian Orthodox Church has selected Metropolitan Kirill as its new patriarch:
Outspoken Kirill elected new Russian patriarch
MOSCOW (AFP) — The Russian Orthodox Church on Tuesday selected 62-year-old Metropolitan Kirill as its new patriarch, an outspoken figure who analysts say could prove a headache for the Kremlin.
A seasoned operator after long service as head of the church's foreign relations section, Kirill was elected by an overwhelming majority in a ballot of church leaders in Moscow's ornate cathedral of Christ the Saviour.
Kirill, Metropolitan of Smolensk and Kaliningrad, received 508 votes in a secret ballot of the Church Council in Moscow while his challenger Metropolitan Kliment of Kaluga and Borovsk won 169 votes.
"I accept and thank the Church Council for my election as Patriarch of Moscow and All Russia," Kirill said solemnly after the results were announced, before leading the congregation in an Orthodox liturgy.
Addressing the incense-filled gathering earlier, Kirill had made a strident call for church unity and urged the faithful to resist Protestant and Catholic proselytizing, dampening hopes of a transformation in poisonous ties with Rome.
About 700 bearded and robed bishops and laity from both Russia and diocese abroad had the right to participate in the first such vote of the post-Soviet era, following the death of Alexy II last month.
Gathered outside on the freezing Moscow street were about 100 of the faithful, some holding banners and icons and chanting.
Kirill's comments echoed the tough approach of his predecessor, who resisted attempts by late Polish pope John Paul II to reach out to Catholics in ex-Soviet lands and who refused to countenance a papal visit to Russia.
In the post-Soviet era "the most active proselytizing was by missionaries of all manner of Protestant denominations but we also noticed with bitterness representatives of the Catholic hierarchy," Kirill said…
Kirill, whose crushing victory had been widely predicted, takes over a church that went from strength to strength under Alexy after being repressed in the Soviet era.
Prime Minister Putin and President Dmitry Medvedev both attend church on feast days, as do other Slavic leaders such as Belarus' President Alexander Lukashenko.
The church's relatively rapid election of Kirill, without resorting to a run-off, and the withdrawal of a third candidate just before voting began were indicative of its desire to make a show of unity at a crucial moment. http://www.google.com/hostednews/afp/article/ALeqM5htauIi6LIsHzjy3GqEJSeOD4Ur8A
This is probably not what those associated with Rome wanted to see as Metropolitan Kirill has made it clear that he is not into compromise with Rome (see Russian Orthodox Leader Urges No Compromise With Catholics).
On the other hand, some see him as more likely to compromise than other leaders within the Russian Orthodox.  Notice the following from an AP story today:
The son of a priest, Kirill has headed the external relations department of the world's largest Orthodox Christian church for nearly 20 years, making him point man for ties with the Roman Catholic Church. He met with Pope Benedict XVI in December 2007.
Efforts for a reconciliation nearly a millennium after Christianity's east-west schism have been stymied amid accusations by the Russian church of Catholic missionary activity on its traditional territory and disputes over church influence and property in Ukraine.
Kirill has echoed Alexy's often repeated warning that those disagreements remain obstacles to a long-awaited meeting between pope and patriarch. But he has also promoted unity with the Roman Catholic Church against secularism and immorality he says threatens societies across Europe.
Within Russia, Kirill is seen as a politically minded figure who may seek a measure of independence for the church, which has served the state for much of its 1,000-year history. Church and state are officially separate under the post-Soviet constitution, but ties have tightened again since Vladimir Putin came to power in 2000.
Despite the lopsided vote, Kirill will face opposition from a strong conservative movement within the church that sees him as too modern and too eager for a rapprochement with Roman Catholics. He will have to tread carefully or risk serious discord in the church. http://www.guardian.co.uk/world/feedarticle/8329716
However, Metropolitan Kirill's position has always been a bit distant from Rome.  For example, last year he stated:
Less than 20 years after the fall of the Soviet Union, the number of churches has quadrupled, we now have twice as many dioceses, and the number of monasteries has grown by a factor of 32 — to 700 — today. Fifteen thousand young people are studying theology. On the other hand, even though 80 percent of newborns are baptized in Russia, only 60 percent of Russians call themselves Orthodox Christians, and less than 10 percent attend church regularly — even fewer in some provinces…

We, as the Orthodox Church, are opposed to all attempts to establish a unipolar world. It would constitute the introduction of a forced entity that would level the differences among religions, cultures and civilizations (The Bible Calls it a Sin'. Spiegel. Interview was conducted by Martin Doerry, Christian Neef and Matthias Schepp in Moscow. January 10, 2008. http://www.spiegel.de/international/world/0,1518,527618,00.html).
I hope and pray that the many within the Russian Orthodox will still oppose "a unipolar world" when the European Beast power arises.  Hopefully, the new Patriarch will not be so political that he will compromise with Rome himself.
Since it was only last week that Metropolitan Kirill again distanced himself from Rome (see Russian Orthodox Leader Urges No Compromise With Catholics), currently it appears that the Russian Orthodox will resist the type of unity with Rome that the Vatican seems to want.
However, while Russia may remain distant, Bible prophecy indicates that there will be additional cooperation between the Russian Orthodox and Roman Catholics–but it may remain somewhat distant as the Russians appear to be prophesied to ultimately help destroy the Vatican.
Some articles of related interest may include:
Russia: Its Origins and Prophesied Future Where do the Russians come from? What is prophesied for Russia? What will it do to the Europeans that supported the Beast in the end?
Some Similarities and Differences Between the Orthodox Church and the Living Church of God Both groups claim to represent the original Christian faith. Do you know much about them? Both groups have some amazing similarities and some major differences. Do you know what they are?
Orthodox Must Reject Unity with the Roman Catholics The Bible warns the Orthodox against this unity as do some Catholic prophecies.  The Orthodox need to heed these warnings now.
Which Is Faithful: The Roman Catholic Church or the Living Church of God? Do you know that both groups shared a lot of the earliest teachings? Do you know which church changed? Do you know which group is most faithful to the teachings of the apostolic church? Which group best represents true Christianity? This documented article answers those questions. Português: Qual é fiel: A igreja católica romana ou a igreja viva do deus? Tambien Español: Cuál es fiel: ¿La iglesia católica romana o La Iglesia del Dios Viviente? Auch: Deutsch: Welches zuverlässig ist: Die Römisch-katholische Kirche oder die lebende Kirche von Gott?
Apostolic Succession What really happened? Did structure and beliefs change? Are many of the widely-held current understandings of this even possible? Did you know that Catholic scholars really do not believe that several of the claimed "apostolic sees" of the Orthodox have apostolic succession–despite the fact that the current pontiff himself seems to wish to ignore this view?  Is there actually a true church that has ties to any of the apostles that is not part of the Catholic or Orthodox churches?  Read this article if you truly are interested in the truth on this matter!