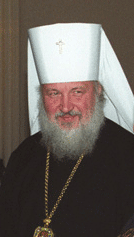 Patriarch Kirill
The head of the Russian Orthodox Church was in the news:
Russian Orthodox Head Rejects Calls for Independent Church in Ukraine

By Aaron J. Leichman

Christian Post Reporter

Wed, Aug. 05 2009

The head of the Russian Orthodox Church rejected calls from Ukraine's president to create a local Orthodox church that would be independent from Moscow, saying he firmly supports the status quo.

Patriarch Kirill arrived in Ukraine for a prolonged visit, which observers say is aimed at reasserting Moscow's religious and political influence over this predominantly Orthodox nation of 46 million, which is trying to integrate with the West.

Kirill was quick to stress that the dominant Orthodox church in Ukraine, which answers to Moscow, is the only legitimate church here.

"This church, Mr. President, already exists," Kirill said. "If it didn't exist today, Ukraine wouldn't exist either."

"But wounds have formed in this church and these wounds must be healed," he said. http://www.christianpost.com/article/20090805/russian-orthodox-head-rejects-calls-for-independent-church-in-ukraine/index.html
This is not at all surprising.  While Ukraine seems to want to be more closely tied to Europe than Russia, the Russian Orthodox want it to be firmly Russian Orthodox.
Ukraine is one of several countries that could align with Russia instead of Europe to fulfill Daniel 11:44 to eliminate the coming European King of the North.  But, to me at least, this is still not completely certain as Ukraine, overall, seems to really want to be part of Europe.
However, religious ties run deep and while Ukraine is likely to support the coming European Beast power, it is also likely to turn on it as well.
Some articles of possibly related interest may include:
Orthodox Must Reject Unity with the Roman Catholics The Bible warns the Orthodox against this unity as do some Catholic prophecies.  The Orthodox need to heed these warnings now.
Some Similarities and Differences Between the Orthodox Church and the Living Church of God Both groups claim to represent the original Christian faith. Do you know much about them? Both groups have some amazing similarities and some major differences. Do you know what they are?
Russia: Its Origins and Prophesied Future Where do the Russians come from? What is prophesied for Russia? What will it do to the Europeans that supported the Beast in the end?
Europa, the Beast, and Revelation Where did Europe get its name? What might Europe have to do with the Book of Revelation? What about "the Beast"? What is ahead for Europe?
Who is the King of the North? Is there one? Do biblical and Roman Catholic prophecies point to the same leader? Should he be followed? Who will be the King of the North discussed in Daniel 11? Is a nuclear attack prophesied to happen to the English-speaking peoples of the United States, Great Britain, Canada, Australia, and New Zealand? When do the 1335 days, 1290 days, and 1260 days (the time, times, and half a time) of Daniel 12 begin? When does the Bible show that economic collapse will affect the United States?