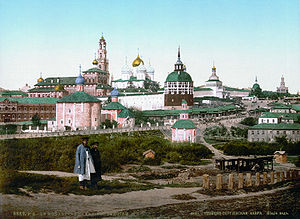 Patriarchate of Moscow
Russians tend to trust the Russian Orthodox Church more than they trust its leader:
Russians have more trust in the Russian Orthodox Church in general than in its head Patriarch Kirill of Moscow and All Russia, according to a survey conducted by the Kremlin-backed pollster Public Opinion Foundation (FOM).

The survey, the results of which were published on Friday, said 64 percent of Russians have confidence in the Church, and 56 percent in the patriarch.

Among those who called themselves Orthodox Christians, there were 79 percent of those who trust the Church. Thirty-five percent of those who said they are Muslims backed the Russian Orthodox Church.
The Russian Orthodox Church, through leaders such as Patriarch Kirill, has supported Vladimir Putin.  And it supported Vladimir Putin when many Russians were turning against him.  Vladimir Putin once again takes the office of President of Russia on May 7, 2012 and partially has the Russian Orthodox Church and specifically its Patriarch Kirill for assisting with some issues that possibly could have complicated, if not possibly prevented, his "re-election."
Speaking of Vladmir Putin issue, thousands today are protesting against him in Moscow, while there are also demonstrators backing him:
6 May 2012

Protesters against Russian President-elect Vladimir Putin have clashed with police in the capital Moscow, ahead of Mr Putin's inauguration on Monday for a third term.

The protest was peaceful until a small group of demonstrators tried to break through the lines of riot police…

A rival demonstration in support of Mr Putin has also been taking place.

Organisers said about 20,000 people took part in the opposition march – to an island close to the Kremlin – although police put the figure at about 8,000.    http://www.bbc.co.uk/news/world-europe-17975862
Vladimir Putin probably expected some protests.  But they will not stop him at this stage.  And in addition to the police backing him, he can always call on Patriarch Kirill if he thinks that would be helpful.
I have covered Patriarch Kirill for years (see New Russian Orthodox Patriarch, Russian Orthodox Leader Urges No Compromise With Catholics, and Russian Orthodox and Vatican Closer to Ending Rift).  I believe he has a keen interest in politics and ecumenical matters.  For a while, I believe that the Russian Orthodox Church will support, at least to a degree, the ecumenical religion that the Vatican will change into.  But, ultimately, the Russian Orthodox Church will turn against that and likely encourage the Russian leadership later in the 21st century to turn against what will have risen up in Europe.
Those interested in learning more may wish to study the following articles:
Russia: Its Origins and Prophesied Future Russia in prophecy. Where do the Russians come from? What about those in the Ukraine? What is prophesied for Russia and its allies? What will they do to the Europeans that supported the Beast in the end?
Is Russia the King of the North? Some claim it is. But what does the Bible teach?
Why Should American Catholics Should Fear Unity with the Orthodox? Are the current ecumenical meetings a good thing or will they result in disaster?
Some Similarities and Differences Between the Eastern Orthodox Church and the Living Church of God Both groups claim to be the original church, but both groups have differing ways to claim it. Both groups have some amazing similarities and some major differences. Do you know what they are?
Orthodox Must Reject Unity with the Roman Catholics as unifying will make them part of the final end time Babylon (according to both biblical and Roman Catholic prophecy).