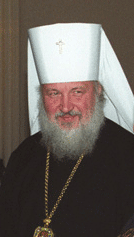 Patriarch Kirill
US President Barack Obama met with Pope Benedict recently, now he has also met with the Patriarch of the Russian Orthodox Church Kirill:
Obama, in Russia, praises democracy, blasts graft

MOSCOW (Reuters) – President Barack Obama appealed to the Russian people on Tuesday to join the United States in overcoming past differences and building a prosperous democratic future free of corruption and the threat of nuclear war…Opinion polls show a majority of Russians mistrust the United States and believe it abuses its power.NO OBAMAMANIA HERE

"We are maybe the one country in the world where there is no Obamamania," Sergei Markov, a parliamentary deputy from the ruling United Russia party, told Reuters.

"For us he is not president of the world but the president of the United States of America."

Later, at a summit with business leaders, Obama emphasized that a "reset" in prickly Russia-U.S. relations — the main aim of his trip — needed to involve many more people than himself and his Russian counterpart Dmitry Medvedev…

Obama tried to mend fences with Russia's most powerful politician, Prime Minister Vladimir Putin, during a breakfast meeting at Putin's forest dacha which lasted around two hours.

The U.S. president had upset Putin before traveling to Moscow by describing him in an interview as a man with one foot planted in the old ways of doing things. But he went out of his way on Tuesday to praise Putin's "extraordinary work."

Putin, a former KGB spy who was president between 2000 and 2008 before handing over the Kremlin job to his hand-picked successor Medvedev, looked uncomfortable before the meeting but both sides said afterwards that it had gone well.

A senior U.S. administration official said Putin and Obama had a "very interesting and open discussion" which "formed the basis of a good relation upon which they can build," though they had disagreed on some issues…

Obama also met representatives of civil society in Russia, including the leader of the powerful Russian Orthodox Church, Patriarch Kirill. http://www.ethiopianreview.com/articles/16622
About 80% of Russians are baptized Orthodox (see 80% of Russians Baptized Orthodox), but only about 10% actually practice the Russian Orthodox faith.
President Obama and Patriarch Kirill should not really have a significant reason to get together, unless they both are looking at expanding their influence beyond their respective borders.
As I have mentioned many times before, I believe that the timing of the Obama presidency, combined with many of his policies, makes him "apocalyptic"–a term that a Catholic cardinal used for Barack Obama when he was the "President-elect".  President Obama is likely to enable the rise of at least three leaders that the Bible warns against (see Prophecies of Barack Obama).
In Patriarch Kirill's mind, I suspect he is trying touch bases with various world leaders in order to try to make better internationally related decisions in the future.  He would be wise to not try for unity with the worldly churches outside of Russia.
Some articles of possibly related interest may include:
Orthodox Must Reject Unity with the Roman Catholics The Bible warns the Orthodox against this unity as do some Catholic prophecies.  The Orthodox need to heed these warnings now.
Some Similarities and Differences Between the Orthodox Church and the Living Church of God Both groups claim to represent the original Christian faith. Do you know much about them? Both groups have some amazing similarities and some major differences. Do you know what they are?
Russia: Its Origins and Prophesied Future Where do the Russians come from? What is prophesied for Russia? What will it do to the Europeans that supported the Beast in the end?
Prophecies of Barack Obama? Eight reasons why Barack Obama is apocalyptic and eight reasons why Barack Obama is not the Antichrist. This article includes many biblical and non-biblical prophecies, from around the world, that seem to discuss Barack Obama. Did Nostradamus predict Barack Obama dealing with the Antichrist?  Might Barack Obama set the stage for the kings of the North and South as at least one Shiite prophecy suggests?  This is the longest and most complete article on this page on Barack Obama prophecies. Read it and decide for yourself if President Obama seems to be fulfilling various prophecies.
Barack Obama, Prophecy, and the Destruction of the United States Some claim that Barack Obama is the prophesied "son of Kenya", based up an early 20th century writing.
Barack Obama in Islamic Prophecy? There is actually a 17th century Shiite prophecy that some believe that Barack Obama will fulfill that will lead to a rising up of Islam.