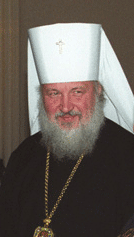 Metropolitan Kirill
Byelorussian President Alexander Lukashenko met with head of the Russian Orthodox Church, Metropolitan Kirill:
13 April 2009, 14:48

Lukashenko hopes Russian Church to actively help in strengthening Slavic unity

Minsk, April 13, Interfax – Byelorussian President Alexander Lukashenko believes the Russian Orthodox Church will be more active in building unity between Byelorussia and Russia.

"We much anticipate and believe that the Russian Orthodox Church should become a more active participant in the process of uniting our states, and perhaps even in uniting Slavic civilization based on Byelorussia, Ukraine and Russia," Lukashenko told journalists in Minsk speaking on the results of his Friday meeting with Patriarch Kirill of Moscow and All Russia.

"I asked the Patriarch to get involved in these questions," he said.

According to Lukashenko, he informed Patriarch Kirill about Byelorussian-Russian relations, "about the problems that are not worth sixpence, but suppress creating of this center of Slavic, Orthodox civilization."

He is convinced that "the Church shouldn't stand apart from the processes (of allied building – IF).

Commenting on a long conversation he had with the Patriarch, the Byelorussian head confessed, "We were very frank. God forbid anyone could ever learn what and how we were talking. It's our private matters connected with our Slavic unity."

The President said they also discussed relations between Orthodox and Catholic Churches and Patriarch Kirill "opened his eyes on many issues."

Lukashenko also stressed that Patriarch Kirill stood for "strengthening the entire Christian world" and the Russian Church Primate "doesn't reject Catholics, the Catholic world." http://www.interfax-religion.com/?act=news&div=5920
The result of these meetings is likely to assist in the formation of a new ecumenical religion that will, for a while, be accepted around the world.  However, Bible prophecy indicates that Russia (and apparently the rest of the Russian Orthodox) will eventually cause trouble for the leaders of this coming world religion.
Some articles of related interest may include:
Russia: Its Origins and Prophesied Future Where do the Russians come from? What is prophesied for Russia? What will it do to the Europeans that supported the Beast in the end?
Some Similarities and Differences Between the Orthodox Church and the Living Church of God Both groups claim to represent the original Christian faith. Do you know much about them? Both groups have some amazing similarities and some major differences. Do you know what they are?
Orthodox Must Reject Unity with the Roman Catholics The Bible warns the Orthodox against this unity as do some Catholic prophecies.  The Orthodox need to heed these warnings now.
Which Is Faithful: The Roman Catholic Church or the Living Church of God? Do you know that both groups shared a lot of the earliest teachings? Do you know which church changed? Do you know which group is most faithful to the teachings of the apostolic church? Which group best represents true Christianity? This documented article answers those questions. Português: Qual é fiel: A igreja católica romana ou a igreja viva do deus? Tambien Español: Cuál es fiel: ¿La iglesia católica romana o La Iglesia del Dios Viviente? Auch: Deutsch: Welches zuverlässig ist: Die Römisch-katholische Kirche oder die lebende Kirche von Gott?
Apostolic Succession What really happened? Did structure and beliefs change? Are many of the widely-held current understandings of this even possible? Did you know that Catholic scholars really do not believe that several of the claimed "apostolic sees" of the Orthodox have apostolic succession–despite the fact that the current pontiff himself seems to wish to ignore this view?  Is there actually a true church that has ties to any of the apostles that is not part of the Catholic or Orthodox churches?  Read this article if you truly are interested in the truth on this matter!