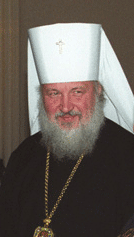 Metropolitan Kirill (also spelled Kyrill)
A major leader of the Orthodox Church in Russia is warning against unity with the Catholics of Rome:
Likely Moscow patriarch stresses differences with Catholic belief
Moscow, Jan 23, 2009 / 07:03 am (CNA).- An Orthodox prelate considered to be the most likely successor of Patriarch of Moscow Alexy II has said that while Orthodox Christianity shares similarities with Catholicism, there are a "great number of differences" on which "there is no room for compromise."
Metropolitan Kirill, Patriarchal Locum Tenens of Moscow, made the remarks in an interview recently published by Argumenty i Fakty (Arguments and Facts), SIR reports.
Discussing relations with other Christian confessions, Metropolitan Kirill said: "unfortunately, differences in religious doctrines and practices have increased between orthodoxy and other confessions."
"With some Protestant communities, such as the Lutheran Church of Sweden and the Episcopal Church of the United States, we have come to a complete break, due to the official recognition of homosexual relations," he continued.
While noting that the social positions of Orthodox Christianity and the Catholic Church are "more close," the metropolitan said, "nevertheless, we have be accountable for a great number of differences in doctrine and practice between the Orthodox and the Catholic Churches and, in this regard, there is no room for compromise." http://catholicnewsagency.com/new.php?n=14865
I have long warned that the Orthodox Must Reject Unity with the Roman Catholics.  The Russian Orthodox have tended to be more likely to make public comments indicating their desire to NOT unify with Rome than the other Orthodox sees.
However, at some point, the Russian Orthodox will probably temporarily accept at least some of the authority of Rome.  But I believe that they will ultimately reject it and that will set the path for the fulfillment of Russia's prophecied role to turn against the future European beast power (see Russia: Its Origins and Prophesied Future).
Some articles of related interest may include:
Some Similarities and Differences Between the Orthodox Church and the Living Church of God Both groups claim to represent the original Christian faith. Do you know much about them? Both groups have some amazing similarities and some major differences. Do you know what they are?
Orthodox Must Reject Unity with the Roman Catholics The Bible warns the Orthodox against this unity as do some Catholic prophecies.  The Orthodox need to heed these warnings now.
Russia: Its Origins and Prophesied Future Where do the Russians come from? What is prophesied for Russia? What will it do to the Europeans that supported the Beast in the end?
Which Is Faithful: The Roman Catholic Church or the Living Church of God? Do you know that both groups shared a lot of the earliest teachings? Do you know which church changed? Do you know which group is most faithful to the teachings of the apostolic church? Which group best represents true Christianity? This documented article answers those questions. Português: Qual é fiel: A igreja católica romana ou a igreja viva do deus? Tambien Español: Cuál es fiel: ¿La iglesia católica romana o La Iglesia del Dios Viviente? Auch: Deutsch: Welches zuverlässig ist: Die Römisch-katholische Kirche oder die lebende Kirche von Gott?
Apostolic Succession What really happened? Did structure and beliefs change? Are many of the widely-held current understandings of this even possible? Did you know that Catholic scholars really do not believe that several of the claimed "apostolic sees" of the Orthodox have apostolic succession–despite the fact that the current pontiff himself seems to wish to ignore this view?  Is there actually a true church that has ties to any of the apostles that is not part of the Catholic or Orthodox churches?  Read this article if you truly are interested in the truth on this matter!