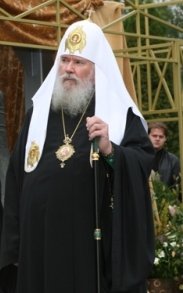 Patriarch Alexius II of Russia (also known as Alexy II)
COGwriter
The Patriarch of the Russian Orthodox Church died yesterday:
Head of Russia's Orthodox Church dies
Patriarch Alexiy II, the head of the country's powerful Orthodox Church, has died at the age of seventy-nine, Russian media reports say.
A spokesman for the Moscow Patriarchy of the Russian Orthodox Church confirmed the reports, adding that Patriarch Alexius II passed away on Friday morning.
Born as Aleksey Ridiger, Alexiy II was enthroned on June 10, 1990, replacing Patriarch Pimen I, less than a month after the latter's death.
Taking power shortly after the downfall of the Soviet Union, he set about restoring the church's authority and oversaw a religious renaissance with the building of churches across the country…
In 2006, he called the Vatican's action in the traditionally Orthodox parts of Russia "extremely unfriendly" and "non-brotherly," according to Russian reports.
The religious leader was considered a popular figure among 50% of the country's population, and deemed extremely involved in Russian politics, according to a poll conducted on the 10th anniversary of his enthronement. http://www.presstv.ir/detail.aspx?id=77511&sectionid=351020602
Unlike those in Constantinople, the Russian Orthodox have tended to distance themselves from unity with Rome and some of them still seem to accept some Church of God doctrines such as Millenarianism.
It is not clear what will happen next, but because of his timing, the next Patriarch of the Russian Orthodox Church will help (at least indirectly) support the fulfillment of some biblical prophecies.
Three articles of related interest may include:
Some Similarities and Differences Between the Orthodox Church and the Living Church of God Both groups claim to represent the original Christian faith. Do you know much about them? Both groups have some amazing similarities and some major differences. Do you know what they are?
Orthodox Must Reject Unity with the Roman Catholics The Bible warns the Orthodox against this unity as do some Catholic prophecies.  The Orthodox need to heed these warnings now.
Russia: Its Origins and Prophesied Future Where do the Russians come from? What is prophesied for Russia? What will it do to the Europeans that supported the Beast in the end?