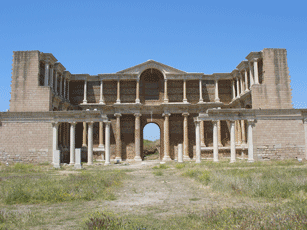 Rebuilt Gymnasium in Sardis

The current issue of CG7's Bible Advocate reported the following:
At the urging of the board of direc-
tors, General Conference President Whaid Rose has
agreed to take a brief sabbatical in the interest of
securing his long-term availability for effective service
to the Church. Elder Rose has experienced signifi –
cant vision impairment in recent years. This sabbati-
cal provides time for him to pursue recommended
medical treatments and some writing projects. Elder
Loren Stacy, G. C. board chairman, has agreed to
provide the "Last Word" until Elder Rose returns.
Whaid Rose is a fairly young president.  He has always appeared, to me at least, to have some Protestant-leanings and tendencies.  But I am sorry that he has health problems and will pray for him.
Two articles that mention the teachings of his church include:
Church of God, Seventh Day: History and Teachings Nearly all COG's I am aware of trace their history through this group. Whaid Rose is the president of the largest CG7 group (Denver). Do you know much about them?
The Sardis Church Era was predominant circa 1600 A.D. to circa 1933 A.D. Discusses early history of the Seventh Day Baptists, Seventh-day Adventists, and COG-7th Day.