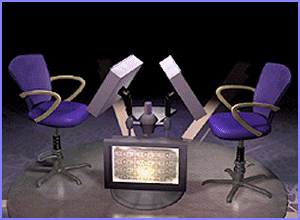 By COGWriter
One of the most popular links at the COGwriter website is to the Who Wants to be a Biblical Millionaire? quiz.
While at the Feast of Tabernacles in Trinidad & Tobago, the brethren from Trindad played a "Bible Bowl" game. Well, that game consisted of a lot of questions, so Michael has modified them a little bit and has been able to increase the number of questions in the game from 199 to 254. A significant increase to the quiz. We wish to thank the brethren in Trinidad and Tobago for enabling Michael to expand the database for this quiz.
By the way, Michael is always looking for more questions and you can send him additional questions and answers to mike10z@aol.com
While I believe that this and other quizzes at the site help people better learn the Bible, the major reason I have quizzes, animations, photos, and even news, as opposed to only doctrinal articles, is to attempt to better follow the Apostle Paul's example which was:
I have become all things to all men, that I might by all means save some. Now this I do for the gospel's sake, that I may be partaker of it with you (1 Corinthians 9:22-23).
Michael's Free Bible Quizzes and Public Domain Animations.
Self Grading Bible Quiz 15 questions and a report card when you finish.
The Good Samaritan A public domain claymation for younger people.
Paul in Damascus Not a quiz, but a Lego-animation.
John 21 Not a quiz, but (other than a Lego suggesting a long-haired Jesus) a biblical story for young people.
David vs. Goliath A higher level animation for older young people.
Solomon's Temple This is a a 5 minute animated film that shows one artist's understanding of the details about Solomon's temple.
Bible Crossword Puzzle
Who Wants to be a Biblical Millionaire? A sophisticated quiz.
Pentecost Quiz This is a Pentecost quiz based upon the Old and New Testaments in the Bible.
The Antichrist Quiz Do you really know much about the Antichrist?
Michael's Feasts and Fasts Quiz 15 questions, amusing wrong answer screens.
The Ten Commandments Quiz Developed by my son Michael.
Michael's Day of Atonement Quiz Another free on-line Bible quiz by my son Michael.
Bible Hangman Michael's most interactive Bible game to date. Another one of his free online Bible games.
Michael's Sabbath Quiz Test and learn a little more about the Sabbath.