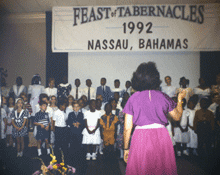 In past few days, there have been some reports concerning attendance at the 2007 Feast of Tabernacles.
LCG reported:
The overall attendance figure for the Feast of Tabernacles 2007 (including shut-ins receiving CDs) was 7,086.  This year, some international areas experienced fewer incoming transfers, had fewer sites, and saw more brethren staying home because of rising transportation costs, so these areas posted a decrease in attendance.  In the USA, attendance was up 3.5 percent (with eight sites in 2007, up from six the previous year).  In Latin America, attendance was up 14 percent (with one new site in Chile).  Attendance in the Caribbean was up 11 percent, with record-breaking attendance in Tobago.  The U.K./Ireland region was up 32.5 percent this year, largely due to increased numbers of incoming transfers.  The Church continues to serve its shut-ins who are not able to make it to the Feast—285 brethren received Festival CDs in 2007, compared with 187 in 2006.
CBCG reported:
From the office here in Hollister we sent out over 100 sets of DVDs for small Feast groups in the USA, as well as nearly 400 CDs (with all nine sermons on each CD) to those who, because of circumstances, were keeping the Feast at home…Whether in groups or individually, well over 2,000 brethren observed the Feast of Tabernacles this year with CBCG.  
In the above case with CBCG, it is not clear how many are truly with CBCG as opposed to being independent and simply asking CBCG, and perhaps others, for DVDs.  But this figure may be higher than COGaIC.
COGaIC tends to have about 2,000 who attend their Feast sites.  They tend to have a lot of sites and members in Africa, the UK, and Australia.  Since they have decided to restrict access to their church website to only those they pre-approve for viewing, I have not seen their actual numbers for this year–but am basing my attendance estimate on previous data from about two years ago.
PCG also restricts access to its official attendance figures.  My estimate based upon what I have seen pieces of in the past is about 5,000.  Unlike the other COG groups, PCG also does not allow non-PCG members/attendees to attend their Feast sites.  FWIW, I did run into a few PCG members in Tobago this year (they met down the street from LCG).
Although I have not seen official attendance figures this year, UCG typically has over 20,000 who attend their Feast sites.  UCG typically publishes the details of attendance in the November issue of its United News which will probably be available in about a week.  Once that comes out I will probably update this update. 
Like CBCG and probably CEM, UCG tends to have many who attend its Feast sites who are not actually part of UCG.  While groups like LCG allow non-members/attendees to attend their Feast sites, typically UCG has a greater percentage of "visitors" (mainly people who consider themselves to be independent) at their sites than many other groups do.  There are various reasons for this, including the fact that UCG has the most Feast sites–about 50.  LCG is second as it had 43 sites in 2007.
In order of this writer's understanding of each groups attendance at the Feast of Tabernacles, the largest groups (those with over 1,000 in attendance) in descending order appear to be:
1) United Church of God, aia
2) Living Church of God
3) Philadelphia Church of God
4) Church of God, aic
5) Christian Biblical Church of God
6) Christian Educational Ministries
Note: If your group should be in the above list, yet has been missed, please send a verifiable reference so I can check it and add your group. It is possible that the Church of God International or Intercontinental Church of God should be on the previous list, but I did not see enough attendance data which suggested that over 1000 actually attend their FOTs–but these appear (and not necessarily in that order) to be the next largest groups).  Nor am I absolutely certain that CEM has over 1,000.
CG7 Denver does not officially observe the Feast of Tabernacles, but announced this past summer that its members can observe it.  CG7 Meridian (a group not affiliated with Denver) members tend to observe the Feast and I had hoped to update this update later today with their attendance figures, but mainly only learned that they had two sites in the USA (and it was not clear if they were combined sites or CG7 Meridian only sites).
Articles of possibly related interest may include:
Is There "An Annual Worship Calendar" In the Bible? This paper provides a biblical and historical critique of several articles, including one by WCG which states that this should be a local decision. What do the Holy Days mean? Also you can click here for the calendar of Holy Days.
The Feast of Tabernacles: A Time for Christians? Is this pilgrimage holy day still valid? Does it teach anything relevant for today's Christians?
LCG 2007 Feast of Tabernacles' Information Here is information on many Feast of Tabernacles locations for this year.
Did Early Christians Observe the Fall Holy Days? Did they? Did Jesus? Should you?