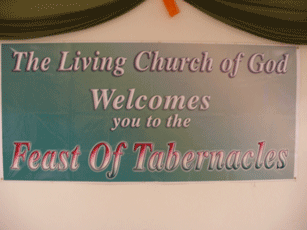 Banner at 2007 Feast of Tabernacles in Tobago
The Living Church of God has announced its US and Canadian sites for the Feast of Tabernacles in 2008:
USA:                                          CANADA:
Branson, Missouri                   Lethbridge, Alberta
New Braunfels, Texas            Orford, Quebec
Newport, Oregon         Charlottetown, Prince Edward Island
Prescott, Arizona
Sunset Beach, North Carolina
Wisconsin Dells, Wisconsin
Last week, LCG announced many of its international Feast sites.  Some articles of related interest may include:
Living Church of God Announces 2008 International Feast of Tabernacles' Sites LCG normally has over 40 sites in 30 different countries around the world.
The Feast of Tabernacles: A Time for Christians? Is this pilgrimage holy day still valid? Does it teach anything relevant for today's Christians?
LCG 2008 Feast of Tabernacles' Information Here is information on many Feast of Tabernacles locations for this year.
There are Many COGs: Why Support the Living Church of God? This is an article for those who wish to easily sort out the different COGs. It really should be a MUST READ for current and former WCG members or any interested in supporting the faithful church. It also explains a lot of what the COGs are all about.