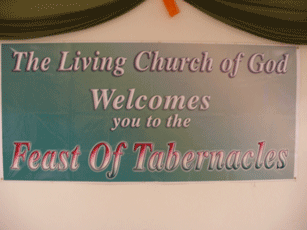 The Living Church of God has announced several of its international sites for the Feast of Tabernacles in 2008:
The following are some of the international sites we will have in 2008 (this list is not all-inclusive):

Argentina (Sierra de la Ventana)
Australia (Albany and The Entrance)
Barbados (Christ Church)
France (Evian)
Guatemala (Antigua)
Guyana (Georgetown and Awarewaunau)
Indonesia (Malang)
Jamaica (Ocho Rios)
Kenya (Mombasa)
Malaysia (Melaka)
Mexico (Huatusco)
New Zealand (Taupo)
Papua New Guinea (Wewak)
Philippines (Baguio City)
South Africa (Glentana, George)
Sri Lanka (Colombo)
Thailand (Mae Sot)
Tobago (Crown Point)
United Kingdom (Llangollen, North Wales)
Vanuatu (Orap)
In 2007, LCG had 43 sites in 30 countries.  A listing of the sites last year is in the article  LCG 2007 Feast of Tabernacles' Information. 
The Feast of Tabernacles (including the Last Great Day) runs from sunset on the 13th through October through sunset October 21st, 2008.
Updates for LCG's Feast of Tabernacles' sites for 2008 are intended to be included in the article LCG 2008 Feast of Tabernacles' Information.
You can click here for a Holy Day Calendar through 2012.