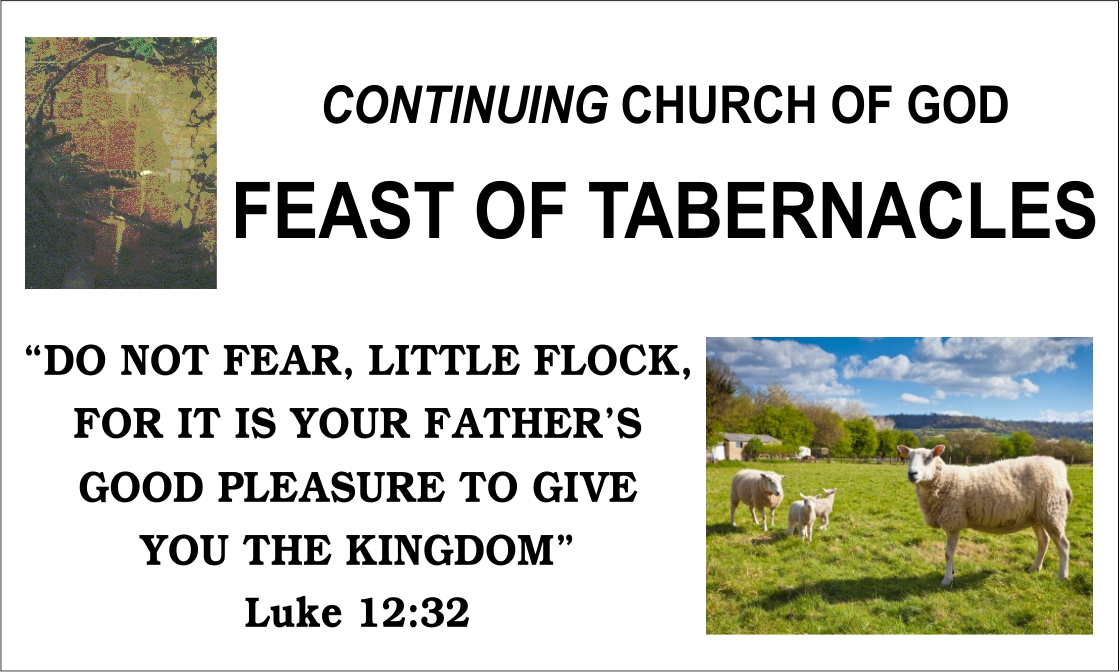 The Feast of Tabernacles for 2019 starts at sunset today.
The Continuing Church of God is pleased to announce this sermon from its ContinuingCOG channel:
In 2019, the Feast of Tabernacles begins after sunset on October 13th. How long is it? Why should you observe it? What are some of the lessons that God expects you to learn from it? What does the Feast of Tabernacles picture? What lands does the Continuing Church of God have festival sites planned for 2019? How should you act during the Feast of Tabernacles? Is it a time to rejoice? Dr. Thiel answers those questions and more.
Here is a link to the: Feast of Tabernacles 2019 Opening Night Message.
What should you do if you wish to obey God and keep this festival?
If you are at, or can be at, one of the Feast of Tabernacles' Sites for 2019, you should attend church services every day.
But if you are not able to physically attend those locations, what should you do?
The Bible teaches that the children of Israel were to have offerings for every day of the Feast (Leviticus 23:36. And while we in the Continuing Church of God do take up offerings on the First Day of the Feast and the Last Great Day, we do not take up financial offerings on the other days. But one way for you to fulfill what God expects is for you to attend or at least watch church services each day. Notice something that the Apostle Paul wrote:
1 I beseech you therefore, brethren, by the mercies of God, that you present your bodies a living sacrifice, holy, acceptable to God, which is your reasonable service. 2 And do not be conformed to this world, but be transformed by the renewing of your mind, that you may prove what is that good and acceptable and perfect will of God. (Romans 12:1-2)
Viewing services each day is a way for you to offer yourself as a living sacrifice which is your reasonable service. We have sermons posted at the www.ccog.org website and past year's sermons posted at the link Feast of Tabernacles' Sites for 2015. If you are not able to physically attend, hopefully you will be able to watch at least one sermon and other message every day.
For those unfamiliar with the Feast of Tabernacles consider the following scriptures related to what happens after Jesus returns:
16 And it shall come to pass that everyone who is left of all the nations which came against Jerusalem shall go up from year to year to worship the King, the Lord of hosts, and to keep the Feast of Tabernacles. 17 And it shall be that whichever of the families of the earth do not come up to Jerusalem to worship the King, the Lord of hosts, on them there will be no rain. 18 If the family of Egypt will not come up and enter in, they shall have no rain; they shall receive the plague with which the Lord strikes the nations who do not come up to keep the Feast of Tabernacles. 19 This shall be the punishment of Egypt and the punishment of all the nations that do not come up to keep the Feast of Tabernacles. (Zechariah 14:16-19)

2 Many nations shall come and say,
"Come, and let us go up to the mountain of the Lord,
To the house of the God of Jacob;
He will teach us His ways,
And we shall walk in His paths."
For out of Zion the law shall go forth,
And the word of the Lord from Jerusalem.
3 He shall judge between many peoples,
And rebuke strong nations afar off;
They shall beat their swords into plowshares,
And their spears into pruning hooks;
Nation shall not lift up sword against nation,
Neither shall they learn war anymore.

4 But everyone shall sit under his vine and under his fig tree,
And no one shall make them afraid;
For the mouth of the Lord of hosts has spoken.
5 For all people walk each in the name of his god,
But we will walk in the name of the Lord our God
Forever and ever.

6 "In that day," says the Lord,
"I will assemble the lame,
I will gather the outcast
And those whom I have afflicted;
7 I will make the lame a remnant,
And the outcast a strong nation;
So the Lord will reign over them in Mount Zion
From now on, even forever.
8 And you, O tower of the flock,
The stronghold of the daughter of Zion,
To you shall it come,
Even the former dominion shall come,
The kingdom of the daughter of Jerusalem." (Micah 4:2-8)
So, Gentiles will clearly keep the Feast of Tabernacles.
Consider also that after his conversion, the Apostle Paul continued to keep Feast of Tabernacles or he would not be able to say to Jewish leaders:
17 Men and brethren, though I have done nothing against our people or the customs of our fathers (Acts 28:17)
Additionally, consider that the Apostle Paul also said:
1 I must by all means keep this coming feast in Jerusalem (Acts 18:21)

1 Imitate me, just as I also imitate Christ. (1 Corinthians 11:1)
Jesus, like the Apostle Paul, kept the Feast of Tabernacles (John 7:2-38).
Here is a link to a sermon on the millennium: Did The Early Church Teach Millenarianism?
Other sermons are also available at the ContinuingCOG channel.
Some items of possibly related interest may include:
The Feast of Tabernacles: A Time for Christians? Is this pilgrimage holy day still valid? Does it teach anything relevant for today's Christians? What is the Last Great Day? What do these days teach?
How to Keep God's Festivals Many have heard of God's Holy Days and wonder how they are kept in the 21st century. This is an overview article. A related sermon is also available titled: How to Keep God's Feasts.
Should You Observe God's Holy Days or Demonic Holidays? This is a free pdf booklet explaining what the Bible and history shows about God's Holy Days and popular holidays.
Tabernacles Offertory: Sojourning Now for the Kingdom to Come Are Christians pilgrims and sojourners? What is the pilgrim feast? Are Christians to worry or seek first the kingdom? Should an offering be taken up on the first day of the Feast of Tabernacles? What does the Bible seem to teach about that? Dr. Thiel goes over scriptures and facts related to this.
The Feast of Tabernacles: A Time to Learn the Law The Bible teaches that every seven years that the law should be read at the Feast of Tabernacles. This is what I did at the first Feast site were I gave an actual sermon (as opposed to a sermonette) in 2006.
Feast of Tabernacles' Sites for 2019 This is information on the Feast of Tabernacles' sites for the Continuing Church of God in 2019. Services will begin the evening of October 13th and run through (including the Last Great Day) October 21st.
Is Second Tithe and Third Tithe Still Valid Today? Should you save and use second tithe? Some in the COGs no longer teach payment of third tithe, is this biblically correct?
Is There "An Annual Worship Calendar" In the Bible? This paper provides a biblical and historical critique of several articles, including one by the Tkach WCG which states that this should be a local decision. What do the Holy Days mean? Also you can click here for the calendar of Holy Days. (Here is a related link in Spanish/español: Calendario Anual de Adoración –Una crítica basada en la Biblia y en la Historia: ¿Hay un Calendario Anual de Adoración en la Biblia?
Holy Day Calendar This is a listing of the biblical holy days through 2024, with their Roman calendar dates. They are really hard to observe if you do not know when they occur 🙂 In the Spanish/Español/Castellano language: Calendario de los Días Santos. In Mandarin Chinese: 何日是神的圣日? 这里是一份神的圣日日历从2013年至2024年。.