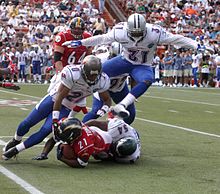 This Thursday is the American holiday called Thanksgiving.
Whether on that date or others, the Bible teaches that God's people should give thanks
4 Sing praise to the LORD, You saints of His, And give thanks at the remembrance of His holy name (Psalm 30:4).
The Bible is full of admonitions to give thanks to God.  In the NKJV the term "give thanks" is used 40 times and the term "giving thanks" is used 5 times–and nearly all of these verses are discussing giving thanks to God.
Pretty much all my life on Thanksgiving, when I have been anywhere other than a home I owned, American football has been playing on television.
For many, other than food and family, football is a major focus of the Thanksgiving holiday.
Should Christians support violent sports like American football?
The late Herbert W. Armstrong wrote:
Hostility toward the other is sin…Boxing at Ambassador College is definitely banned. God did not create the human brain and head to be pummeled and knocked senseless by an antagonist.

Wherever a game in sports involves antagonists–in hostile attitude to harm the other and/or to "get" from the other–to get the best of the other then a harmful, satanic and evil attitude enters in, and the sport is evil, not good…

Football (American football) is a violent body-contact sport. It is often played with an attitude of hostility and is dangerous and is fraught with physical injury. (Plain Truth, July-August 1984)
While I have even heard some thank God for football, it is not a sport that I believe that the God of love would condone.
"Love does no harm to a neighbor" (Romans 13:9), yet what do sports like American football and boxing do?
This is something that Christians, and others, should think about.
Some articles of possibly related interest may include:
Thanksgiving: A Time To Give Thanks and Praise the LORD Is this American holiday appropriate? Why or why not?
Is American Football Evil? Is the most popular spectator sport in the USA something that Christians should watch? What do the Bible and early writings show? This is the first time I have announced this article on this new page and it contains not only my views, but many quotes that Christians, as well as people who claim to be, should think about. Do you really want to know the answer to the question the title asks? If not, why not?
Military Service and the Churches of God: Do Real Christians Participate in Carnal Warfare? Here are current and historical perspectives on a matter which show the beliefs of the true church on military participation. Is war proper for Christians?