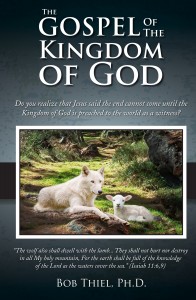 Today, I noticed the following lead article at one of COGWA's websites:
Jesus had a central message that formed the basis for His entire ministry and teachings.

He pinpointed this central message in the heart of His most famous sermon—the Sermon on the Mount. He made a statement about what should be the highest priority for His followers: "But seek first the kingdom of God and His righteousness, and all these things shall be added to you" (Matthew 6:33, emphasis added). …

Jesus Christ's words are clear—the Kingdom of God is to be the No. 1 focus and emphasis in the lives of His followers. In fact, it was the core of His gospel message.

Christ's gospel was not just about Himself

Gospel is a common word in the Christian world. Some think of it in connection with a genre of religious music, but most understand that it describes a message. It literally means a message of good news. Most churches include the word gospel in their mission statements. Typically, the gospel is described as the gospel of Jesus Christ, and it is seen as the message of His life, death and resurrection. (You can see this by doing a Google search of the mission statements of different denominations of Christianity.)

But was this the central message that Jesus actually taught? Was His message only about Himself?

A study of the Gospel accounts of Christ's life pinpoints exactly what His message—His gospel—was all about!

Notice Mark 1:14: "Now after John was put in prison, Jesus came to Galilee preaching the gospel of the kingdom of God." That statement is pretty plain—Jesus preached the gospel about the Kingdom of God!

There are many scriptures that reinforce this fact. …

This message is about the literal establishment of the Kingdom of God on earth at the second coming of Jesus Christ. See our infographic on page 29 to learn more details about what the Kingdom of God is.

But where is that message in mainstream Christianity today?
COGWA is correct that the vast majority of the world's churches that claim Christianity do NOT teach or even understand the true Gospel.
Hence, they are not reaching all nations with it.
We in the Continuing Church of God (CCOG) are striving to reach all nations we can with the message of the Gospel of the Kingdom of God. We have reached people in over 220 nations and territories, and have our booklet, The Gospel of the Kingdom of God, translated in about 100 languages:
Afrikaans Afrikaans
Albanian Shqip
Amharic አማርኛ
Arabic العَرَبِيَّة
Armenian հայերէն
AzerbaijaniAzərbaycan
Bangla বাংল া
Basque Euskara
Belarusian беларуская мова
Bengali বাংলা
Bosnian Bosanski
Bulgarian български
Burmese မြန်မာစာ
Catalan Català
Cebuano Bisayâ
Chichewa Nyanja
Dholuo Dholuo
Croatian Hrvatski
Corsican Corsu
Czech Český
Danish Dansk
Dutch Nederlands
Ekegusii EkeGusii
Esperanto Esperanto
Estonian Eesti keel
Finnish Suomalainen
French Français
Frisian Frisian
Galician Galego
Georgianქართული
German Deutsch
Greek Ελληνική
Gujarati ગુજરાતી
Haitian Creole Kreyòl Ayisyen
Hausa Hausa
Hawaiian Ōlelo Hawaiʻi
Hebrew עִברִית
Hindi हिंदी
Hmong Hmong
Hungarian Magyar
Icelandic Íslenska
Igbo Igbo
Indonesian Bahasa Indonesia
Irish Gaeilge
Italian Italiano
Japanese 日本語
Javanese Jawa
Kannada ಕನ್ನಡ
Kazakh Қазақ тілі
Khmer ភាសាខ្មែរ
Kiswahili Kiswahili
Korean 한국어
Kurdish Kurdî
Kyrgyz кыргызча
Lao ພາສາລາວ
Latin Latinae
Latvian Latviešu valoda
Lithuanian lietuvių
Luxembourgish Lëtzebuergesch
Macedonian Македонски
Malagasy Malagasy
Malay Bahasa Melayu
Malayalam മലയാളം
Maltese Malti
Maori Te Reo
Mandarin (Chinese) 普通话
Marathi मराठी
Mongolian Монгол
Nepali नेपाली
Norwegian Norsk
Pashto پښتو
Persian فارسی
Polish Polskie
Portuguese Português
Punjabi ਪੰਜਾਬੀ ਦੇ
Romanian Română
Russian Rusă
Samoan Gagana fa'a Sāmoa
Scots Gaelic Gàidhlig
Serbian Српски
Sesotho Sesotho
Shona chiShona
Sindhi سنڌي
Sinhalese සිංහල
Slovak Slovenčina
Slovenian Slovenščina
Somali Af-Soomaali
Spanish Español
Sundanese Sundanese
Swedish Svenska
Tagalog Tagolog
Tajik тоҷикӣ
Tamil தமிழ்
Telugu తెలుగు
Thai ภาษาไทย
Turkish Türkไทย
Urdu اردو
Uzbek Oʻzbekcha
Vietnamese Tiếng Việt
Welsh Cymraeg
Xhosa isiXhosa
Yiddish יידיש
Yoruba Èdè Yorùbá
Zulu isiZulu
We expect to have over 100 languages translated soon. These additions also meant that we updated and added materials to the ccog.asia, ccog.eu, ccog.in, ccog.nz, cdlidd.es, and pnind.ph websites.
We realize that translations can always be improved, but also realize that all will not understand in this age (Isaiah 28:9-12; see also The Final Phase of the Work).
We are setting ground work for the fulfillment of Revelation 7, for as God's word says there will be:
9 a great multitude which no one could number, of all nations, tribes, peoples, and tongues (Revelation 7:9)

14 "These are the ones who come out of the great tribulation, and washed their robes and made them white in the blood of the Lamb. (Revelation 7:14)
Philadelphian Christians realize that they need to go through the doors that Jesus opens (Revelation 3:7-9) and that includes reaching people in as many languages as the doors are opened for us to do so.
This is important.
Yet, some may notice that some of the languages are 'minor' ones (and at least one is an 'invented' language).
So, what about 'minor' languages?
Consider Jesus' words:
4 "What man of you, having a hundred sheep, if he loses one of them, does not leave the ninety-nine in the wilderness, and go after the one which is lost until he finds it? 5 And when he has found it, he lays it on his shoulders, rejoicing. 6 And when he comes home, he calls together his friends and neighbors, saying to them, 'Rejoice with me, for I have found my sheep which was lost!' (Luke 15:4-6)
Notice what the Apostle Paul wrote:
6 But this I say: He who sows sparingly will also reap sparingly, and he who sows bountifully will also reap bountifully. (2 Corinthians 9:6)
We are to sow bountifully! This may also help us find the lost sheep, or in this case, make it easier for the sheep to see the fact that the Father is looking for them (cf. John 4:23-24).
Notice something else the Apostle Paul wrote:
7 Do not be deceived, God is not mocked; for whatever a man sows, that he will also reap. 8 For he who sows to his flesh will of the flesh reap corruption, but he who sows to the Spirit will of the Spirit reap everlasting life. 9 And let us not grow weary while doing good, for in due season we shall reap if we do not lose heart. 10 Therefore, as we have opportunity, let us do good to all, especially to those who are of the household of faith. (Galatians 6:7-10)
Having materials in many languages helps us try to serve ALL as well as those who are in the household of faith.
The Continuing Church of God (CCOG) has long focused on striving to fulfill the following commissions from Jesus:
14 And this gospel of the kingdom will be preached in all the world as a witness to all the nations, and then the end will come. (Matthew 24:14)

19 Go therefore and make disciples of all the nations, baptizing them in the name of the Father and of the Son and of the Holy Spirit, 20 teaching them to observe all things that I have commanded you; and lo, I am with you always, even to the end of the age." (Matthew 28:19-20)
As far as Matthew 28:19-20 goes, one way that the Continuing Church of God. has done this is by teaching everything that Jesus is recorded to have said in the New Testament. Below are links to sermons that demonstrate that:
MATTHEW Here are links to twelve sermons covering the 28 chapters of Matthew: Matthew 1-2: Greek or Aramaic, Jesus, and the Star?, Matthew 3-5: John the Baptist, Temptations, and the Beatitudes, Matthew 6-7: Charitable Deeds, the Rosary, Prayer, the Golden Rule, and Faith, Matthew 8-10: Married Clergy, Faith, Coming Persecution, and the Ecumenical Agenda, Matthew 11-12: John the Elijah, Sodom, Unpardonable Sin, & 3 Days and 3 Nights, -14: Parables, Mustard Seeds, Birthdays, and Faith, Matthew 15-16: Tradition, Signs of the Times, and The Rock & Peter, Matthew 17-18: Transfiguration, Elijah to Come, Taxes, and Forgiveness, Matthew 19-20: Transgender? Divorce? Purgatory? The first shall be last?, Matthew 21-23: 'Palm Sunday,' Come as You Are?, and the Greatest Commandments, Matthew 24: Temple Destruction, Sorrows, Tribulation, and the Return of Jesus, and Matthew 25-28: Midnight Cry, False Christians, Resurrection, & Teaching what Jesus Taught.
MARK Here is a link to a sermon covering all of Jesus' words in the 'Gospel of Mark': What did Jesus teach in the Book of Mark?
LUKE Here are links to eight sermons covering the entire 'Gospel of Luke': Luke 1-2: John the Baptist, Mary, and the Census, Luke 3-6: John the Baptist, Jesus' genealogy, Satan's Influence, and the Sermon on the Mount, Luke 7-9: Miracles, Purpose of Parables, Kingdom of God, and Women Supporting the Ministry, Luke 10-11: The 70, Doing the Work, the Good Samaritan, Prayer, and Signs, Luke 12-13: Priorities, Delayed Fruit Bearing, Little Flock, Prophecy, and the Narrow Way, Luke 14-16: The Lost Sheep, the Prodigal Son, the Rich Man and Lazarus, Luke 17-20: Faith, the Kingdom, Gathering, Prayer, & Rewards, and Luke 21-22: Giving, Sorrows, Persecution, Tribulation, Fig Tree, and Violence. The last sermon also covers Jesus' words in the Book of Acts.
JOHN Here are links to a seven-part sermon series covering the entire 'Gospel of John': John 1-3: Anti-unitarian, Wine, Being Born Again, & Heaven, John 4-6: Jesus and the Samaritan Woman, Miracles and the Bread of Life, John 10-12: Sheep, Hirelings, Lazarus/Soul Sleep and 'Palm Day', John 13-15: Footwashing and the Words of Jesus, John 16-18: Truth, Trinity, and Pontius Pilate, and John 19-21: Do not only try, do what God wants.
REVELATION This is a link to a sermon covering words Jesus spoke as recorded in the Book of Revelation and in first and second Corinthians: Revelation: Jesus' Final Words.
But those sermons were only in English by me. But others are teaching in other languages elsewhere.
Although we have a lot more to do, we in the CCOG are leading The Final Phase of the Work.
Some items of possibly related interest may include:
The Final Phase of the Work What is the final phase of the work? Who will lead it? Do you have the courage to support it? Here is a related YouTube video titled The Final Phase of the Work.
Should the Church Still Try to Place its Top Priority on Proclaiming the Gospel or Did Herbert W. Armstrong Change that Priority for the Work? Some say the Church should mainly feed the flock now as that is what Herbert W. Armstrong reportedly said. Is that what he said? Is that what the Bible says? What did Paul and Herbert W. Armstrong expect from lower level leaders?
Jesus: The Son of God and Saviour Who was Jesus? Why did He come to earth? What message did He bring? Is there evidence outside the Bible that He existed? Here is a YouTube sermon titled Jesus: Son of God and Saviour.
Continuing History of the Church of God This pdf booklet is a historical overview of the true Church of God and some of its main opponents from Acts 2 to the 21st century. Related sermon links include Continuing History of the Church of God: c. 31 to c. 300 A.D. and Continuing History of the Church of God: 4th-16th Centuries and Continuing History of the Church of God: 17th-20th Centuries. The booklet is available in Spanish: Continuación de la Historia de la Iglesia de Dios, German: Kontinuierliche Geschichte der Kirche Gottes, French: L'Histoire Continue de l'Église de Dieu and Ekegusii Omogano Bw'ekanisa Ya Nyasae Egendererete.
The Gospel of the Kingdom of God This free online pdf booklet has answers many questions people have about the Gospel of the Kingdom of God and explains why it is the solution to the issues the world is facing. Here are links to three related sermons: The World's False Gospel, The Gospel of the Kingdom: From the New and Old Testaments, and The Kingdom of God is the Solution.
Congregations of the Continuing Church of God This is a listing of congregations and groups of the Continuing Church of God around the world.
501(c)(3)? Why the Continuing Church of God chose a better option Churches in the USA do NOT have to register as 501(c)(3). Why would they? Why is what CCOG did better? A sermon of related interest is titled: CCOG, a corporation sole, not a 501(c)(3).
Why is the Continuing Church of God a corporation sole? What is a 'corporation sole' and why is this a better organizational choice?
How To Determine If Someone is a True Prophet of God There are many false prophets. How can Christians determine who is a true prophet? There is also a sermon-length video titled How to determine if someone is a true prophet of God. Here is a related link in Spanish/español: ¿Cómo determinar si alguien es un verdadero profeta de Dios?
The Philadelphia Church Era was predominant circa 1933 A.D. to 1986 A.D. The old Radio Church of God and old Worldwide Church of God, now basically the most faithful in the Church of God, like the beliefs held of the Continuing Church of God.
The Laodicean Church Era has been predominant circa 1986 A.D. to present. These are non-Philadelphians who mainly descended from the old WCG.
Bible News Prophecy channel. Dr. Thiel has produced several YouTube videos for the BibleNewsProphecy channel.
Bible News Prophecy magazine This is the official magazine of the Continuing Church of God and it has articles on a wide variety of subjects of Christian interest. It is produced in multiple languages including English, Spanish, Tagalog, Kiswahili, and Mandarin Chinese. The language of Telugu is in-process.
ContinuingCOG channel. Dr. Thiel has produced YouTube video sermons for this channel. Note: Since these are sermon-length, they can take a little longer to load than other YouTube videos.
Continuing Church of God (CCOG) first year anniversary: What has been accomplished? Here is a written link to a version of that sermon in the Spanish language: Aniversario del primer año de la Continuación de la Iglesia de Dios: ¿Qué se ha cumplido?
CCOG.ASIA We in the Continuing Church of God also have the url www.ccog.asia which has a focus on Asia and has various articles in Mandarin Chinese as well as some in English, plus some items in other Asian languages. 我们在继续神的教会也提供此网址 www.ccog.asia, 关注于亚洲并且有各种各样的中英文文章,其中一些用菲律宾语翻译的文章也正在进行中,准备添加到这个网站中。
CCOG.IN This is a website targeted towards those of Indian heritage. It has a link to an edited Hindi translation of The Mystery of the Ages and is expected to have more non-English language materials in the future.
CCOG.EU This is a website targeted toward Europe. It has materials in more than one language (currently it has English, Dutch, and Serbian, with links also to Spanish) and it is intended to have additional language materials added.
CDLIDD.ES La Continuación de la Iglesia de Dios. This is the Spanish language website for the Continuing Church of God.
PNIND.PH Patuloy na Iglesya ng Diyos. This is the Philippines website Continuing Church of God. It has information in English and Tagalog.
CCOG.NZ This is a website targeted towards New Zealand and others with a British-descended background.
CCOGCANADA.CA This is a website targeted towards those in Canada.
Continuing Church of God The group striving to be most faithful amongst all real Christian groups to the word of God.