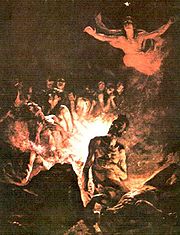 Venezuelan Cristóbal Rojas' Purgatory Depiction (1890)
Catholic indulgences are popular this year:
Why Catholic Indulgences Are Making a Comeback

TIME – Feb 22, 2009

It sounds too good to be true. Now, for a limited time — the year of St. Paul, to be specific, which ends in June — say a prayer, pop by a designated church and qualify for an indulgence that deducts time from your scorching sojourn in the cleansing fires of purgatory.

Indulgences (no relation here to bubble baths or truffles) have been part of Catholic doctrine since the Crusades. When the Church offered them for sale in the 1500's — call it mercy for money — religious reformer Martin Luther protested…

The pardons have fallen by the wayside in the past few decades, but they're being revived in conjunction with a new emphasis on the importance of charity in Christian life. Catholicism, with 67 million followers in the U.S., is big on formulaic repetition of the Hail Mary and Our Father variety. But the Vatican is starting to move away from that and toward, according to the church's Manual of Indulgences, a "greater zeal for the exercise of charity."

…At the core of indulgences is sin, which can lead to either eternal punishment… or time spent in purgatory, a place of suffering where imperfections are scrubbed away in preparation for entering heaven. Confession erases eternal punishment, but temporal punishment remains. Plenary, or full, indulgences are the equivalent of a get-out-of-purgatory-free card. Partial indulgences simply shorten your stay…

Indulgences are a handy marketing tool for the Church, a way of encouraging people to amp up their spiritual life. But figuring out exactly what they are and how they work can be confusing. "It brings people who aren't Catholic up short," said David Steinmetz, a professor of the history of Christianity at Duke Divinity School.

The rules can confound even believers. William Damkoehler, an actor from Rhode Island, learned about indulgences as a kid in Catholic school. As an adult, he's bewildered by them. "It seems like the Church is trying to get business back by offering rebates," he says.

The essence of plenary, or complete, indulgences is tricky to nail down. They're granted if you meet specific criteria: go to confession, receive communion, pray for the Pope, visit a particular shrine. How do you know you actually got an indulgence? Faith. http://www.time.com/time/nation/article/0,8599,1881152,00.html
But while many believe in them, the Bible neither endorse indulgences nor purgatory.
Actually, it never discusses either.
The Catholic Encyclopedia itself admits that early Christians did not teach its current concept of its purgatory doctrine, but that after Augustine abandoned apocatastasis that a later Roman Bishop (Gregory I) brought up purgatorial fires:
Some stress too has been laid upon the objection that the ancient Christians had no clear conception of purgatory…There are several passages in the New Testament that point to a process of purification after death. Thus, Jesus Christ declares (Matthew 12:32): "And whosoever shall speak a word against the Son of man, it shall be forgiven him: but he that shall speak against the Holy Ghost, it shall not be forgiven him, neither in this world, nor in the world to come"…(Hanna, Purgatory. The Catholic Encyclopedia).

St. Augustine also argues "that some sinners are not forgiven either in this world or in the next would not be truly said unless there were other [sinners] who, though not forgiven in this world, are forgiven in the world to come" (City of God XXI.24). The same interpretation is given by Gregory the Great (Dial., IV, xxxix). (Hanna, Purgatory. The Catholic Encyclopedia).

St. Gregory recurs to the same thought of the final annihilation of evil, in his "Oratio catechetica", ch. xxvi; the same comparison of fire which purges gold of its impurities is to be found there; so also shall the power of God purge nature of that which is preternatural, namely, of evil. Such purification will be painful, as is a surgical operation, but the restoration will ultimately be complete. And, when this restoration shall have been accomplished (he eis to archaion apokatastasis ton nyn en kakia keimenon), all creation shall give thanks to God, both the souls which have had no need of purification, and those that shall have needed it (Hanna, Purgatory. The Catholic Encyclopedia).

From the moment, however, that anti-Origenism prevailed, the doctrine of the apokatastasis was definitely abandoned. St. Augustine protests more strongly than any other writer against an error so contrary to the doctrine of the necessity of grace…(Batiffel, Apocatastassis. The Catholic Encyclopedia).
What seems to have happened was once the Church of Rome changed from the original belief of apocatastasis , it came up with purgatory as a substitute belief.
Interestingly, neither the Eastern Orthodox nor the true Church of God ever adopted purgatory, but instead hold to versions of the original doctrine of apocatastasis .  Protestant Reformers, who rightly denounced purgatory, failed to reform their churches enough that they ever truly embraced apocatastasis.
God does have a plan for those who are not saved during this age.  But it is NOT purgatory.
Those interested in learning more should prayerfully study the following articles:
Did the Early Church Teach Purgatory? Is there a place called purgatory? Does God have a plan to help those who did not become saints in this life?
What is Limbo? Is There Such a Place as Limbo? What Happens to Babies When They Die? When did Limbo start being taught? What is the truth about dead babies?
Universal Offer of Salvation: There Are Hundreds of Verses in the Bible Supporting the Doctrine of True Apocatastasis Do you believe what the Bible actually teaches on this? Will all good things be restored? Does God's plan of salvation take rebellion and spiritual blindness into account?
Hope of Salvation: How the Living Church of God differ from most Protestants How the Living Church of God differs from mainstream/traditional Protestants, is perhaps the question I am asked most by those without a Church of God background.
The Similarities and Dissimilarities between Martin Luther and Herbert W. Armstrong This article clearly shows some of the doctrinal differences between in the two. At this time of doctrinal variety and a tendency by many to accept certain aspects of Protestantism, the article should help clarify why the Living Church of God is NOT Protestant. Do you really know what the Protestant Reformer Martin Luther taught and should you follow his doctrinal example?
Which Is Faithful: The Roman Catholic Church or the Living Church of God? Do you know that both groups shared a lot of the earliest teachings? Do you know which church changed? Do you know which group is most faithful to the teachings of the apostolic church? Which group best represents true Christianity? This documented article answers those questions. Português: Qual é fiel: A igreja católica romana ou a igreja viva do deus? Tambien Español: Cuál es fiel: ¿La iglesia católica romana o La Iglesia del Dios Viviente? Auch: Deutsch: Welches zuverlässig ist: Die Römisch-katholische Kirche oder die lebende Kirche von Gott?
Some Similarities and Differences Between the Orthodox Church and the Living Church of God Both groups claim to be the original church, but both groups have differing ways to claim it. Both groups have some amazing similarities and some major differences. Do you know what they are?