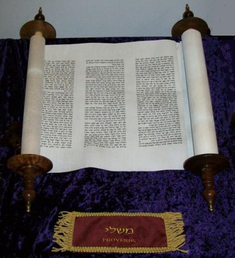 Scroll of the Book of Proverbs
The Continuing Church of God is pleased to announce a sermon posted at its ContinuingCOG channel:
Dr. Thiel covers the seventh through twelfth chapters of the Book of Proverbs. He expounds the meaning and sometimes ties other scriptures in to show what the Bible teaches. Proverbs encourage the attainment of wisdom and knowledge, while warning against foolishness and wickedness. Proverbs encourages work and diligence, while warning against laziness. Proverbs discusses wealth and the fate of the wise and the wicked.
Here is a link to the sermon: Proverbs: Wisdom, Knowledge, Righteousness, and Diligence.
Here is a link to a sermon covering Proverbs chapters one through seven: Proverbs: Practical advice for those who wish to follow God.
Some items of possibly related interest may include:
Building Character: Going on to Perfection Once you have accepted Jesus, do you need to strive for perfection and build character? A related video sermon is available: Going on to perfection and building character.
Christian Success Does the Bible teach that Christians are to be successful? Are there at least seven laws of success that Christians should follow? How does the Bible teach we are to become successfully spiritually? Does the Bible really teach that Christians should be successful physically? This video answers these questions and more from the Bible. An outline of some of the scriptures used is here: Christian Success Outline.
Living as a Christian: How and Why? In what ways do Christians live differently than others. What about praying, fasting, tithing, holy days, and the world? There is also a YouTube video related to that also called: Living as a Christian: How and Why?
What is the Meaning of Life? Who does God say is happy? What is your ultimate destiny? Do you really know? Does God actually have a plan for YOU personally? There is also a video titled What is the meaning of your life?
Continuing Church of God The group striving to be most faithful amongst all real Christian groups to the word of God. To see how CCOG has done so far, here is a sermon Continuing Church of God (CCOG) first year anniversary: What has been accomplished? Here is a written link to a version of that sermon in the Spanish language: Aniversario del primer año de la Continuación de la Iglesia de Dios: ¿Qué se ha cumplido?
CCOG.ASIA We in the Continuing Church of God also have the url www.ccog.asia which has a focus on Asia and has various articles in Mandarin Chinese as well as some in English, plus some items in other Asian languages. 我们在继续神的教会也提供此网址 www.ccog.asia, 关注于亚洲并且有各种各样的中英文文章,其中一些用菲律宾语翻译的文章也正在进行中,准备添加到这个网站中。 Here is a link to our Statement of Beliefs in Mandarin Chinese 继续神的教会的信仰声明.
CCOG.IN This is a website targeted towards those of Indian heritage. It has a link to an edited Hindi translation of The Mystery of the Ages and is expected to have more non-English language materials in the future.
CCOG.EU This is a website targeted toward Europe. It has materials in more than one language (currently it has English, Dutch, and Serbian, with links also to Spanish) and it is intended to have additional language materials added.
CDLIDD.ES La Continuación de la Iglesia de Dios. This is the Spanish language website for the Continuing Church of God.
PNIND.PH Patuloy na Iglesya ng Diyos. This is the Philippines website Continuing Church of God. It has information in English and Tagalog.
Paglalahad ng Mga Paniniwala ng Patuloy na Iglesya ng Diyos This is the Statement of Beliefs of the Continuing Church of God in Tagalog, the primary language of the Philippines.
ContinuingCOG channel. Dr. Thiel has produced scores of YouTube video sermons for this channel. Note: Since these are sermon-length, they can take a little longer to load than other YouTube videos.