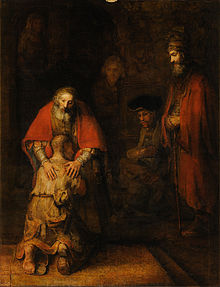 Rembrandt's Return of the Prodigal Son

The Continuing Church of God is pleased to announce its latest suggested sermon: which is at its ContinuingCOG channel:
Do all sin?  Do all Christians sin?  Is there a sin that will not be forgiven?  What is the unpardonable sin?  How does one receive forgiveness? What about those that backslide or fall away?  Does mercy triumph over judgment? What does the parable of the prodigal son teach us?   What are the two ways Christians can commit the unpardonable sin?
A related written article is titled What is the Unpardonable Sin?
Here is a link to the sermon: The Unpardonable Sin and the Prodigal Son.
Some items of possibly related interest may include:
What is the Unpardonable Sin? What is it? Can you repent of it? Do you know what it is and how to avoid it?
Just What Do You Mean — Repentance? Do you know what repentance is? Have you truly repented? Repented of what? Herbert W. Armstrong wrote this as a booklet on this important subject.
When You Sin: Do You Really Repent? This is an article by Charles F. Hunting. A related sermon is Confess to God and truly repent.
Building Character: Going on to Perfection Once you have accepted Jesus, do you need to strive for perfection and build character? A related video sermon is available: Going on to perfection and building character.
ContinuingCOG channel. Dr. Thiel has produced scores of YouTube video sermons for this channel. Note: Since these are sermon-length, they can take a little longer to load than other YouTube videos.