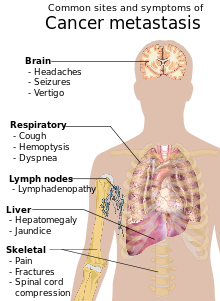 February 4th is now called World Cancer Day.  The World Health Organization released a report about increasing cancer rates:
February 04, 2014

The cancer agency of the World Health Organization said in a new report that cancer cases are expected to surge 57 percent worldwide in the next two decades, leading to increased need for prevention techniques.

The World Cancer Report, released Tuesday, predicts what it says will be a "human disaster." It says new cancer cases will rise from an estimated 14 million in 2014 to 22 million annually within the next 20 years. Cancer deaths are likewise expected to rise, from 8.2 million a year to 13 million annually.  http://www.voanews.com/content/report-cancer-rates-on-the-rise/1843906.html

February 04, 2014'World Cancer Day' is celebrated annually on 4th of February to deepen our understanding of this killer disease. This year the campaign focuses on Target 5 of the World Cancer Declaration that is to reduce stigma and dispel myths about cancer with the tagline, "Debunk the myths".

There has been enough research to validate that food acts as the most promising ammunition to fight the battle against cancer.  Keeping in with this year's campaign we bring to you six common queries that are addressed by Dr Ashutosh Gautam, Clinical Operations and Coordination Manager, Baidyanath…

Three things to keep in mind in order to stay cancer free:

– Get to and stay at a healthy weight throughout your life.
– Be physically active on a regular basis.
– Make healthy food choices with a focus on plant-based foods.

2) What are the foods that up the risk of developing cancer?

Some cancers like that of the stomach have a more direct relationship with food. Foods which should be consumed in moderation to avoid the incidence of cancer are  –

Processed meats such as bacon, sausages, lunch meats and hot dogs.

http://cooks.ndtv.com/article/show/world-cancer-day-2014-foods-that-prevent-cancer-478762

February 04, 2014

The World Health Organization is warning of a global "tidal wave" of cancer and says that by 2035, around 24 million people will have the disease…

What can we do about it?

Experts say the good news is that we can all take straightforward steps to cut risk.

About 30% of cancer deaths are due to the five risks: obesity, low fruit-and-vegetable intake, lack of physical activity, tobacco use, alcohol use.

Smoking is the single most important risk factor for cancer causing over 20% of global cancer deaths and about 70% of global lung cancer deaths.

Cancer-causing viral infections such as HPV are responsible for up to a fifth of cancer deaths in low and middle-income countries.  http://www.bbc.co.uk/news/health-26031748
So it is known that diet, smoking, and sexual immorality (which is what normally leads to HPV) are causes for cancer.  I would also add that environmental toxins and pollution are also factors.  The Bible says to flee sexual immorality (1 Corinthians 6:18).  Smoking also is against biblical precepts (see Should Christians Smoke?).
As far as diet goes, cancer is not the only problem that eating too much refined carbohydrates, such as sugar, can cause.  Notice the following study:
February 3, 2014

We know that too much sugar in your diet can lead to type 2 diabetes and obesity, but what about your heart?

A study published today in JAMA Internal Medicine demonstrates a link between sugar added in meal preparation or processed foods and the risk of death from a heart problem…

Compared with people in the study who received only 8 percent of their total daily calories from added sugar, those who consumed 17 to 21 percent increased their risk of death by heart disease by 38 percent. The statistic doubled for those who exceeded 21 percent of their daily calories in sugar.  http://www.healthline.com/health-news/food-high-sugar-diet-tied-to-risk-of-serious-heart-problems-020314

February 3, 2014

Could too much sugar be deadly? The biggest study of its kind suggests the answer is yes, at least when it comes to fatal heart problems.

It doesn't take all that much extra sugar, hidden in many processed foods, to substantially raise the risk, the researchers found, and most Americans eat more than the safest amount…

"Too much sugar does not just make us fat; it can also make us sick," said Laura Schmidt, a health policy specialist at the University of California, San Francisco. She wrote an editorial accompanying the study in Monday's JAMA Internal Medicine.

The researchers focused on sugar added to processed foods or drinks, or sprinkled in coffee or cereal. Even foods that don't taste sweet have added sugar, including many brands of packaged bread, tomato sauce and salad dressing. Naturally occurring sugar, in fruit and some other foods, wasn't counted.  http://www.cbsnews.com/news/study-too-much-sugar-is-linked-to-fatal-heart-disease/
I would also add that artificial sweeteners sweeteners should be avoided as they cause their own set of problems.  It may be of interest to note that the amount of people with diabetes has increased right along with the increased consumption of artificial sweeteners.
The Bible itself warns about eating things that are not really food:
2 Why do you spend money for what is not bread,
And your wages for what does not satisfy?
Listen carefully to Me, and eat what is good (Isaiah 55:2).
Refined processed "breads," artificial sweeteners, chemical additives, and some other items commonly associated with junk foods and hydrogenated fats would seem to be consistent with that warning.  Many are struggling with obesity and artificial sweeteners are not the answer.  Cancers, heart diseases, and diabetes are all associated with increased consumption of processed and refined carbohydrates such as plain sugar.
What should you eat? You should eat real food and be careful about your quantities.  Most people should eat more fruits, vegetables, and whole grains, while eating less processed foods, less junk foods, much less sodas, less GMOs, and less hydrogenated fats.  Notice what the Bible states:
2…Listen carefully to Me, and eat what is good (Isaiah 55:2).
People should try to eat real, not artificial, foods. And I will also add that even non-diet sodas are highly refined and also should not be consumed in large quantities.
Some items of possibly related interest may include:
Obesity, processed foods, health risks, and the Bible Does the Bible warn about the consequences of being obese? Is overeating dangerous? Is gluttony condemned? What diseases are associated with eating too much refined foods?
Eating Right, Eating Too Much, and Prophecy Are there disadvantages to being overweight? Is junk food really bad for you? Does the Bible discuss overeating and/or obesity? Is overeating having an effect on the US military? What are the ramifications of personal and national health for overeating? What should you eat? This is a sermonette-length YouTubevideo.
Should Christians Smoke?  Is smoking a sin? What does the Bible teach? What have COG leaders written? Can smokers change? What about marijuana?
Alcohol: Blessing or Curse? This is an article from the old Good News magazine that attempts to answer this question.
Binge Alcohol Drinking and the Bible Many college students and others overindulge in alcohol. Are there health risks? What does the Bible teach?
GMOs and Bible Prophecy What are GMOs? Since they were not in the food supply until 1994, how could they possibly relate to Bible prophecy? Do GMOs put the USA and others at risk? Here is a related YouTube video GMO Risks and the Bible.
Ten Simple Rules that Lead to Health Herbert Armstrong gives his opinions on this.
Does God Heal Today? What does the Bible teach? Herbert Armstrong tries to explain this.
UK Study Supports Daniel Diet Daniel and his companions looked better eating more vegetables and avoiding strange meats. Has modern science confirmed this?
Anglo – America in Prophecy & the Lost Tribes of Israel Are the Americans, Canadians, English, Scottish, Welsh, Australians, Anglo-Saxon (non-Dutch) Southern Africans, and New Zealanders descendants of Joseph? Where are the lost ten-tribes of Israel? Who are the lost tribes of Israel? What will happen to Jerusalem and the Jews in Israel? Will God punish the U.S.A., Canada, United Kingdom, and other Anglo-Saxon nations? Why might God allow them to be punished first? Here is a link to the Spanish version of this article: Anglo-América & las Tribus Perdidas de Israel.