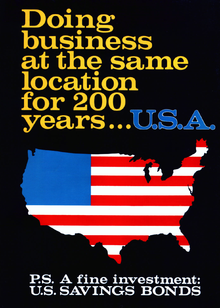 1975 advertisement to buy US debt

Money and Markets reported the following:
Refinance debt with 100-year bonds, OR …

December 28, 2016

That's what a lot of analysts and economists are now proposing. Guys like Larry Kudlow, consulting to President-elect Trump, and in line for the Chairman of the Council of Economic Advisors. …
Excuse me, but I think issuing longer-dated Treasuries is …

1. A sign you're broke.

2. A sign you're desperate for credit.

3. A sign of great weakness to your foreign trade and credit sources.

4. A major Achilles' heel in our economy.

5. A major mistake, if implemented. …

The U.S. government should be outlawed from going into debt even by one penny. …

Call me crazy if you wish, but someone needs to wake up and think differently about the future. If President-elect Trump or advisors like Larry Kudlow can't, then I'll simply keep pounding the table … http://www.moneyandmarkets.com/more-on-crashing-sovereign-debt-markets-83770
Donald Trump has floated the idea of 100-year treasury debt notes. The idea is that since interest rates are near historical lows, that having long-term debt will insulate the USA from some problems that would happen once interest rates rise. However, not too many would want to buy one-hundred year bonds as that is a long time to hold something at low interest rates, so the rate it would need to pay may be higher than the USA believes it can afford.
In the past 8 years, the total official US debt has nearly doubled.  As interest rates rise, this will be problematic–and that may also complicate the idea of being able to sell 100-year bonds.
Now while president-elect Donald Trump is inheriting the most financially-indebted nation of all time, he considers himself a debt expert:
Nobody knows debt better than me. I've made a fortune by using debt and if things don't work out, I renegotiate the debt. Well, you go back and you say, 'hey, guess what? The economy just crashed. I'm going to give you back half. ("Trump recession"? Presumptive GOP nominee fires back at Clinton. CBS, June 22, 2016)
It sounds like Donald Trump believes that debt is good and there is nothing wrong with defaulting or otherwise not intending to pay the total debt back.
The Bible says the wicked have that attitude:
21 The wicked borrows and does not repay, But the righteous shows mercy and gives.  (Psalms 37:21)
Donald Trump has also filed for bankruptcy four times—presumably to not pay back debt, while he claims a financial worth around $10 billion.
He may consider that to be 'good business,' but his practices and intents sound biblically immoral.
The financial stability of the USA is a 'house of cards.' The wind will blow one day and it will all collapse.
The Bible has an end time prophecy that those who read it may want to run:
2 Then the Lord answered me and said:

"Write the vision
And make it plain on tablets,
That he may run who reads it.
3 For the vision is yet for an appointed time;
But at the end it will speak, and it will not lie. (Habakkuk 2:2-3)
What is this end time prophecy about that should cause people to run?
It is a prophecy about debt accumulation:
6 "Will not all these take up a proverb against him,
And a taunting riddle against him, and say,
'Woe to him who increases
What is not his — how long?
And to him who loads himself with many pledges'?
7 Will not your creditors rise up suddenly?
Will they not awaken who oppress you?
And you will become their booty.
8 Because you have plundered many nations,
All the remnant of the people shall plunder you (Habakkuk 2:6-8)
The USA is believed to be the most indebted nation in the history of the world. Habakkuk's prophecy is for the end time and cannot be directed towards the tiny nation called Israel. Israel simply does not have enemy creditors. But the USA has actual, past, and potential enemies as creditors.
The USA will come to its end (cf. Daniel 11:39; see also USA in Prophecy: The Strongest Fortresses).
The USA is not going to be able to issue 100-year bonds and not have any consequences.
Some items of possibly related interest may include:
America's Day of Reckoning 2017 Dollar Collapse? Economist James Dale Davidson says that a financial bloodbath will hit the USA and there is nothing that Washington can do to stop it. He claims that at least 57 nations have gotten together to dethrone the US dollar as the world's reserve currency. He claims this can happen any day or in a few months. He mentions China, Russia, the AIIB, and gold. He claims his track record in predicting massive shifts in the past should assure people that he is right about this. He claims that there will be massive unemployment, near elimination of social security benefits, and more. Is James Dale Davidson possibly right on any of this? Dr. Thiel goes over many of his claims and explains what the Bible shows related to the coming collapse of the US dollar. This is a video.
Collapse of the Euro and Dollar? War in 2020? Larry Edelson of Money and Markets described aspects of current economic difficulties and explained why he felt matters would get a lot worse. He said war, like World War III, could break out as early as 2020. What did he call the 'granddaddy of all cycles"? Will matters go as he said? What does the Bible teach? Dr. Thiel provides biblical insights that secular sources often miss. This is a video.
When Will the Great Tribulation Begin? 2017, 2018, or 2019? Can the Great Tribulation begin today? What happens before the Great Tribulation in the "beginning of sorrows"? What happens in the Great Tribulation and the Day of the Lord? Is this the time of the Gentiles? When is the earliest that the Great Tribulation can begin? What is the Day of the Lord? Who are the 144,000? Here is a version of the article in the Spanish language: ¿Puede comenzar la Gran Tribulación en 2016 o 2017? ¿Es el Tiempo de los Gentiles? You can also see the English language sermon videos: The Great Tribulation from the Mount of Olives and Can the Great Tribulation begin before 2020? A shorter video is: Will the Great Tribulation Start in 2017?
World War III: Steps in Progress Are there surprising actions going on now that are leading to WWIII? Might a nuclear attack be expected? What about WWIV? Does the Bible promise protection to all or only some Christians? How can you be part of those that will be protected? A related video would be Is World War III About to Begin? Can You Escape?
Does God Have a 6,000 Year Plan? What Year Does the 6,000 Years End? Was a 6000 year time allowed for humans to rule followed by a literal thousand year reign of Christ on Earth taught by the early Christians? Does God have 7,000 year plan? What year may the six thousand years of human rule end? When will Jesus return? 2024 or 20xx? There is also a video titled The 6000 Year Plan: Is the end of humanity's reign almost up?
USA in Prophecy: The Strongest Fortresses Can you point to scriptures, like Daniel 11:39, that point to the USA in the 21st century? This article does. A related sermon is titled: Do these 7 prophesies point to the end of the USA?
The Plain Truth About Gold in Prophecy. How Should a Christian View Gold? What do economists and the Bible teach about gold? Gold and silver may drop in value. Inflation/deflation? What do Christians need to know about gold?
Anglo – America in Prophecy & the Lost Tribes of Israel Are the Americans, Canadians, English, Scottish, Welsh, Australians, Anglo-Saxon (non-Dutch) Southern Africans, and New Zealanders descendants of Joseph? Where are the lost ten-tribes of Israel? Who are the lost tribes of Israel? What will happen to Jerusalem and the Jews in Israel? Will God punish the U.S.A., Canada, United Kingdom, and other Anglo-Saxon nations? Why might God allow them to be punished first? Here is a link to the Spanish version of this article: Anglo-América & las Tribus Perdidas de Israel. Information is also in the YouTube sermons titled Where are the Ten Lost Tribes? Why does it matter? and British are the Covenant People. A short YouTube of prophetic interest may be Barack Obama and the State of the Apocalypse.
Donald Trump in Prophecy Prophecy, Donald Trump? Are there prophecies that Donald Trump may fulfill?  Are there any prophecies that he has already helped fulfill?  Could a Donald Trump presidency be apocalyptic?  A related video is titled: 13 Ways President-Elect Trump is Apocalyptic.
The Gospel of the Kingdom of God This free online pdf booklet has answers many questions people have about the Gospel of the Kingdom of God and explains why it is the solution to the issues the world is facing. Here are links to three related sermons: The World's False Gospel, The Gospel of the Kingdom: From the New and Old Testaments, and The Kingdom of God is the Solution.