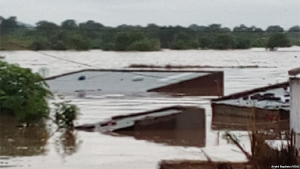 Homes flooded in Mozambique from Cyclone Ida (Wikipedia)

There has been a massively deadly storm in Mozambique:
March 18, 2019

JOHANNESBURG (AP) — More than 1,000 people were feared dead in Mozambique four days after a cyclone slammed into the country, submerging entire villages and leaving bodies floating in the floodwaters, the nation's president said.

"It is a real disaster of great proportions," President Filipe Nyusi said.

Cyclone Idai could prove to be the deadliest storm in generations to hit the impoverished southeast African country of 30 million people.

It hit Beira, an Indian Ocean port city of a half-million people, late Thursday and then moved inland to Zimbabwe and Malawi with strong winds and heavy rain. But it took days for the scope of the disaster to come into focus in Mozambique,

Speaking on state Radio Mozambique, Nyusi said that while the official death toll stood at 84, "It appears that we can register more than 1,000 deaths."U.N. agencies and the Red Cross helped rush emergency food and medicine by helicopter to the stricken countries. https://www.msn.com/en-us/news/world/over-1000-feared-dead-after-cyclone-slams-into-mozambique/ar-BBUUsCl?li=BBnbfcL

The U.N. reported last week that 122 people had died in Mozambique and Malawi prior to Cyclone Ida's landfall as a result of flooding caused by the tropical cyclone's weather system. 03/17/19 https://www.npr.org/2019/03/17/704271642/tropical-cyclone-leaves-ruin-across-mozambique-malawi-and-zimbabwe
My prayers go out for those affected.
While we in the Continuing Church of God have many congregants in Mozambique (and I have personally met with a couple of the CCOG leaders from there) and even more in Malawi, we have not received any reports of loss of life.
This storm, however, did also affect property in Malawi and we sent funds for some rebuilding there earlier today.
Weather is not as random as most seem to want to believe.
As regular readers of this page are aware, I have repeatedly warned of weather problems coming. Back in 2009, in my book, 2012 and the Rise of the Secret Sect, I wrote that the following was about to happen:
| | |
| --- | --- |
| Odd weather patterns result in food shortages and natural disasters. | Matthew 24:7 |
| | |
| --- | --- |
| The world is actually in a berserk transition, as the real age of peace is not yet here. It may be a period of chaos. It is the beginning of sorrows. | Matthew 24:8 |
Unprecedented and odd weather problems should serve as a wake-up call.
The Bible shows:
30 God…commands all men everywhere to repent (Acts 17:30)
And weather-problems are one way that God uses to urge people to repent (cf. Haggai 2:17; Amos 4:7-12).
Are you paying attention to those messages?
Weather problems can hit close to anyone's home.
Some items of interest may include the following:
Africa: Its Biblical Past and Prophesied Future What does the Bible teach about Africa and its future? Did the early Church reach Africa? Will God call all the Africans? A related online sermon is also available: Africa: Its biblical past, present, and future. A video of possible interest is: Nairobi Conference: All About Love.
Congregations of the Continuing Church of God This is a listing of congregations and groups of the Continuing Church of God around the world.
Weather Blessings and Sorrows Are weather problems a warning? What should be done? What does the Bible teach about weather? What about floods, droughts, heat, earthquakes, tornadoes, and solar storms? Here is a related YouTube video Does God Use Weather? A related item in the Spanish language would be Bendiciones y maldiciones del clima.
Just What Do You Mean — Repentance? Do you know what repentance is? Have you truly repented? Repented of what? Herbert W. Armstrong wrote this as a booklet on this important subject.
When You Sin: Do You Really Repent? This is an article by Charles F. Hunting. A related sermon is Confess to God and truly repent.
Do Christians Sin? This is an article by Herbert W. Armstrong.
The Bible, Christians, and the Environment How should Christians view the environment? Does the Bible give any clues? What are some of the effects of air, water, and land pollution? Is environmental pollution a factor in autism and death? Do pollutants seem to double the autism risk? What will Jesus do? A YouTube video is available titled Air Pollution, Autism, and Prophecy.
Does God Have a 6,000 Year Plan? What Year Does the 6,000 Years End? Was a 6000 year time allowed for humans to rule followed by a literal thousand year reign of Christ on Earth taught by the early Christians? Does God have 7,000 year plan? What year may the six thousand years of human rule end? When will Jesus return? 2027 or 20xx? There is also a video titled 6000 Years: When will God's Kingdom Come? Here is a link to the article in Spanish: ¿Tiene Dios un plan de 6,000 años?
When Will the Great Tribulation Begin? 2019, 2020, or 2021? Can the Great Tribulation begin today? What happens before the Great Tribulation in the "beginning of sorrows"? What happens in the Great Tribulation and the Day of the Lord? Is this the time of the Gentiles? When is the earliest that the Great Tribulation can begin? What is the Day of the Lord? Who are the 144,000? Here is a version of the article in the Spanish language: ¿Puede comenzar la Gran Tribulación en 2018 o 2019? ¿Es el Tiempo de los Gentiles? You can also see the English language sermon videos: The Great Tribulation from the Mount of Olives and Can the Great Tribulation begin before 2020? A shorter and newer video is: Might the Great Tribulation start in 2019?