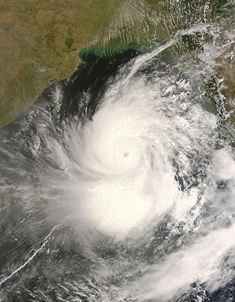 Cyclone Nargis May 1, 2008
In its latest update, LCG reported the following related to Cyclone Nargis:
Myanmar Update

News has reached us indirectly that our brethren in Sakhangyi were protected from Cyclone Nargis, as were members of other Church of God groups in the Yangon area. We are very thankful to God for His protection on His people. Mr. Bruce Tyler reports, "We have received a second-hand or third-hand report from one of our members in the Delta region of Myanmar indicating that all our members were basically unaffected by the initial devastation caused from tropical cyclone Nargis. The following is a newspaper article sent by Mr. Rajan Moses, our elder in Malaysia, indicating how the region where our brethren live was spared. However, with more rains on the way and the lack of humanitarian aid, more difficulties seem to be on the horizon. The article mentions Myaung Mya, the town near where our brethren live. Sakhan Gyi is basically an outer suburb of Myaung Mya:

'The shops are shutting early in the town of Myaung Mya and people are talking of being mugged after dark as more and hungrier and desperate cyclone refugees pour in from the devastated Irrawaddy delta. Everyday small groups of bedraggled survivors of cyclone Nargis drift in by lorry and boat, stretching this bustling town of 100,000 people to its limits. "How many more days are we going to be able to feed them?" one businessman said yesterday in the town about 70km north of the coastline and out of the storm's direct path when it hit. People here can barely afford to feed themselves. It is more than a week now since the cyclone's 190kph winds ripped into the southwestern delta of the military-ruled and impoverished nation, churning up 3.5-metre wall of water that swept through coastal villages. As many as 100,000 people were feared killed and 1.5 million people in need of shelter and water and food, according to the United Nations.

'Myaung Mya was largely unscathed. Wooden shutters rattled and timbers creaked but none of its buildings lost their roofs and walls, as happened in the worst hit villages and towns. Now, its school, monasteries and public halls are crammed with thousands of survivors, the refugees of the storm. Residents of the town fear the refugees will turn to looting if conditions do not improve (New Sunday Times, May 11, 2008).'

"I pray for the Sakhangyi brethren and hope they are safe. It appears our brethren survived the cyclone, but what may now follow as a result of the lack of food, water and hygiene may be just as devastating. We will keep you posted as we are able. Mr. Moses is applying for a visa to visit Burma in June. We hope that by then the Burmese government will lift its tight visa restrictions. We may have to evaluate the health and disease situation as we get closer to the proposed travel time, if indeed a visa is even granted."

Is "Mother Nature" Going Haywire? Two weeks ago a terrible cyclone hit southern Myanmar. It has killed between 69,000-128,000 people so far and is impacting the lives of two million people. The military government, in an effort to maintain total control, has almost completely prevented rescue efforts by other nations. Sources within Myanmar say that food aid is not reaching the people or, when it does, it is rotten because government troops take all the best food. Another cyclone may be forming in the Indian Ocean as this piece is being written (Yahoonews.com, May 14, 2008; Associated Press, May 12, 2008). Meanwhile, China experienced a massive 7.8 magnitude earthquake on Monday, centered in Sichuan Province. As of Wednesday night, the death toll was almost 15,000. Although the epicenter was nearly 29 miles underground, the powerful quake wreaked destruction hundreds of miles away. The earthquake even rattled buildings in Beijing, almost 1,000 miles to the north (ChinaDaily.com, May 12 and 14, 2008; Associated Press, May 12, 2008). God prophesied that these horrible "natural disasters" would increase as we approach the end of the age. "And there will be great earthquakes in various places, and famines and pestilences; and there will be fearful sights and great signs from heaven" (Luke 21:11). The Greek word for "earthquake" can mean either a storm of the air or of the ground, so it can include great storms (cyclones) as well.
Weather problems are prophesied to increase towards the time of the end.  I mentioned this cyclone just before leaving for Turkey and it has turned out to be much worse than the early reports (see Myanmar, USA, & Severe Weather).