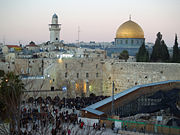 Jerusalem
US President Obama again mentioned that he would like to see a "two-state" solution for Israelis and Palestinians:
March 21, 2013

Obama said during a joint news conference with Palestinian Authority President Mahmoud Abbas in Ramallah. "I think it is important to work through this process even if there are irritants on both sides."

Abbas said Palestinians remain committed to seeking peace with Israelis, but he made clear that settlement construction had made his people distrustful of Israel's intentions.

"This is very dangerous that people and the new generation reaches the conviction that it's no more possible to believe in the two-state solution," he said.

Obama has sided with the Palestinians on the settlement issue during his first four years in office.  http://www.miamiherald.com/2013/03/21/3297952/rockets-hit-israel-as-obama-to.html

March 21, 2013

A two-state solution, the president suggested, is the only viable path forward for Israel, given the political and technological changes underway. "Peace is necessary. I believe that," Mr. Obama said, speaking at the Jerusalem International Convention Center on his second day in Israel.  http://www.cbsnews.com/8301-250_162-57575588/obama-tells-israel-peace-is-the-only-path-to-true-security/
Barack Obama has suggested this in the past.  I would like to add that although there basically are two-states in that area, there are rockets that still are coming from Gaza as well as other problems in the region.
But Barack Obama seems to want Jerusalem more formally divided.
A divided Jerusalem seems to be consistent with the following biblical prophecy:
2 For I will gather all the nations to battle against Jerusalem;
The city shall be taken,
The houses rifled,
And the women ravished.
Half of the city shall go into captivity,
But the remnant of the people shall not be cut off from the city. (Zechariah 14:2, NKJV)
If half the city is Jewish and the other half not, then there would be a reason for only one half the city to go into captivity. The Bible is clear that Jerusalem will be an issue in the end time:
2 Behold, I will make Jerusalem a cup of drunkenness to all the surrounding peoples, when they lay siege against Judah and Jerusalem. 3 And it shall happen in that day that I will make Jerusalem a very heavy stone for all peoples; all who would heave it away will surely be cut in pieces, though all nations of the earth are gathered against it. (Zechariah 12:2-4)
World events continue to align with Bible prophecy. An apparent peace deal will come (Daniel 9:27), though it may take a war to persuade some of the parties to make the deal, and it may involve the enforced dividing of Jerusalem. Which is something that Israel currently will not accept–but depending on other events (including possibly the outcome of the current USA presidential election), Israel at some point will agree to some type of division (there is also a de facto division there now, so technically Israel would not necessarily have to agree to anything, but likely will).
To me, at least, the events happening in the Middle East make prophetic sense. And we all should be watching.
As Jesus said,
35 Watch therefore, for you do not know when the master of the house is coming–in the evening, at midnight, at the crowing of the rooster, or in the morning– 36 lest, coming suddenly, he find you sleeping. 37 And what I say to you, I say to all: Watch! (Mark 13:35-37)
And the goings on in Israel and the Middle East are certainly areas that He was referring to (cf. Mark 13:14).
Prophetic events continue to line up.
Some articles of possibly related interest may include:
Is There A Future King of the South? Some no longer believe there needs to be. Might Egypt, Islam, Iran, Arabs, or Ethiopia be involved? What does the Bible say?
The Arab World In the Bible, History, and Prophecy The Bible discusses the origins of the Arab world and discusses the Middle East in prophecy. What is ahead for the Middle East and those who follow Islam?
Anglo – America in Prophecy & the Lost Tribes of Israel Are the Americans, Canadians, British, Scottish, Welsh, Australians, Anglo-Southern Africans, and New Zealanders descendants of Joseph? Where are the lost ten-tribes of Israel? Who are the lost tribes of Israel? Will God punish the U.S.A., Canada, United Kingdom, and other Anglo nations? Why might God allow them to be punished first? What will happen to the nation of Israel and Jerusalem?
Barack Obama, Prophecy, and the Destruction of the United States-Second Edition for Second Obama Term This is a 160 page book for people truly interested in prophecies related to Barack Obama and the United States, including learning about many that have already been fulfilled (which the book documents in detail) and those that will be fulfilled in the future. It also has a chapter about a Republican choice. This book is available to order at www.barackobamaprophecy.com. The physical book can also be purchased at Amazon from the following link: Barack Obama, Prophecy, and the Destruction of the United States: Is Barack Obama Fulfilling Biblical, Islamic Catholic, Kenyan, and other America-Related Prophecies? What About Republican Leaders? Second Edition for Second Obama Term.
Barack Obama, Prophecy, and the Destruction of the United States-Second Term-Amazon Kindle edition. This electronic version is available for only US$2.99. And you do not need an actual Kindle device to read it. Why? Amazon will allow you to download it to almost any device: Please click HERE to download one of Amazon s Free Reader Apps. After you go to for your free Kindle reader and then go to Barack Obama, Prophecy, and the Destruction of the United States-Second Term-Amazon Kindle edition.