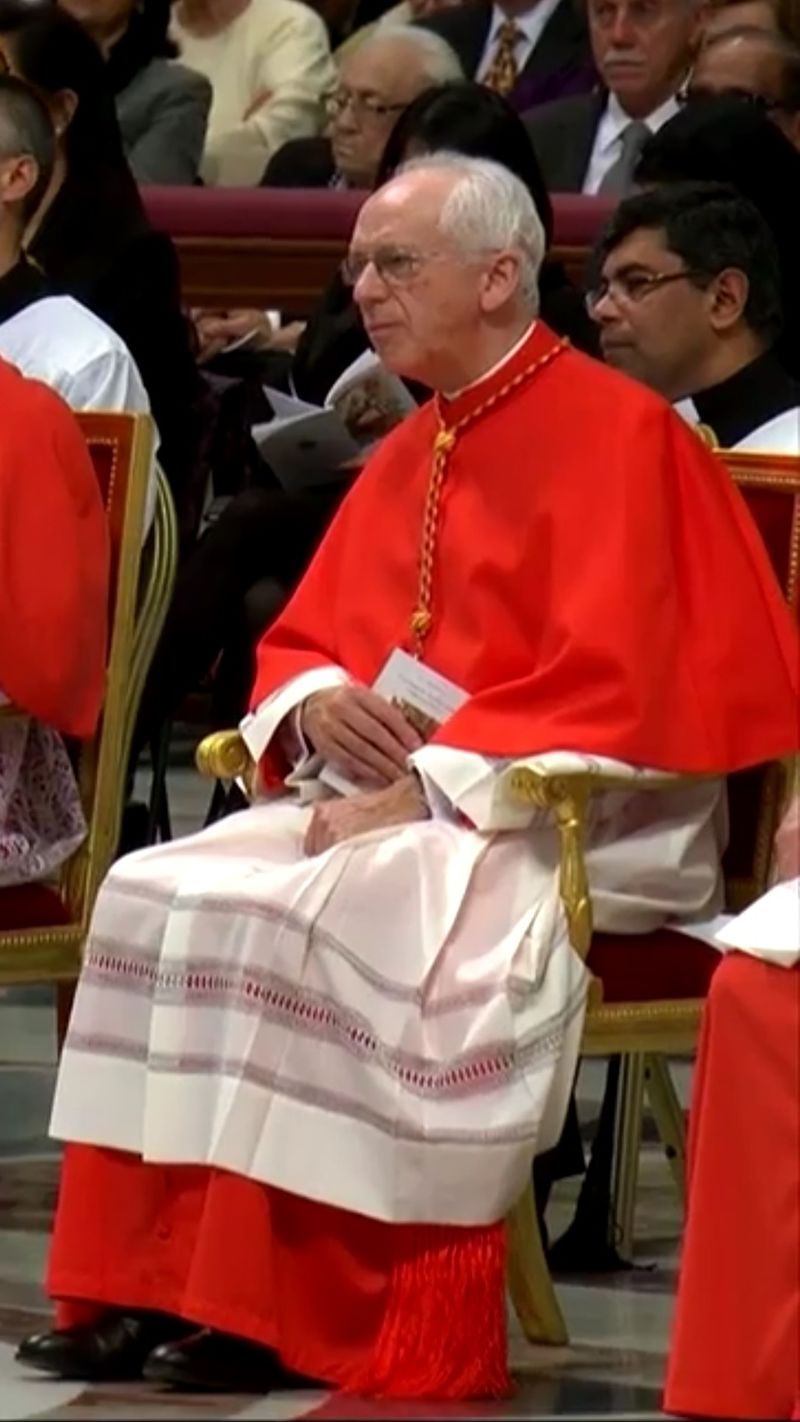 Cardinal Jozef De Kesel
(Centro Televisivo Vaticano)
Roman Catholic Cardinal Jozef De Kesel, archbishop of Malines-Brussels, spoke about secularization:
June 26, 2021

In an interview with the Dutch newspaper Katholiek Nieuwsblad, Belgian Cardinal Jozef De Kesel, archbishop of Malines-Brussels, spoke about secularization and how it isn't necessarily a problem.

On the contrary, he says, it can offer a new perspective for the Church.

"People tend to see the secularization of our culture as a negative development, but there's no need to be sad about it," De Kesel said.

Katholiek Nieuwsblad: You want to take away the fear of secularization?

De Kesel: I do question whether a purely secularist culture has a future, by which I mean a culture that ignores, marginalizes and privatizes religion. … If I say 'yes' to a secular culture, it is not a 'yes' to a culture without religion. I do say 'yes' to a culture in which not one particular religion has the function of cultural religion, as used to be the case in the West or as is still the case for the Islam in other parts of the world. A secular culture guarantees diversity.

Can a secular culture really do that?

In my historical analysis I consider the Peace of Westphalia in 1648 (two peace treaties which ended the Thirty Years' War (1618–1648) and Eighty Years' War (1568–1648), and brought peace to the Holy Roman Empire, KN) to be of great importance. Luther wanted to reform the Church, but divided it instead. We don't realize how serious this was, but the ensuing Thirty Years' War was actually the first world war. The first solution, 'a country should adhere to the religion of the monarch', didn't work. In Westphalia it was decided that everyone adheres to the religion he chooses: It is up to the freedom of man and not to the dominant culture. The secular culture tries to give us the framework in which I respect my neighbor and therefore do not use violence.

Isn't that a utopia?

I hope it is possible. https://cruxnow.com/interviews/2021/06/belgian-cardinal-says-secularism-can-offer-a-new-perspective/
The Cardinal sounds supportive of some type of semi-secular European utopia.
When Pope Francis was given the 'International Charlemagne Prize' he seemed to promote that concept. Here is some of Pope Francis' acceptance speech when he received that reward for promoting European unity:
May 6, 2016
Distinguished Ladies and Gentlemen,
I offer you a cordial welcome and I thank you for your presence. I am particularly grateful to Messrs Marcel Philipp, Jürgen Linden, Martin Schulz, Jean-Claude Juncker and Donald Tusk for their kind words. I would like to reiterate my intention to offer this prestigious award for Europe. For ours is not so much a celebration as a moment to express our shared hope for a new and courageous step forward for this beloved continent.

Creativity, genius and a capacity for rebirth and renewal are part of the soul of Europe. In the last century, Europe bore witness to humanity that a new beginning was indeed possible. After years of tragic conflicts, culminating in the most horrific war ever known, there emerged, by God's grace, something completely new in human history. The ashes of the ruins could not extinguish the ardent hope and the quest of solidarity that inspired the founders of the European project. They laid the foundations for a bastion of peace, an edifice made up of states united not by force but by free commitment to the common good and a definitive end to confrontation. Europe, so long divided, finally found its true self and began to build its house. …

The roots of our peoples, the roots of Europe, were consolidated down the centuries by the constant need to integrate in new syntheses the most varied and discrete cultures. The identity of Europe is, and always has been, a dynamic and multicultural identity. …

In addressing the European Parliament, I used the image of Europe as a grandmother. I noted that there is a growing impression that Europe is weary, aging, no longer fertile and vital, that the great ideals that inspired Europe seem to have lost their appeal. There is an impression that Europe is declining, that it has lost its ability to be innovative and creative, and that it is more concerned with preserving and dominating spaces than with generating processes of inclusion and change. There is an impression that Europe is tending to become increasingly "entrenched", rather than open to initiating new social processes capable of engaging all individuals and groups in the search for new and productive solutions to current problems. Europe, rather than protecting spaces, is called to be a mother who generates processes (cf. Apostolic Exhortation Evangelii Gaudium, 223). …

To the rebirth of a Europe weary, yet still rich in energies and possibilities, the Church can and must play her part. …

Only a Church rich in witnesses will be able to bring back the pure water of the Gospel to the roots of Europe. In this enterprise, the path of Christians towards full unity is a great sign of the times and a response to the Lord's prayer "that they may all be one" (Jn 17:21).

With mind and heart, with hope and without vain nostalgia, like a son who rediscovers in Mother Europe his roots of life and faith, I dream of a new European humanism, one that involves "a constant work of humanization" and calls for "memory, courage, [and] a sound and humane utopian vision". https://zenit.org/articles/popes-address-for-being-awarded-charlemagne-prize/
The Vatican has long pushed European unity. Notice that Pope Francis is pushing for Europe to bring about a human form of utopia–that will NOT happen. Europe needs the Kingdom of God (consider also watching the video Millennial Utopia). The pope's dream of a European utopia will be a nightmare when a version is realized.
The coming Beast and Antichrist will essentially claim to be bringing in a European utopia.
The Bible tells of a Babylonian unity between Europe and the compromised church on the seven-hills in Revelation 17:1-9.
Related to that and Pope Francis' comments, the Continuing Church of God put out the following video on our Bible News Prophecy YouTube channel:
When he received the International Charlemagne award for promoting European unity on May 6, 2016, Pope Francis stated that he dreamed of a humanistic European utopia. He mentioned that his church is needed to bring about Europe's potential. Is Europe possibly going to unite into a type of United States of Europe? Is it possibly going to bring about a real utopia? What does the Book of Daniel teach about the current divisions in Europe? What does any of this have to do with the Bible, prophecy, or Babylon?
Here is a link to our video: Pope Francis dreams of a Babylonian utopia.
In the future there will be changes to the faith people will call 'Catholic,' Many of these changes will not be good, and are actually warned about in Greco-Roman Catholic prophecies (see Catholic Prophecies: Do They Mirror, Highlight, or Contradict Biblical Prophecies?).
What many, including many Christians, do not realize is that although a religious leader will help get the Beast into power per Revelation 13, people who could be characterized as secularist are prophesied to turn against the City of Seven Hills to eliminate the competition, so to speak.
Notice the following prophecy from a Roman Catholic translation of the Bible:
9 'This calls for shrewdness. The seven heads are the seven hills, on which the woman is sitting. …

15 The angel continued, 'The waters you saw, beside which the prostitute was sitting, are all the peoples, the populations, the nations and the languages.

16 But the ten horns and the beast will turn against the prostitute, and tear off her clothes and leave her stark naked; then they will eat her flesh and burn the remains in the fire.

17 In fact, God has influenced their minds to do what he intends, to agree together to put their royal powers at the beast's disposal until the time when God's words shall be fulfilled.

18 The woman you saw is the great city which has authority over all the rulers on earth.' (Revelation 17:9, 15-18, New Jerusalem Bible)
Those that turn against the City of Seven Hills that rules over the earth will be a type of  'secularist.'
I strongly speculate that a confederation of Roman Catholics, ecumenists, secularists, and Freemasons will help get the Beast into power.
After the Beast's power is attained (Revelation 17:12-13), I have suspected that imperialist secularists and Freemasons will be those that turn against the changed Church of Rome, the prostitute woman in Revelation 17.
Satan will one day, in my opinion, also exploit the historical animosity between the Masons and the Vatican.
Related to some of that, the Continuing Church of God put out the following sermon on its ContinuingCOG channel:

1:16:04

What is Freemasonry? How long has it been around? Does Freemasonry point to cataclysms, such as Armageddon in 2022? Were many US founders and presidents Freemasons? Is there a difference between the USA/UK Freemasons and those in continental Europe? Can a biblical Christian be a Freemason? Are Roman Catholics allowed to be Freemasons? Do the Freemasons have a plan that includes an ecumenical Pope? Are Rotarians Freemasons? What about the Illuminati? Are many conspiracies about the Freemasons false? Could Freemasonry play a role in the rise of Europe and the destruction of the Church of Seven Hills?
Here is a link to the sermon: Freemasonry, Armageddon, and Rome.
Life Site News (LSN) ran the following written by Roman Catholic Archbishop Carlo Maria Viganò this past Spring:
Viganò on Vatican 'health' conference with Fauci: Holy See is 'making itself the servant of the New World Order'

April 20, 2021

From May 6-8, 2021, the fifth International Vatican Conference will take place, entitled Exploring the Mind, Body & Soul. Unite to Prevent & Unite to Cure. A Global Health Care Initiative: How Innovation and Novel Delivery Systems Improve Human Health. The event is being hosted by the Pontifical Council for Culture, the Cura Foundation, the Science and Faith Foundation, and Stem for Life. …

This Conference – along with the Council for Inclusive Capitalism of Lynn Forester de Rothschild, the Global Compact on Education, and the inter-religious Pantheon to be held in June in Astana, Kazakhstan – is the umpteenth scandalous confirmation of a disturbing departure of the current Hierarchy, and in particular its highest Roman members, from Catholic orthodoxy. The Holy See has deliberately renounced the supernatural mission of the Church, making itself the servant of the New World Order and Masonic globalism in an antichristic counter-magisterium. The same Roman Dicasteries, occupied by people ideologically aligned with Jorge Mario Bergoglio and protected and promoted by him, now continue unrestrained in their implacable work of demolishing Faith, Morals, ecclesiastical discipline, and monastic and religious life, in an effort as vain as it is unprecedented to transform the Bride of Christ into a philanthropic association enslaved to the Strong Powers. The result is the super-imposition over the true Church of a sect of heretical and depraved Modernists who are intent on legitimizing adultery, sodomy, abortion, euthanasia, idolatry, and any perversion of the intellect and will. The true Church is now eclipsed, denied and discredited by her very Pastors, betrayed even by the one who occupies the highest Throne. 04/20/21 https://www.lifesitenews.com/opinion/vigano-on-vatican-health-conference-with-fauci-holy-see-is-making-itself-the-servant-of-the-new-world-order
This is not the only thing some have wondered about associated with Pope Francis.
Fratelli tutti was signed by Pope Francis last Fall (see Pope Francis' Fratelli Tutti Calls for Giving United Nations Organization 'Real Teeth').
The Roman Catholic Lifesite News reported the following last Fall:
October 19, 2020

Frank Unterhalt, a diocesan priest of Paderborn, Germany has written an analysis of the new papal encyclical Fratelli Tutti, whose tone of religious indifferentism and the call to universal fraternity reminds him of the language and program of Freemasonry. He also reminds us all that the so-called Sankt Gallen (St. Gallen) Group – a group of progressivist cardinals who unsuccessfully tried to elect then-Cardinal Jorge Bergoglio as Pope in 2005 – played a major role in electing Pope Francis in 2013 and that their goals are now being implemented by Francis.

In his new statement (see full text below), Father Unterhalt makes it clear that this new papal document that is promoting a sense of equality among religions and downplays Catholic beliefs and positions is not in accordance with the Church's teaching on the unique role of the Catholic Church for the salvation of man.

Reminding us of Nathan the Wise, a play written by the German poet Gotthold Ephraim Lessing, Unterhalt points out that it is the goal of Freemasonry to establish a new "brotherhood" in which all religions are equal. This idea also appeared during the French Revolution which was, at its core, deeply anti-Catholic.

These congruences are for Fr. Unterhalt a sign for our "apocalyptic" times. …

With this statement and critique of Fratelli Tutti, Father Unterhalt joins the voices of Archbishop Carlo Maria Viganò and Bishop Athanasius Schneider, both of whom have pointed to resemblances between this new papal document and Freemasonic thought. Both have also rejected the tone of religious indifferentism found in this new text. …

Fratelli tutti tries at the beginning (numbers 1-4) and at the end (number 286) to claim St. Francis of Assisi as the patron saint of a supposed interreligious brotherhood "without borders" by completely distorting his visit to the Sultan in Egypt 800 years ago. This path with the readiness to martyrdom had precisely not the goal of throwing itself at Islam in the desire "to embrace everyone" (number 3), in the noncommittal concealment of the Gospel in a weakening way, but rather in concern for the eternal salvation of souls to call for conversion to the true faith. …

Fratelli tutti … has repeatedly used … dreaming of "a single human family" (number 8) as an occasion to propagate a religious relativism. This intention was particularly striking in the context of the so-called prayer intention for January 2016, which was combined with a telling video. The symbols of the different religions were shown, equally placed next to each other. The child Jesus was also present — held in a circle next to the other signs in the camera and lined up in sayings of faith in Allah and trust in Buddha.

Former Israeli President Shimon Peres testified on September 4, 2014, after his audience in the Vatican, to his proposal to the Bishop of Rome to "found the 'United Religions'" — developed out of the United Nations.[13]

The Grand Lodge of Spain, in view of the Christmas address of December 25, 2018, in the Vatican, has already expressed its enthusiasm and, in the name of all Freemasons, has joined the proclaimed "fraternity between men of different religions."[14] In view of the latest brochure, the same Grand Orient is currently raising an even louder cry of euphoria when it states that in Fratelli tutti "universal fraternity, the great principle of modern Freemasonry,"[15] is now welcomed.

This idea has already been well advanced in the context of the Abu Dhabi Declaration. The Bishop of Rome, following up on the same document, established the so-called "Higher Committee for Human Fraternity" to implement it. The construction project "Abrahamic Family House" has already been launched in Abu Dhabi — an interreligious house with mosque, synagogue and church. The three buildings of the so-called "Abrahamic religions" look similar, are designed with identical dimensions and create the impression of equality. The common ground floor with teaching center connects the temples. The next step to the world-unifying religion is thus not far away.[16]

The Bishop of Rome recently proclaimed that man is obliged to obey the United Nations. …

The striving for universal ecumenism of religions has always been a concern of Freemasonry on the way to its actual goal, namely to bring about the breakthrough of that self-constructed religion in which all human beings are supposedly in agreement. …

When Fratelli tutti explicitly uses the crisis brought about by Covid-19 as an occasion to express the call "Let us dream, then, as a single human family" (number 8), one should be well aware of the clear statements of those behind the scenes who have already spoken out with the aim of a globalized New World Order.  https://www.lifesitenews.com/blogs/german-priest-says-new-papal-encyclical-has-masonic-tone-links-it-to-st-gallen-group
So, at least a few Roman Catholic clerics have noted similarities between Pope Francis' Fratelli tutti and Freemasonry.
Destruction will hit Rome and the Freemasons in Europe may well be major supporters of that.
The end of the Babylonian, false catholic and secular, 'utopia' will come:
4 And I heard another voice from heaven saying, "Come out of her, my people, lest you share in her sins, and lest you receive of her plagues. 5 For her sins have reached to heaven, and God has remembered her iniquities. 6 Render to her just as she rendered to you, and repay her double according to her works; in the cup which she has mixed, mix double for her. 7 In the measure that she glorified herself and lived luxuriously, in the same measure give her torment and sorrow; for she says in her heart, 'I sit as queen, and am no widow, and will not see sorrow.' 8 Therefore her plagues will come in one day — death and mourning and famine. And she will be utterly burned with fire, for strong is the Lord God who judges her. (Revelation 18:4-8)
Despite warnings about this in the Bible in places such as the 17th and 18th chapter of the Book of Revelation, Pope Francis and some other prelates continue to promote something that the Bible warns against.
We are getting closer to the time that the Babylonian Beast power will rise up–and yes, it will involve some understanding between secularists, ecumenists, Roman Catholics, and probably also Freemasons.
Some items of possibly related interest may include:
Europa, the Beast, and Revelation Where did Europe get its name? What might Europe have to do with the Book of Revelation? What about "the Beast"? Is an emerging European power "the daughter of Babylon"? What is ahead for Europe? Here is a link to a video titled: Can You Prove that the Beast to Come is European?
Must the Ten Kings of Revelation 17:12 Rule over Ten Currently Existing Nations? Some claim that these passages refer to a gathering of 10 currently existing nations together, while one group teaches that this is referring to 11 nations getting together. Is that what Revelation 17:12-13 refers to? The ramifications of misunderstanding this are enormous. A related sermon is titled Ten Kings of Revelation and the Great Tribulation.
Freemasonry and the Destruction of Rome? What is Freemasonry? What about ties to the Illuminati? Could Freemasons be involved in the fulfillment of prophecy? Here is a link to a related sermon: Freemasonry, Armageddon, and Rome.
Do You Know That Babylon is Forming? How is the final Babylon forming? Are Protestants such as Joel Osteen and Kenneth Copeland are endorsing something dangerous? Could Pope Francis be the 'False Prophet' that the Bible warns against? Is an antipope expected to endorse a one-world religion? Here is a link to a related written article In Vatican City: New Babylon more openly forming!
United Nations: Humankind's Last Hope or New World Order? Is the UN the last hope for humanity? Or might its goals end up with sinister results? A related video would be United Nations and Vatican Are Planning the New World Order.
Pope Francis: Could this Marian Focused Pontiff be Fulfilling Prophecy? Pope Francis has taken many steps to turn people more towards his version of 'Mary.' Could this be consistent with biblical and Catholic prophecies? This article documents what has been happening. There is also a video version titled Pope Francis: Could this Marian Focused Pontiff be Fulfilling Prophecy?
Anti-Pope Francis? Some cardinals and other members of the Roman Catholic clergy are concerned that Pope Francis has deviated from its traditional positions on matters such as homosexuality, salvation, fornication, remarriage, and other doctrines. Australian Cardinal George Pell even mentioned 'antipopes' when discussing Pope Francis. North American Cardinal Raymond Burke has raised many concerns about Francis' pontificate. Did Catholic saints teach that popes could become heretics? Will the final pope not be Catholic? Is an ecumenical pontiff possibly the final Antichrist? What do both biblical, and even Roman Catholic, prophecies warn about? Could Pope Francis be an antipope and final Antichrist? This is a new video.
The Gospel of the Kingdom of God This free online pdf booklet has answers many questions people have about the Gospel of the Kingdom of God and explains why it is the solution to the issues the world is facing.
The Gospel of the Kingdom of God was the Emphasis of Jesus and the Early Church Did you know that? Do you even know what the gospel of the kingdom is all about? You can also see a YouTube video sermons Why Teach the Kingdom of God? and The Gospel of the Kingdom.
Did The Early Church Teach Millenarianism? Was the millennium (sometimes called chiliasm) taught by early Christians? Who condemned it? Will Jesus literally reign for 1000 years on the earth? Is this time near? Two related sermons are available Millennial Utopia and The Millennium.
Catholic Prophecies: Do They Mirror, Highlight, or Contradict Biblical Prophecies? People of all faiths may be surprised to see what various Roman and Orthodox Catholic prophets have been predicting as many of their predictions will be looked to in the 21st century.
Why Should American Catholics Fear Unity with the Orthodox? Are the current ecumenical meetings a good thing or will they result in disaster? Is doctrinal compromise good? Here is a link to a related video Should you be concerned about the ecumenical movement?
Will the Interfaith Movement Lead to Peace or Sudden Destruction? Is the interfaith movement going to lead to lasting peace or is it warned against?
Beware: Protestants Going Towards Ecumenical Destruction! What is going on in the Protestant world? Are Protestants turning back to their 'mother church' in Rome? Does the Bible warn about this? What are Catholic plans and prophecies related to this? Is Protestantism doomed? See also World Council of Churches Peace Plan.
Which Is Faithful: The Roman Catholic Church or the Continuing Church of God? Do you know that both groups shared a lot of the earliest teachings? Do you know which church changed? Do you know which group is most faithful to the teachings of the apostolic church? Which group best represents true Christianity? This documented article answers those questions.
Where is the True Christian Church Today? This free online pdf booklet answers that question and includes 18 proofs, clues, and signs to identify the true vs. false Christian church. Plus 7 proofs, clues, and signs to help identify Laodicean churches. A related sermon is also available: Where is the True Christian Church?
Continuing History of the Church of God This pdf booklet is a historical overview of the true Church of God and some of its main opponents from c. 31 A.D. to 2014. A related sermon link would be Continuing History of the Church of God: c. 31 to c. 300 A.D. Marque aquí para ver el pdf folleto: Continuación de la Historia de la Iglesia de Dios.
Beliefs of the Original Catholic Church. Did the original "catholic church" have doctrines held by the Continuing Church of God? Did Church of God leaders uses the term "catholic church" to ever describe the church they were part of? Here are links to related sermons: Original Catholic Church of God? , Original Catholic Doctrine: Creed, Liturgy, Baptism, Passover, and What Type of Catholic was Polycarp of Smyrna?, Tradition, Holy Days, Salvation, Dress, & Celibacy, Early Heresies and Heretics, and Doctrines: 3 Days, Abortion, Ecumenism, Meats.