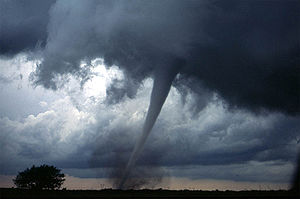 The Midwest of the USA was hit by tornadoes as the Chicago Tribune reports:
November 18, 2013

The scale of Sunday's deadly storms became clearer this morning: Six people dead in Illinois, hundreds of homes flattened and splintered, 81 tornadoes reported through the Midwest, 358 reports of damaging winds, 40 reports of large hail.

Since 1986, there have been 194 tornado warnings issued in the month of November in Illinois: More than half of them, 101, were issued Sunday, according to the Chicago Weather Center.

As crews fanned out from the National Weather Service to assess the storm's impact, WGN-TV meteorologist Tom Skilling said it may go down as one of the most powerful to hit the region in decades.

"It appears the storm may have produced the most powerful Illinois November tornado on record outside of St. Louis (and possibly elsewhere) and may be one of the four most intense Great Lakes storms of the past five decades," he said.  http://www.chicagotribune.com/news/local/breaking/chi-tornado-disaster-area-20131118,0,5469499.story
We seem to be seeing more and more strong storms.  Typhoon Haiyan, that hit the Philippines last week, comes to immediate mind.
My prayers go out for those affected.  I personally was raised in the Midwest.
While the terms 'tornado' and 'cyclone' are not in the NKJV, KJV, or the DRB (Douay Rheims Bible), some translations of the Bible (like THE MESSAGE) do use them, and those that do not tend to use the term 'whirlwind,' which is basically what a tornado/cyclone is.
The Bible shows that whirlwinds are one of the forms of weather that God controls:
3 The Lord is slow to anger and great in power,
And will not at all acquit the wicked.

The Lord has His way
In the whirlwind and in the storm,
And the clouds are the dust of His feet. (Nahum 1:3)
God teaches that because of disobedience He will scatter people and use a whirlwind:
8 Then the word of the Lord came to Zechariah, saying, 9 "Thus says the Lord of hosts:

'Execute true justice,
Show mercy and compassion
Everyone to his brother.
10 Do not oppress the widow or the fatherless,
The alien or the poor.
Let none of you plan evil in his heart
Against his brother.'

11 But they refused to heed, shrugged their shoulders, and stopped their ears so that they could not hear. 12 Yes, they made their hearts like flint, refusing to hear the law and the words which the Lord of hosts had sent by His Spirit through the former prophets. Thus great wrath came from the Lord of hosts. 13 Therefore it happened, that just as He proclaimed and they would not hear, so they called out and I would not listen," says the Lord of hosts. 14 "But I scattered them with a whirlwind among all the nations which they had not known. Thus the land became desolate after them, so that no one passed through or returned; for they made the pleasant land desolate." (Zechariah 7:8-14)

21 A cyclone sweeps them up — gone!
Not a trace of them left, not even a footprint.
22 Catastrophes relentlessly pursue them;
they run this way and that, but there's no place to hide —
23 Pummeled by the weather,
blown to kingdom come by the storm.'
(Job 27:21-23, THE MESSAGE: The Bible in Contemporary Language © 2002 by Eugene H. Peterson.)

12 Woe to the multitude of many people, like the multitude of the roaring sea: and the tumult of crowds, like the noise of many waters.

13 Nations shall make a noise like the noise of waters overflowing, but he shall rebuke him, and he shall flee far off: and he shall be carried away as the dust of the mountains before the wind, and as a whirlwind before a tempest.

14 In the time of the evening, behold there shall be trouble: the morning shall come, and he shall not be: this is the portion of them that have wasted us, and the lot of them that spoiled us. (Isaiah 17:12-14, DRB)
The following scriptures seem to be directed towards the end time descendents of Israel (Israel, also known as Jacob, places his name on the two sons of Joseph, Ephraim and Manasseh in Genesis 48:14-16), such as the Anglo-nations like the USA:
16 You shall winnow them, the wind shall carry them away,
And the whirlwind shall scatter them;
You shall rejoice in the Lord,
And glory in the Holy One of Israel. (Isaiah 41:16)

6 For from Israel is even this:
A workman made it, and it is not God;
But the calf of Samaria shall be broken to pieces.

7 "They sow the wind,
And reap the whirlwind.
The stalk has no bud;
It shall never produce meal.
If it should produce,
Aliens would swallow it up.
8 Israel is swallowed up;
Now they are among the Gentiles
Like a vessel in which is no pleasure.
9 For they have gone up to Assyria,
Like a wild donkey alone by itself;
Ephraim has hired lovers. (Hosea 8:6-9)
The passage in Hosea 8 is clearly referring to the descendents of Israel, including Ephraim and Samaria (Samaria, a type of biblical melting pot, seems to represent the USA in some prophecies_. Notice that they are among the Gentiles and some go to Assyria (end time Germany). There are enough references to whirlwinds and the end time descendents of Israel that it seems like one or more major tornadoes are prophesied to affect them. For more details, see Will the Anglo-Nations be Divided and Have People Taken as Slaves?
The following, presuming it is intended literally, indicates that there will be a very major tornado in the time of the end:
9 Behold, a whirlwind of the Lord has gone forth in fury —
A violent whirlwind!
It will fall violently on the head of the wicked.
20 The anger of the Lord will not turn back
Until He has executed and performed the thoughts of His heart.
In the latter days you will understand it perfectly. (Jeremiah 23:19-20)

23 Behold, the whirlwind of the Lord
Goes forth with fury,
A continuing whirlwind;
It will fall violently on the head of the wicked.
24 The fierce anger of the Lord will not return until He has done it,
And until He has performed the intents of His heart.

In the latter days you will consider it. (Jeremiah 30:23-24)
The fact that this is predicted at least twice in Jeremiah suggests that this will whirlwind will be a major event.
Notice, also the following:
13 God's Message:

"Because of the three great sins of Ammon
— make that four — I'm not putting up with her any longer.
She ripped open pregnant women in Gilead
to get more land for herself.
14 For that, I'm burning down the walls of her capital, Rabbah,
burning up her forts.
Battle shouts! War whoops!
with a tornado to finish things off!
(Amos 1:13-14, THE MESSAGE: The Bible in Contemporary Language)

6 And it shall be at an instant suddenly. A visitation shall come from the Lord of hosts in thunder, and with earthquake, and with a great noise of whirlwind and tempest, and with the flame of devouring fire. (Isaiah 29:6, DRB)

30 And the Lord shall make the glory of his voice to be heard, and shall shew the terror of his arm, in the threatening of wrath, and the dame of devouring fire: he shall crush to pieces with whirlwind, and hailstones.

31 For at the voice of the Lord the Assyrian shall fear being struck with the rod. (Isaiah 30:30-31, DRB)

23 He brings the princes to nothing;
He makes the judges of the earth useless.

24 Scarcely shall they be planted,
Scarcely shall they be sown,
Scarcely shall their stock take root in the earth,
When He will also blow on them,
And they will wither,
And the whirlwind will take them away like stubble. (Isaiah 40:23-24)
Thus, though some of these passages may also have a figurative sense, major tornadoes are forecasted in biblical prophecy.
Now, does this mean that those most affected by tornadoes are necessarily worse sinners than those less affected?
The biblical answer is no.
Notice the words of Jesus:
45…He makes His sun rise on the evil and on the good, and sends rain on the just and on the unjust. (Matthew 5:45)

4 Or those eighteen on whom the tower in Siloam fell and killed them, do you think that they were worse sinners than all other men who dwelt in Jerusalem? 5 I tell you, no; but unless you repent you will all likewise perish. (Luke 13:4-5)
God uses weather and other events to witness to people.
God does not want people to suffer, but to turn to Him:
10 "Therefore you, O son of man, say to the house of Israel: 'Thus you say, "If our transgressions and our sins lie upon us, and we pine away in them, how can we then live?"' 11 Say to them: 'As I live,' says the Lord God, 'I have no pleasure in the death of the wicked, but that the wicked turn from his way and live. Turn, turn from your evil ways! For why should you die, O house of Israel?' (Ezekiel 33:10-11)
God wants people everywhere to repent (Acts 17:30). He uses weather for correction and for His mercy (Job 37:13).
Will you heed the weather warnings?
Some items of possibly related interest may include:
Weather Blessings and Sorrows Are weather problems a warning? What should be done? Here is a YouTube video titled Does God Use Weather?
Why Does Man Suffer? Herbert Armstrong gives biblical reasons on this topic. I also wrote and added a section titled Suffering Has a Future Purpose.
Why Does God Allow Suffering? This is a pdf booklet put out by the old Worldwide Church of God that also answers questions about why God allows war as well as babies to die.
Just What Do You Mean — Repentance? Do you know what repentance is? Have you truly repented? Repented of what? Herbert W. Armstrong wrote this as a booklet on this important subject.
Do Christians Sin? This is an article by Herbert W. Armstrong.
Overcoming Sin What is sin? How are Christians suppose to overcome it? Here is also a link to a video titled How to Overcome Sin.
How to Prevent Sin This is an article by Herbert W. Armstrong.
Just What Do You Mean Conversion? Many think that they are converted Christians. But are they? Would you like to know more about conversion. Herbert W. Armstrong wrote this as a booklet on this important subject.
False Conversion Have you really been converted? Herbert W. Armstrong wrote this article on this important subject.
All About Water Baptism What is baptism? Would you like to know more about it. Herbert W. Armstrong wrote this as a booklet on this important subject. As far as early history, see also Baptism and the Early Church.
God's Grace is For All Is being Jewish a hindrance to salvation? What about not being a descendant of Israel? What does the Bible really teach?