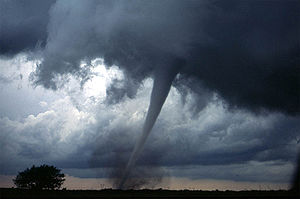 Tornadoes and violent storms are again in the news with 60 million Americans at risk today:
May 20, 2013
Several tornadoes struck parts of the nation's midsection Sunday, concentrating damage in central Oklahoma and Wichita, Kan. One person was killed near Shawnee, Okla., and 21 injuries were reported throughout the state.
Tornadoes were reported Sunday in Iowa, Kansas and Oklahoma as part of a storm system that stretched from Texas to Minnesota. Oklahoma's governor has declared a state of emergency in 16 counties across the state. http://www.cbsnews.com/8301-201_162-57585240/tornadoes-tear-through-plains-at-least-1-killed-in-okla-21-injured/
Another round of dangerous weather is expected to slam the Plains on Monday, after tornadoes that ripped through five states Sunday killed one and left more than 20 injured…More than 60 million Americans are at risk of severe storms today, with the primary targets including Oklahoma, Kansas, Missouri and Arkansas, the National Weather Service's Storm Prediction Center warned.

"Damaging wind gusts, large hail and tornadoes are possible in all areas," Weather Channel meteorologist Kevin Roth said.  http://www.usatoday.com/story/weather/2013/05/20/tornadoes-severe-weather-plains-midwest/2325875/
My prayers go out to those affected.
For those unfamiliar with the type of damage that tornadoes can do, notice the following photograph of a house in Mississippi that was hit by a tornado earlier this year: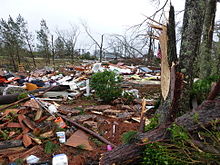 Tornadoes can be very destructive.
While humans often seem to think otherwise, God is in charge and controls the weather. Notice the following:
26 "Behold, God is great, and we do not know Him; Nor can the number of His years be discovered. 27 For He draws up drops of water, Which distill as rain from the mist, 28 Which the clouds drop down And pour abundantly on man. 29 Indeed, can anyone understand the spreading of clouds, The thunder from His canopy? 30 Look, He scatters His light upon it, And covers the depths of the sea. 31 For by these He judges the peoples; He gives food in abundance. 32 He covers His hands with lightning, And commands it to strike. 33 His thunder declares it, The cattle also, concerning the rising storm. (Job 36:26-33)

17 He casts out His hail like morsels;
Who can stand before His cold?
18 He sends out His word and melts them;
He causes His wind to blow, and the waters flow. (Psalms 147:17-18)

Fire and hail, snow and clouds; stormy wind, fulfilling His word" (Psalm 148:8 , RAV).

17 I struck you with blight and mildew and hail in all the labors of your hands; yet you did not turn to Me,' says the Lord. (Haggai 2:17)

3 He sends it forth under the whole heaven, His lightning to the ends of the earth. 4 After it a voice roars; He thunders with His majestic voice, And He does not restrain them when His voice is heard. 5 God thunders marvelously with His voice; He does great things which we cannot comprehend. 6 For He says to the snow, 'Fall on the earth'; Likewise to the gentle rain and the heavy rain of His strength. 7 He seals the hand of every man, That all men may know His work. 8 The beasts go into dens, And remain in their lairs. 9 From the chamber of the south comes the whirlwind, And cold from the scattering winds of the north. 10 By the breath of God ice is given, And the broad waters are frozen. 11 Also with moisture He saturates the thick clouds; He scatters His bright clouds. 12 And they swirl about, being turned by His guidance, That they may do whatever He commands them On the face of the whole earth. 13 He causes it to come, Whether for correction, Or for His land, Or for mercy. (Job 37:3-13)
The Bible shows:
30 God…commands all men everywhere to repent (Acts 17:30)
And while tornadoes are common in the US Mid-West this time of year, weather-problems are one way that God uses to try to get peoples' attention to repent (cf. Haggai 2:17).
Some articles of possibly related interest may include:
Weather Blessings and Sorrows Are weather problems a warning? What should be done?
Just What Do You Mean — Repentance? Do you know what repentance is? Have you truly repented? Repented of what? Herbert W. Armstrong wrote this as a booklet on this important subject.
Do Christians Sin? This is an article by Herbert W. Armstrong.
Overcoming Sin What is sin? How are Christians suppose to overcome it? Here is also a link to a video titled How to Overcome Sin.
How to Prevent Sin This is an article by Herbert W. Armstrong.
Just What Do You Mean Conversion? Many think that they are converted Christians. But are they? Would you like to know more about conversion. Herbert W. Armstrong wrote this as a booklet on this important subject.
False Conversion Have you really been converted? Herbert W. Armstrong wrote this article on this important subject.
All About Water Baptism What is baptism? Would you like to know more about it. Herbert W. Armstrong wrote this as a booklet on this important subject. As far as early history, see also Baptism and the Early Church.
God's Grace is For All Is being Jewish a hindrance to salvation? What about not being a descendant of Israel? What does the Bible really teach?