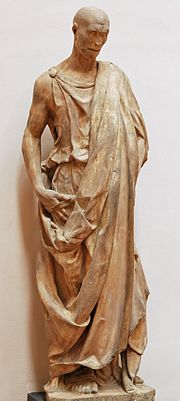 Statue Intended to be Habakkuk by Donatello (15th century)
Habakkuk was a Hebrew prophet. Some observe a memorial to him on January 15th. He had important messages for the 21st century.
The Jewish Encyclopedia of 1906 reports this about him:
HABAKKUK (; LXX. Ἀμβακούμ; Vulgate, "Habacuc"):

Prophet; author of the eighth in the collection of the twelve minor prophetical books. The etymology of the name of the prophet is not clear. It seems to be a loan-word representing the Assyrian "hambaḳûḳu," a garden-plant (Friedrich Delitzsch, "Prolegomena," p. 84; König, "Historisch-Kritisches Lehrgebäude der Hebräischen Sprache," ii. 1. 473, on the vocalization), and has the appearance of being a writer's pseudonym (F. E. Peiser, "Der Prophet Habakuk," in "Mitteilungen der Vorderasiatischen Gesellschaft," 1903, i. 12). That he was a Levite has been urged on the strength of the postscript to ch. iii. (verse 19, "on my stringed instruments"), which indicates that he owned instruments: only a Levite was authorized to use an instrument to accompany his songs in the Temple. The superscription of the Septuagint apocryphon Βὴλ καὶ Δράκωυ, in the Codex Chisianus, also designates him a Levite.
Around 605-625 B.C. Habakkuk wrote a short book of the Bible that has a lot of implications for the time that we are now in.
Here are some passages from it (italics are not inspired but were headings in the translation):
1 The burden which the prophet Habakkuk saw.

The Prophet's Question

2 O Lord, how long shall I cry, And You will not hear? Even cry out to You, "Violence!"And You will not save. 3 Why do You show me iniquity, And cause me to see trouble? For plundering and violence are before me;There is strife, and contention arises. 4 Therefore the law is powerless, And justice never goes forth. For the wicked surround the righteous; Therefore perverse judgment proceeds.

The Lord's Reply

5 "Look among the nations and watch — Be utterly astounded! For I will work a work in your days Which you would not believe, though it were told you. 6 For indeed I am raising up the Chaldeans, A bitter and hasty nation Which marches through the breadth of the earth, To possess dwelling places that are not theirs. 7 They are terrible and dreadful; Their judgment and their dignity proceed from themselves. 8 Their horses also are swifter than leopards,And more fierce than evening wolves. Their chargers charge ahead; Their cavalry comes from afar; They fly as the eagle that hastens to eat. 9 "They all come for violence; Their faces are set like the east wind. They gather captives like sand. 10 They scoff at kings, And princes are scorned by them. They deride every stronghold, For they heap up earthen mounds and seize it. 11 Then his mind changes, and he transgresses; He commits offense, Ascribing this power to his god." ( Habakkuk 1:1-11)
Notice that the above states that the end time work will not be believed by many even though God will reveal it–which He does through His prophets, like Habakkuk. While some claim that this was only for the past and have despised my quoting of this, they seemingly forget that this is in the New Testament:
41 'Behold, you despisers,
Marvel and perish!
For I work a work in your days,
A work which you will by no means believe,
Though one were to declare it to you.'" (Acts 13:41)
I believe that the Continuing Church of God is helping fulfill that. No xWCG group has had the type of growth in the 20th century that the CCOG has had–and this happened despite not having the large amounts of money like many groups have had available.
Now, getting back to Habakkuk:
The Prophet's Second Question

12 Are You not from everlasting, O Lord my God, my Holy One? We shall not die. O Lord, You have appointed them for judgment; O Rock, You have marked them for correction. 13 You are of purer eyes than to behold evil, And cannot look on wickedness. Why do You look on those who deal treacherously, And hold Your tongue when the wicked devours A person more righteous than he? 14 Why do You make men like fish of the sea, Like creeping things that have no ruler over them? 15 They take up all of them with a hook, They catch them in their net, And gather them in their dragnet. Therefore they rejoice and are glad. 16 Therefore they sacrifice to their net, And burn incense to their dragnet; Because by them their share is sumptuous And their food plentiful. 17 Shall they therefore empty their net, And continue to slay nations without pity? (Habakkuk 1:12-17)
Notice that in the above the one getting punished will be punished by someone who in certain ways is worse than the one who will be punished. So while some believe that in certain ways the USA and its Anglo-allies are more "righteous" than the Beast power that will destroy it, the reality is that this is part of God's plan.
2:1 I will stand my watch And set myself on the rampart, And watch to see what He will say to me, And what I will answer when I am corrected.

The Just Live by Faith

2 Then the Lord answered me and said: "Write the vision And make it plain on tablets, That he may run who reads it. 3 For the vision is yet for an appointed time; But at the end it will speak, and it will not lie. Though it tarries, wait for it; Because it will surely come, It will not tarry. 4 "Behold the proud, His soul is not upright in him; But the just shall live by his faith.( Habakkuk 2:1-4)
Notice that the prophecy that is being discussed is for the appointed time of the end. It is a prophecy for our time–and will affect the proud. What will happen is so bad "That he may run who reads it."
Yet, most do not take it seriously enough, and that includes most Christians:
Woe to the Wicked

5 "Indeed, because he transgresses by wine, He is a proud man,And he does not stay at home. Because he enlarges his desire as hell, And he is like death, and cannot be satisfied, He gathers to himself all nations And heaps up for himself all peoples. 6 "Will not all these take up a proverb against him, And a taunting riddle against him, and say, 'Woe to him who increases What is not his — how long? And to him who loads himself with many pledges'? 7 Will not your creditors rise up suddenly? Will they not awaken who oppress you? And you will become their booty. 8 Because you have plundered many nations, All the remnant of the people shall plunder you, Because of men's blood And the violence of the land and the city, And of all who dwell in it. (Habakkuk 2:5-8)
Actually, with an admitted debt of over $21 trillion dollars and plans to increase that much further, the USA has increased pledges more than any nation in the history of the planet. And on a per capita basis, the United Kingdom is one of the most indebted nations on the earth itself.
Since the above prophecy in Habakkuk will be fulfilled at the time of the end (cf. "The message was true, but the appointed time was long…in the latter days, for the vision refers to many days yet to come", Daniel 10:1,14). Daniel 8:19, 11:27,29,35 uses the same Hebrew term for "appointed time" as Habakkuk 2:3, while Daniel 10, using a different term, ties the latter days to the time in Daniel 8:19. Habakkuk 2 was not fulfilled in its entirety anciently. Also, it makes little sense that Habakkuk would be directed towards the modern nation of Israel as it does not have enemy creditors. It must be a nation or group of nations with some prominence at the appointed time of the end. As far as "violence of the land" as a contributing factor, this would seem to include crime, military missions, and perhaps riots/civil unrest, but might it also include promotion of violent sports?
Do you believe the words that God inspired Habakkuk to write? If so, do you really understand what is going to happen to the USA, UK, and their Anglo-descended allies relatively soon?
There is also a YouTube video related to this: Was USA debt and destruction predicted 2,600 years ago?
Here is something that was written in 1973 for the old Ambassador College by Dean Blackwell:
Why do you think in Habakkuk, God said that He'd "revive His work in the midst of the years"? Would this be said if they were doing the work in all the time of the New Testament Church?

You might note that in Habakkuk 3:2, he says: O Eternal, I have heard thy speech and was afraid: O Eternal, revive thy work in the midst of the years, in the midst of the years make known; in wrath remember mercy.

He is referring to God reviving His work in the midst of man's last century. He said that God would make known what is happening and what's going to happen in man's last years, in the day of His wrath. He requested that God remember mercy and hide His people in a place of safety.
The work needs to be done in the 21st century. Will you truly support it?
Whether or not Habakkuk himself died on January 15th, the reality is that since much of his message is for the appointed time of the end, his writing (that God inspired) is applicable today.
The rising USA debt cannot continue indefinitely–there is a major price to pay.
To learn even more, please, with your Bible, check out the following:
USA in Prophecy: The Strongest Fortresses Can you point to scriptures, like Daniel 11:39, that point to the USA in the 21st century? This article does. A related sermon is titled: Do these 7 prophesies point to the end of the USA?
Anglo – America in Prophecy & the Lost Tribes of Israel Are the Americans, Canadians, English, Scottish, Welsh, Australians, Anglo (non-Dutch) Southern Africans, and New Zealanders descendants of Joseph? Where are the lost ten-tribes of Israel? Who are the lost tribes of Israel? What will happen to Jerusalem and the Jews in Israel? Will God punish the U.S.A., Canada, United Kingdom, and other Anglo nations? Why might God allow them to be punished first? Here is a link to the Spanish version of this article: Anglo-América & las Tribus Perdidas de Israel. A video of possible interest may be Will Will USA Spying Help the Beast Power?
Will the Anglo-Nations be Divided and Have People Taken as Slaves? Will the lands of the United States, United Kingdom, Canada, Australia, and New Zealand be divided? What about Jerusalem? What does Bible prophecy teach? Are there non-biblical prophecies that support this idea? Who will divide those lands? Who will end up with the lands and the people? Here is a link to a video titled Will the USA and other Anglo-nations be Divided and Their People Made Slaves? Here is a related item in the Spanish language ¿Serán divididas las naciones anglosajonas?
Protestant and Church of God views of the United States in Bible Prophecy Is the USA mentioned in Bible prophecy? Some Protestants say yes, while others say no. What does the Bible really teach? Learn the truth about this. There is also a video available: Is The United States Mentioned In Bible Prophecy?
Who is the King of the West? Why is there no Final End-Time King of the West in Bible Prophecy? Is the United States the King of the West? Here is a version in the Spanish language: ¿Quién es el Rey del Occidente? ¿Por qué no hay un Rey del Occidente en la profecía del tiempo del fin?
Should the Church Still Try to Place its Top Priority on Proclaiming the Gospel or Did Herbert W. Armstrong Change that Priority for the Work? Some say the Church should mainly feed the flock now as that is what Herbert W. Armstrong reportedly said. Is that what he said? Is that what the Bible says? What did Paul and Herbert W. Armstrong expect from lower level leaders? A related sermon is available titled Priority of the Philadelphia Work.
Preparing for the 'Short Work' and The Famine of the Word What is the 'short work' of Romans 9:28? Who is preparing for it? Here is a link to a related video sermon titled: The Short Work.
The Final Phase of the Work What is the final phase of the work? Who will lead it? Do you have the courage to support it? Here is a related YouTube video titled The Final Phase of the Work. The written article has been translated into Spanish La Fase Final de la Obra.
Leading the Final Phase of the Work Matthew 24:14 teaches "And this gospel of the kingdom will be preached in all the world as a witness to all the nations, and then the end will come " will be fulfilled and RCG is not the group doing this. Who is leading the final phase of the work? What did Herbert Armstrong and the old WCG teach about that and about prophets? Does Bob Thiel meet the criteria that the Bible and the old WCG set? What is the proof? What has the Continuing Church of God been doing? This is a sermonette length video.
Who is the King of the North? Is there one? Do biblical and Roman Catholic prophecies for the Great Monarch point to the same leader? Should he be followed? Who will be the King of the North discussed in Daniel 11? Is a nuclear attack prophesied to happen to the English-speaking peoples of the United States, Great Britain, Canada, Australia, and New Zealand? When do the 1335 days, 1290 days, and 1260 days (the time, times, and half a time) of Daniel 12 begin? When does the Bible show that economic collapse will affect the United States? In the Spanish language check out ¿Quién es el Rey del Norte? Here is a link to a video titled: The Future King of the North.
Is God Calling You? This booklet discusses topics including calling, election, and selection. If God is calling you, how will you respond? Here is a link to a related sermon: Could God be Calling You?
Christian Repentance Do you know what repentance is? Is it really necessary for salvation? A related sermon is also available titled: Real Christian Repentance.
Just What Do You Mean — Repentance? Do you know what repentance is? Have you truly repented? Repented of what? Herbert W. Armstrong wrote this as a booklet on this important subject.
When You Sin: Do You Really Repent? This is an article by Charles F. Hunting. A related sermon is Confess to God and truly repent.
CCOG's 6 Years and Scriptures Laodiceans Miss CCOG has the fruits Jesus talked about. But many onlookers have not properly understood various scriptures. CCOG 6 years: Philadelphians understand scriptures others miss.