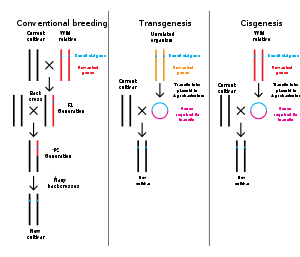 Non-GMO and GMO-Breeding for Plants
Received the following a few hours ago about GMOs (genetically-modified organisms) and risk to human health in the current Daily Reckoning (two different authors):
"Is Genetically Modified Food Killing Us?" Alex Daley asks in today's Daily Reckoning. "Probably not," he confidently responds to his own question. But the worldwide scientific community is slightly less confident. The long-term effects of genetically modified organisms (GMOs) are simply unknowable…
No, the problem with GMOs is not that they might kill us; the problem is that we have no idea how they might kill us. We have no idea if they might harm us quickly, or slowly…or not at all.

More importantly, we have no idea if — down the road — they might catastrophically alter the genetic traits of various organisms — in particular, the human organism. Therefore, the entire GMO experiment promises feast or famine…literally. (Eric Fry)
The new wheat is in early-stage field trials (i.e., it's been planted to grow somewhere, but has not yet been tested for human consumption), part of a multi-year process on its way to potential approval and not unlike the rigorous process many drugs go through. The researchers conducting this trial are using RNAi to turn down the production of glycogen. They are targeting the production of the wheat branching enzyme which, if suppressed, would result in a much lower starch level for the wheat. The result would be a grain with a lower glycemic index — i.e., healthier wheat.

This is a noble goal. However, Professors Heinemann and Carman warn, there's a risk that the gene-silencing done to these plants might make its way into humans and wreak havoc on our bodies. In their press conference and subsequent papers, they describe the possibility that the siRNA molecules — which are pretty hardy little chemicals and not easily gotten rid of — could wind up interacting with our RNA.

If their theories prove true, the results might be as bad as mimicking glycogen storage disease IV, a super-rare genetic disorder which almost always leads to early childhood death…the wheat might cause very severe adverse reactions in humans. (Alex Daley)
Now, genetically modified wheat is not yet part of the human food supply, but it seems to be getting closer.  Thousands of years ago, God inspired one of his prophets to pen the following:
2 Why do you spend money for what is not bread, And your wages for what does not satisfy? Listen carefully to Me, and eat what is good, And let your soul delight itself in abundance.  (Isaiah 55:2)
Most bread is made from wheat.  In the relatively near future, much bread may be made from GMO wheat.  Is that and/or white flour bread what God warned about?  Or is He including all kinds of excessively processed foods?  I tend to believe both are likely.  Processed foods, by the way, seem to be a major factor in obesity–and obesity has become a major problem in many parts of the Western world, especially in the Anglo-dominated lands like the USA (see Obesity and Prophecy).
Over a decade ago, I started to get published for my positions against genetically-modified foods (Thiel R. Labeling of genetically modified foods should be a fundamental consumer right. HealthKeepers, 2000; 2 (3):16-19; Thiel R. ANMA's official position on genetically-modified foods. ANMA Monitor, 1999;3(4)5-8). And since then, more and more information has come to light suggesting dangers to the environment and health related to GMOs.
About a year and a half ago I warned:
In the "Great Depression" most Americans and Brits had skills in growing food. This is no longer the case. Furthermore, modern crops have gotten more complicated as so many seeds are hybrids that they will not actually grow the type of foods most in the USA and UK are used to having. The coming food problems will also get worse once one or more genetically-modified crops suffers from some type of pestilence. The USA, to cite one example, could lose virtually all of its wheat or corn because of the dependence on genetically modified versions (which is especially true for crops like corn and soy). Prophecy for famines will be fulfilled (Matthew 24:7-8). (From China Buying USA Food, In Depression Will Chinese Eat While Americans & Brits Starve? May 21, 2010)

Notice something that Ezekiel was inspired to write:

15 'So it shall be a reproach, a taunt, a lesson, and an astonishment to the nations that are all around you, when I execute judgments among you in anger and in fury and in furious rebukes. I, the Lord, have spoken. 16 When I send against them the terrible arrows of famine which shall be for destruction, which I will send to destroy you, I will increase the famine upon you and cut off your supply of bread. 17 So I will send against you famine and wild beasts, and they will bereave you. Pestilence and blood shall pass through you, and I will bring the sword against you. I, the Lord, have spoken.'" (Ezekiel 5:15-17)

Notice that this shows famine, then pestilence, and then the sword. The above sequence seems to be slightly different than that Jesus listed as part of the "beginning of sorrows" (Mathew 24:7-8) as the sword comes afterwards. But since the sword should begin the Great Tribulation, the time of Jacob's trouble (Jeremiah 30:7), this may be part of how the beginning of sorrows ties into the Great Tribulation–this also may suggest hunger and disease problems for the Anglo-nations prior to the start of the Great Tribulation.

The increasing use of genetically modified organisms for many of the grain crops in the USA is putting parts of humanity at major increased risk of unintended consequences such as famine and disease pestilences. Most of the corn and soy beans produced in the USA are genetically-modified. Soon, much of the wheat will be. Directly and indirectly, the USA and its Anglo-allies will cause most of the problems that it will be experiencing in the next several years.

As Jesus said:

37 And what I say to you, I say to all: Watch! (Mark 13:36-37)

Tougher times are coming. And for some parts of the world these tougher time may be here now. People who can prepare, should: both spiritually and physically. (From Super Wheat: Solution or Disaster Awaiting? June 10, 2011)

So, it may be that the Anglo-nations will experience some real hunger as well as disease and/or other pestilences (that could possibly at least partially be triggered by excessive reliance on genetically-modified organisms as part of their agricultural production) that will weaken them enough so that the USA and its Anglo-allies will then be considered attackable by some of their enemies…

Because of sin, greed, and ignorance, America has been into producing genetically-modified foods. These "foods" are genetically identical which makes them susceptible to total elimination via famine-causing pestilential organisms. I have long suspected that the time will come when some type of pestilence will hit America's genetically-modified grain crops like corn and wreak havoc on the land. Enough so, that this may embolden its enemies to attack Britain and/or the USA to begin the Great Tribulation. (Can the Great Tribulation Begin in 2011, 2012, or 2013? Spring 2011)
Basically, I have long suspected that likely crop failures associated with GMO grains are putting the USA and its Anglo-allies at extreme risk of being destroyed. Most Americans do not like to accept this, but it is nonetheless true.
Back in September 2012, the following was published as reason ten as to why US President Barack Obama was apocalyptic in my book Barack Obama, Prophecy, and the Destruction of the United States:
Barack Obama broke a campaign pledge about requiring that genetically-modified organisms (GMOs) in foods be labeled (Philpott T. Obama's broken promise on GMO Food Labeling. Mother Jones, October 6, 2011). And while he at some point in time may change on this, the fact is that he has taken steps to encourage the production and use of GMO "foods" (cf. Isaiah 55:2) (Anderman RH. Obama Deregulates GMO Crops Despite Supreme Court Injunction. Tikkun, June 2, 2011; Huff EA. The Obama administration love affair with GMOs is selling America down the river for agricultural ruin. Natural News, August 21, 2011). Increased reliance on GMOs by the United States puts the nation at major risk for nearly complete crop failures. The Bible warns that famines (Matthew 24:7) and food shortages (Revelation 6:5-6) are coming and Barack Obama has further helped set the stage for this. (Thiel B. Barack Obama, Prophecy, and the Destruction of the United StatesEdition 1.1. Nazarene Books, 2012, pp. 47-48)
The time is coming when the USA will have severe food shortages. And at that same time, the USA may have to provide grain to China and other creditors that it owes when some Americans will be starving. The reliance on genetically-modified grain crops will likely contribute to disaster in the USA. It may even contribute to food inflation later this year.
Information in today's post provides further secular proof that my long-held beliefs concerning the risks of genetically-modified foods are getting more current scientific validation.  They are hazardous, they may cause major health problems, and possibly may be setting those that rely on them up for famine.
While we are not there yet for total GMO crop failure, this time is coming soon (and is likely to be the result of weather and other factors as well).  But until then, there are dangers associated with eating GMO foods.
Physical Preparation Scriptures for Christians. We all know the Bible prophecies famines. Should we do something?
Anglo – America in Prophecy & the Lost Tribes of Israel Are the Americans, Canadians, British, Scottish, Welsh, Australians, Anglo-Southern Africans, and New Zealanders descendants of Joseph? Where are the lost ten-tribes of Israel? Who are the lost tribes of Israel? Will God punish the U.S.A., Canada, United Kingdom, and other Anglo nations? Why might God allow them to be punished first?
Barack Obama, Prophecy, and the Destruction of the United States This is a 160 page book for people truly interested in prophecies related to Barack Obama and the United States, including learning about many that have already been fulfilled (which the book documents in detail) and those that will be fulfilled in the future. It also has a chapter about Mitt Romney–who also seemed to support GMOs. This book is available to order at www.barackobamaprophecy.com. The physical book can also be purchased at Amazon from the following link: Barack Obama, Prophecy, and the Destruction of the United States: Is Barack Obama Fulfilling Biblical, Islamic, Catholic, Kenyan, and other America-Related Prophecies?
Barack Obama, Prophecy, and the Destruction of the United States–Amazon Kindle edition. This electronic version is available for only US$2.99. And you do not need an actual Kindle device to read it. Why? Amazon will allow you to download it to almost any device: Please click HERE to download one of Amazon's Free Reader Apps. After you go to for your free Kindle reader and then go to Barack Obama, Prophecy, and the Destruction of the United States–Amazon Kindle edition.)
Can the Great Tribulation Begin in 2011, 2012, or 2013? Can the Great Tribulation begin today? When is the earliest that the Great Tribulation can begin? What is the Day of the Lord?