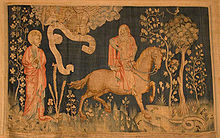 14th Century Tapestry of the Third Horseman of the Apocalypse
While many believe that the USA will always have enough food, there are concerns as the New York Times reports:
November 11, 2013

At the beginning of 2012, the Agriculture Department projected the largest corn crop in the country's history. But then a savage heat wave and drought struck over the summer. Plants withered, prices spiked, and the final harvest came in 27 percent below the forecast.

The situation bore a striking resemblance to what happened in Europe in 2003, after a heat wave cut agricultural production for some crops by as much as 30 percent and sent prices soaring…

Whatever their origin, heat waves like these give us a taste of what could be in store…

Among those who are getting nervous are the people who spend their lives thinking about where our food will come from…a report earlier this year from researchers at the London School of Economics and a Washington think tank, the Information Technology and & Innovation Foundation. The report cited a need for "more resilient crops and agricultural production systems than we currently possess in today's world."…

Scientists had long hoped that the effect of heat and water stress on crops might be offset by the very thing driving global warming: the sharp increase of carbon dioxide in the air. The gas is the main food supply for plants, and a large body of evidence suggested that the ongoing rise could boost crop yields.

But a lot of that evidence came from tests in artificial environments like greenhouses. Younger scientists, who insisted on testing crops in open-air conditions more closely resembling the real world, found that the bump in yield, while certainly real, was not as high as expected. And it may not be high enough to offset other stresses…

The good news is that agriculture has a tremendous capacity to adapt to new conditions, including a warming climate. Crops can be planted earlier, and new varieties that are more resistant to climate stress can be developed.

But experts say the research needed to make all this happen is getting short shrift.

"Our past successes in agriculture have lulled many of those in decision-making positions into a false sense of security," said L. Val Giddings, a fellow with the Washington think tank and a co-author of its report. "It's been so long since any of them were actually hungry.   http://www.nytimes.com/2013/11/12/science/earth/warning-on-global-food-supply.html?_r=0
The Bible warns of droughts and food shortages.  Normally, it suggests that sins are a factor in causing negative weather changes:
13 'And it shall be that if you earnestly obey My commandments which I command you today, to love the Lord your God and serve Him with all your heart and with all your soul, 14 then I will give you the rain for your land in its season, the early rain and the latter rain, that you may gather in your grain, your new wine, and your oil. 15 And I will send grass in your fields for your livestock, that you may eat and be filled.' 16 Take heed to yourselves, lest your heart be deceived, and you turn aside and serve other gods and worship them, 17 lest the Lord's anger be aroused against you, and He shut up the heavens so that there be no rain, and the land yield no produce, and you perish quickly from the good land which the Lord is giving you. (Deuteronomy 11:13-17)

6 "Also I gave you cleanness of teeth in all your cities. And lack of bread in all your places; Yet you have not returned to Me," Says the Lord. 7 "I also withheld rain from you, When there were still three months to the harvest. I made it rain on one city, I withheld rain from another city. One part was rained upon, And where it did not rain the part withered. 8 So two or three cities wandered to another city to drink water, But they were not satisfied; Yet you have not returned to Me," Says the Lord. (Amos 4:6-8)

10 "Because, indeed, because they have seduced My people, saying, 'Peace!' when there is no peace — and one builds a wall, and they plaster it with untempered mortar — 11 say to those who plaster it with untempered mortar, that it will fall. There will be flooding rain, and you, O great hailstones, shall fall; and a stormy wind shall tear it down. 12 Surely, when the wall has fallen, will it not be said to you, 'Where is the mortar with which you plastered it?'" 13 Therefore thus says the Lord God: "I will cause a stormy wind to break forth in My fury; and there shall be a flooding rain in My anger, and great hailstones in fury to consume it. 14 So I will break down the wall you have plastered with untempered mortar, and bring it down to the ground, so that its foundation will be uncovered; it will fall, and you shall be consumed in the midst of it. Then you shall know that I am the Lord. (Ezekiel 13:10-14)

15 "But it shall come to pass, if you do not obey the voice of the Lord your God, to observe carefully all His commandments and His statutes which I command you today, that all these curses will come upon you and overtake you: 16 "Cursed shall you be in the city, and cursed shall you be in the country. 17 "Cursed shall be your basket and your kneading bowl. 18 "Cursed shall be the fruit of your body and the produce of your land, the increase of your cattle and the offspring of your flocks. 19 "Cursed shall you be when you come in, and cursed shall you be when you go out. 20 "The Lord will send on you cursing, confusion, and rebuke in all that you set your hand to do, until you are destroyed and until you perish quickly, because of the wickedness of your doings in which you have forsaken Me. 21 The Lord will make the plague cling to you until He has consumed you from the land which you are going to possess. 22 The Lord will strike you with consumption, with fever, with inflammation, with severe burning fever, with the sword, with scorching, and with mildew; they shall pursue you until you perish. 23 And your heavens which are over your head shall be bronze, and the earth which is under you shall be iron. 24 The Lord will change the rain of your land to powder and dust; from the heaven it shall come down on you until you are destroyed. (Deuteronomy 28:15-24)

6 I will lay it waste; It shall not be pruned or dug, But there shall come up briers and thorns. I will also command the clouds That they rain no rain on it. (Isaiah 5:6)

1 The word of the Lord that came to Jeremiah concerning the droughts. 2 "Judah mourns, And her gates languish; They mourn for the land, And the cry of Jerusalem has gone up. 3 Their nobles have sent their lads for water; They went to the cisterns and found no water. They returned with their vessels empty; They were ashamed and confounded And covered their heads. 4 Because the ground is parched, For there was no rain in the land, The plowmen were ashamed; They covered their heads. 5 Yes, the deer also gave birth in the field, But left because there was no grass. 6 And the wild donkeys stood in the desolate heights; They sniffed at the wind like jackals; Their eyes failed because there was no grass." 7 O Lord, though our iniquities testify against us, Do it for Your name's sake; For our backslidings are many, We have sinned against You. (Jeremiah 14:1-7)

5 "A sword is against the Chaldeans," says the Lord, "Against the inhabitants of Babylon, And against her princes and her wise men. 36 A sword is against the soothsayers, and they will be fools. A sword is against her mighty men, and they will be dismayed. 37 A sword is against their horses, Against their chariots, And against all the mixed peoples who are in her midst; And they will become like women. A sword is against her treasures, and they will be robbed. 38 A drought is against her waters, and they will be dried up. For it is the land of carved images, And they are insane with their idols. (Jeremiah 50:35-38)

4 We pay for the water we drink, And our wood comes at a price. 5 They pursue at our heels; We labor and have no rest. (Lamentations 5:4-5)

16 Moreover He said to me, "Son of man, surely I will cut off the supply of bread in Jerusalem; they shall eat bread by weight and with anxiety, and shall drink water by measure and with dread, 17 that they may lack bread and water, and be dismayed with one another, and waste away because of their iniquity. (Ezekiel 4:16-17)

7 Thus says the Lord of hosts: "Consider your ways! 8 Go up to the mountains and bring wood and build the temple, that I may take pleasure in it and be glorified," says the Lord. 9 "You looked for much, but indeed it came to little; and when you brought it home, I blew it away. Why?" says the Lord of hosts. "Because of My house that is in ruins, while every one of you runs to his own house. 10 Therefore the heavens above you withhold the dew, and the earth withholds its fruit. 11 For I called for a drought on the land and the mountains, on the grain and the new wine and the oil, on whatever the ground brings forth, on men and livestock, and on all the labor of your hands." (Haggai 1:7-11)

10 Then the third angel sounded: And a great star fell from heaven, burning like a torch, and it fell on a third of the rivers and on the springs of water. 11 The name of the star is Wormwood. A third of the waters became wormwood, and many men died from the water, because it was made bitter. (Revelation 8:10-11)

8 Then the fourth angel poured out his bowl on the sun, and power was given to him to scorch men with fire. 9 And men were scorched with great heat, and they blasphemed the name of God who has power over these plagues; and they did not repent and give Him glory. (Revelation 16:8-9)
Droughts and weather problems, including floods and high heat, can contribute to food shortages, higher food prices, and sometimes famines.
The Bible is tells of a time that there will be food shortages and much more serious food inflation:
5 When He opened the third seal, I heard the third living creature say, "Come and see." So I looked, and behold, a black horse, and he who sat on it had a pair of scales in his hand. 6 And I heard a voice in the midst of the four living creatures saying, "A quart of wheat for a denarius, and three quarts of barley for a denarius; and do not harm the oil and the wine." (Revelation 6:5-6)
The sorrows and troubles are just beginning and will get much worse. Hopefully, people will wake up. Asia appears to wish to prepare more, at least at this time, than the USA and certain of its Anglo-allies.
While many will claim that because countries like the USA and Australia export a lot of grain that they are in a better position, the reality is that weather-issues, crop failure, and for the USA, high reliance on genetically-modified grains (for corn and soy), put these nations at risk. They should prepare more than it seems that they have.
Jesus said:
7 For nation will rise against nation, and kingdom against kingdom. And there will be famines, pestilences, and earthquakes in various places. 8 All these are the beginning of sorrows. (Matthew 24:7-8)

37 And what I say to you, I say to all: Watch! (Mark 13:36-37)
Tougher times are coming. And for some parts of the world these tougher time may be here now. People who can prepare, should: both spiritually and physically. Westerners need to realize that this will not only affect people in places like Africa, Asia, and the Middle East–the Anglo-descended nations of the West will themselves suffer hunger, civil unrest, famine, and worse. Super wheat will not be the solution–it is much more likely to contribute to a disaster.
Some items of possibly related interest may include:
Four Horsemen of the Apocalypse What do each of the four horseman of the Apocalypse represent? Have they began their ride? Did Jesus discuss the any of this? Might their rides coincide with the "beginning of sorrows? Do they start their ride prior to the Great Tribulation? Did Nostradamus or any other 'private prophets' write predictions that may mislead people so that they may not understand the truth of one or more of the four horseman? There is also a related YouTube video titled The Four Horsemen of the Apocalypse.
GMOs and Bible Prophecy What are GMOs? Since they were not in the food supply until 1994, how could they possibly relate to Bible prophecy? Do GMOs put the USA and others at risk? Here is a related YouTube video GMO Risks and the Bible.
Can the Great Tribulation Begin in 2013 or 2014? Can the Great Tribulation begin today? What is the "beginning of sorrows"? When is the earliest that the Great Tribulation can begin? What is the Day of the Lord?
Weather Blessings and Sorrows Are weather problems a warning? What should be done? What does the Bible teach about weather? What about floods, droughts, heat, earthquakes, tornadoes, and solar storms? Here is a related YouTube video Does God Use Weather? A related item in the Spanish language would be Bendiciones y maldiciones del clima.
Physical Preparation Scriptures for Christians. We all know the Bible prophecies famines. Should we do something?
Anglo – America in Prophecy & the Lost Tribes of Israel Are the Americans, Canadians, British, Scottish, Welsh, Australians, Anglo-Southern Africans, and New Zealanders descendants of Joseph? Where are the lost ten-tribes of Israel? Who are the lost tribes of Israel? Will God punish the U.S.A., Canada, United Kingdom, and other Anglo nations? Why might God allow them to be punished first?
Barack Obama, Prophecy, and the Destruction of the United States-Second Edition for Second Obama Term This is a 160 page book for people truly interested in prophecies related to Barack Obama and the United States, including learning about many that have already been fulfilled (which the book documents in detail) and those that will be fulfilled in the future. It also has a chapter about a Republican choice. This book is available to order at www.barackobamaprophecy.com. The physical book can also be purchased at Amazon from the following link: Barack Obama, Prophecy, and the Destruction of the United States: Is Barack Obama Fulfilling Biblical, Islamic Catholic, Kenyan, and other America-Related Prophecies? What About Republican Leaders? Second Edition for Second Obama Term.
Barack Obama, Prophecy, and the Destruction of the United States-Second Term-Amazon Kindle edition. This electronic version is available for only US$2.99. And you do not need an actual Kindle device to read it. Why? Amazon will allow you to download it to almost any device: Please click HERE to download one of Amazon s Free Reader Apps. After you go to for your free Kindle reader and then go to Barack Obama, Prophecy, and the Destruction of the United States-Second Term-Amazon Kindle edition.