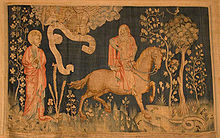 14th Century Tapestry of the Third Horseman of the Apocalypse
There are several news reports about weather affecting food supply and hence prices:
First Argentina Dust Bowl in 85 Years Said to Cut Wheat

How severe weather impacts global food supply

Extreme weather across the world in 2012 has led to low food yields and a hike in prices. Climate is not the only driver of high food costs, but recent price spikes have caused hardship across the world. 

Wheat rises as crops damaged by weather

Reuters and Bloomberg News

Wheat prices rose this week as rain on Argentina's coastal region and dry weather inland damaged crops, forcing some grain buyers to seek supplies from the United States, the world's biggest exporter.

Argentina's agriculture ministry on Monday lowered its production forecast last week to 10.5 million tonnes from 11.1 million tonnes last month, citing heavy coastal rains and the first inland dust bowl in 85 years.

Rains ruin Christmas for water-weary Argentine soy farmers

Reuters – Dec 27, 2012

Christmas rainstorms in Argentina further delayed soy and corn planting, keeping markets guessing about whether the grains powerhouse can produce enough this season to help bring high-flying global food prices down to earth.The South American country is the world's No. 2 corn exporter after the United States and its No. 1 soyoil and soymeal supplier. But sowing in the central Pampas farm belt lags last season's tempo by about 20 percentage points, said Tomas Parenti, an agronomist with the Rosario grains exchange.Up to 100 millimeters (3.9 inches) of rain fell late on Monday and early Tuesday (Christmas Eve and Christmas Day), forcing some growers once again to park their seeding machines lest they sink in the mud. http://www.cattlenetwork.com/cattle-news/latest/Rains-ruin-Christmas-for-water-weary-Argentine-soy-farmers-184931301.html
While I have reported about weather issues in various areas this year ( including flooding, drought, and heat have affected other areas as well (see, for example, Flooding in North Korea, Philippines, Taiwan, and China, TW: Drought USA and Flooding UK; Russia Having Both, Quarter Million Affected by Flooding in Japan, Severely Cold Weather in South Africa and Australia, Drought in Mid-USA Affecting Grain, 2012 Drought Declared USA's Largest Ever Natural Disaster, Drought Affecting India and Its Food Supply; Europe too, Drought Reducing Wheat Yields in US, Australia, Russia, and Ukraine,  Weather Extremes in Australia, Canada, New Zealand, and the UK, Drought Still an Issue for Wheat & Mississippi, Typhoon Bopha Kills Hundreds in Philippines, Global Food Supplies Near 40 Year Lows, While Food Prices May Rise in China, Majority of US Farmland Still in Drought, and Drought affecting food prices; Corn production again smaller), the fact that Argentina was too dry and now too wet reminds me of the following scriptures:
10 "Because, indeed, because they have seduced My people, saying, 'Peace!' when there is no peace — and one builds a wall, and they plaster it with untempered mortar —  11 say to those who plaster it with untempered mortar, that it will fall. There will be flooding rain.  (Ezekiel 13:10-11)

7 "I also withheld rain from you,
When there were still three months to the harvest.
I made it rain on one city,
I withheld rain from another city.
One part was rained upon,
And where it did not rain the part withered.
8 So two or three cities wandered to another city to drink water,
But they were not satisfied;
Yet you have not returned to Me,"
Says the Lord.

"I blasted you with blight and mildew. (Amos 4:7-9)
Mildew tends to happen after too much rain.
The Bible is tells of a time that there will be food shortages and much more serious food inflation:
5 When He opened the third seal, I heard the third living creature say, "Come and see." So I looked, and behold, a black horse, and he who sat on it had a pair of scales in his hand. 6 And I heard a voice in the midst of the four living creatures saying, "A quart of wheat for a denarius, and three quarts of barley for a denarius; and do not harm the oil and the wine." (Revelation 6:5-6)
Notice something that Ezekiel was inspired to write:
15 'So it shall be a reproach, a taunt, a lesson, and an astonishment to the nations that are all around you, when I execute judgments among you in anger and in fury and in furious rebukes. I, the Lord, have spoken. 16 When I send against them the terrible arrows of famine which shall be for destruction, which I will send to destroy you, I will increase the famine upon you and cut off your supply of bread. 17 So I will send against you famine and wild beasts, and they will bereave you. Pestilence and blood shall pass through you, and I will bring the sword against you. I, the Lord, have spoken.'" (Ezekiel 5:15-17)
Notice that this shows famine, then pestilence, and then the sword. The above sequence seems to be slightly different than that Jesus listed as part of the "beginning of sorrows" (Mathew 24:7-8) as the sword comes afterwards. But since the sword should begin the Great Tribulation, the time of Jacob's trouble (Jeremiah 30:7), this may be part of how the beginning of sorrows ties into the Great Tribulation–this also may suggest hunger and disease problems for the Anglo-nations prior to the start of the Great Tribulation.
But this does not mean that other areas, like the rest of the world will not be affected as well.
The sorrows and troubles are just beginning and will get much worse. Hopefully, people will wake up.
As Jesus said:
7 For nation will rise against nation, and kingdom against kingdom. And there will be famines, pestilences, and earthquakes in various places. 8 All these are the beginning of sorrows.
(Matthew 24:7-8)

37 And what I say to you, I say to all: Watch! (Mark 13:36-37)
Tougher times are coming. And for some parts of the world these tougher time may be here now. People who can prepare, should: both spiritually and physically. Westerners need to realize that this will not only affect people in places like Africa, Asia, and the Middle East–the Anglo-descended nations of the West will themselves suffer hunger, civil unrest, famine, and worse. Super wheat will not be the solution–it is much more likely to contribute to a disaster.
Some articles of possibly related interest may include:
Can the Great Tribulation Begin in 2012 or 2013? Can the Great Tribulation begin today? What is the "beginning of sorrows"? When is the earliest that the Great Tribulation can begin? What is the Day of the Lord?
Physical Preparation Scriptures for Christians. We all know the Bible prophecies famines. Should we do something?
The Gospel of the Kingdom of God was the Emphasis of Jesus and the Early Church Did you know that? Do you even know what the gospel of the kingdom is all about? True religion should be based upon the true gospel.
Did The Early Church Teach Millenarianism? Was the millennium (sometimes called chiliasm) taught by early Christians? Who condemned it. Will Jesus literally reign for 1000 years on the earth? Is this time near?
Does God Have a 6,000 Year Plan? What Year Does the 6,000 Years End? Was a 6000 year time allowed for humans to rule followed by a literal thousand year reign of Christ on Earth taught by the early Christians? What year may the six thousand years of human rule end? When will Jesus return?
Mexico, Central America, South America, Brazil, and the Caribbean in Prophecy [Español: México, America Central, Suramérica, y el Brasil en profecíal] [Português: México, América Central, Ámérica do Sul, e Brasil na profecia] What will happen to those of Latin America, like Argentina? Will they have prosperity? Will they cooperate with Europe? Will they suffer in the future? What role might the various Caribbean nations/territories play?
Anglo – America in Prophecy & the Lost Tribes of Israel Are the Americans, Canadians, British, Scottish, Welsh, Australians, Anglo-Southern Africans, and New Zealanders descendants of Joseph? Where are the lost ten-tribes of Israel? Who are the lost tribes of Israel? What will happen to the Jews in Israel? Will God punish the U.S.A., Canada, United Kingdom, and other Anglo nations? Why might God allow them to be punished first?